Posted on
Send Edgar news to: RR@tpprinting.com ….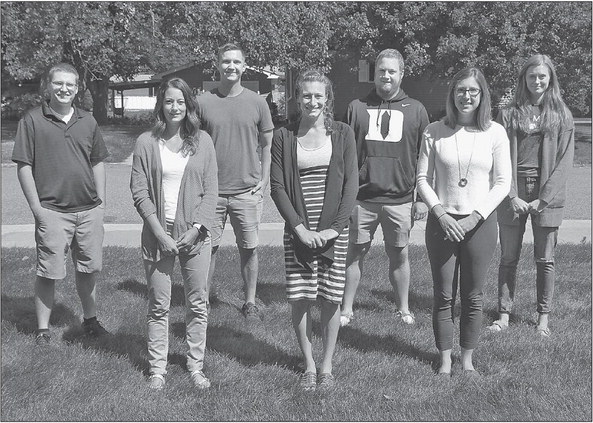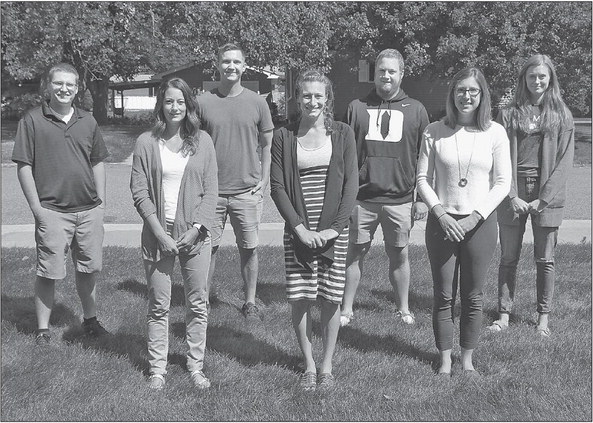 Send Edgar news to: RR@tpprinting.com phone: 715-223-2342 fax: 715-223-3505 P.O. Box 677 103 West Spruce Street Abbotsford, WI 54405 On campus
UW-Madison has announced two Edgar graduates in an online commencement ceremony held May 9.
The graduates are Andrea Kerr, who received a doctorate in veterinary medicine from the School of Veterinary Medicine, and Christina Riehle, who earned a bachelor of science degree with distinction in genetics and genomics from the College of Agricultural and Life Sciences.
Seasoned Players
With the Seasoned Players League down to two weeks left in their season, Strobe's Garage met up with Werner Insurance. To start the game it seemed as if both teams wanted to enjoy the cold refreshments more than playing ball. Seven total pitches were thrown in the first inning. Strobe's put up eight runs in the second inning despite Randy recording five and one-half strikeouts for Werner's on the mound (the ump was pretty generous on one that should have been called). Strobes's managed to pull off the victory. The final score was Strobe's 9 and Werner's 4.
Up on the "new diamond," Landmark Bar battled Bean's Evergreen Disposal. Joe returned to the dugout to straighten Landmark out. He wouldn't stand for a loss with an alleged buy out of Darrel for the season. After spotting Bean's a run in the first, Darrell returned to the outfield and the defense held Bean's scoreless after Landmark scored five in the second and six in the fourth. Landmark amassed 17 hits with Camouche going three for three, Shanny two for two and Cody, Twig and Jimmy two for three. No stats turned in by Bean's Evergreen Disposal. Final score Landmark Bar 11 and Bean's Evergreen 1.
Next up was Mueller Builders and Chad's Auto. There was another ransom note left on the Mullies Old Hurlers door again with the ransom demand reduced from $10.88 to $8.88, saying he will not shut up. Exchange is still planned for next week on the final night of the season. With the season all most complete, Chad's Auto pulled out another win. Chad's hammered out 21 hits with Jeff "Where is your Big Red Card" Stoudt going four for four. Chad's has a big game next week against Landmark. No stats turned by Mueller Builders. Final score was Chad's Auto Repair 8 and Mueller Builders 3.
The next game was Edgar Lanes and Louie/Werner. Edgar Lanes went into the game short on team members, picking up Whitey and Kyle from Mueller Builders to have 10 ball players. Hitting struggles continued for the Lanes with the first seven batters going hitless. In the third, Bomber Bob had a "power" hit that rolled at least 10 feet for the first Lanes hit of the game. In the fourth inning, Crazy Legs Chuck got the second hit of the game for the Lanes. Kyle followed with a double, scoring Crazy Legs Chuck. That was the end of the hits for the Lanes who finished the game with only three hits, leaving three on base and scoring one run. Louie/Werners on the other hand had 17 hits while Jake Knetter fell one hit shy of the cycle for the second consecutive week, going three for three at the plate. Todd Diethelm also collected hits hits with Boogs, Tom and Sten each getting two hits a piece. Tom Bauman was the winning pitcher and Louie/Werner won 14 to 1 in five innings.
The nightcap pitted Village Pharm and Round of Mulligans. Village Pharm blasted out 21 hits and beat the Old Irish Hurler like a rented mule. He was rode hard and put away wet. Jake Knapmiller went four for four, John Peterlik, Kyle Lukasko and Mat "Head" Ellenbecker went three for four and David Huss two for three. There is not a lot for the Mullies to write home about, with six "K's" and seven hits. The good news is that the team only stranded six on the base paths. Terry "El Presidente" kept his hitting poweress going with a three for three performance and Bean "Mr. Utility Player" ripping a double. Next week the Mullies will shine. Final score was "The Village People" 14 and the Mullies 0.
Next week is a big night for teams to change the final standings with Strobe's Garage and Landmark with one loss and Louie/Werner and Chad's Auto Repair with two losses. On top of that it will be sweet corn night.
Virtual Book Club
The Marathon County Public Library Virtual Book Club will discuss "Rebecca" by Daphne du Maurier Tuesday, Sept. 8, 1-2 p.m. on a GoTo-Meeting internet platform. The club meets the second Tuesday of each month to discuss novels and other books.
School will start
Edgar Public Schools will begin classes on Tuesday, Sept. 1, with COVID- 19 safeguards in place.
"It will be a year of changes and the need for flexibility from all will be extremely important." said district administrator Dr. Cari Guden. "We will continue to always keep our students as our number one priority as we develop and fine-tune our instructional plans for the school year."
All parents of enrolled students have received a school opening packet of materials in the mail. Any families new to the area should contact either the elementary office staff at 715-352-2727 or the high school at 715-352-2352 as soon as possible Due to the COVID-19 crisis this school year, the district will change busing procedures for the upcoming school year. If you have questions concerning transportation, contact Mary Kay Adamski at Fischer Bus Service in Fenwood, 715-352-2169. Busing to and from childcare providers, as well as other unique transportation ar- rangements, will not be allowed this year.
Before and after school (6 a.m. to 6 p.m.) child care opportunities can be arranged through the "School's Out" program directed by Edgar Child Care. It can be contacted at 715-352-2000.
New staff at Edgar Public Schools this year include Adam Decker, K-12 physical education; Ashley Heimkes, special education; Sadie Kunze, paraprofessional; Lauren Fagan, grade four intern; Krista Hannemann, grade five intern; and Asha Kavajecz, 4K intern; Troy Andreshak, middle school language arts; Samantha Brown, middle school Special Education; Jamie Koehler, middle school counselor and district assessment specialist; Heidi Olson, middle school; Kelly Heppner, high school special education; and Marisa Doll, high school counselor.
"I am excited to continue working with our team of educators and the community of Edgar," said administrator Guden. "By working together collaboratively, we want to provide the very best for each of your students. We are looking forward to an exciting and educationally innovative school year."
Tomato Triage
The Marathon County Public Library will hold a Tomato Triage discussion with the Marathon County Cooperative Extension on Thursday, Aug. 20, 6:30 p.m. to 7:30 p.m. Discussion will focus on caring for garden tomato plants. This discussion will be held online on Zoom.
Fitness center open
The Edgar School District Fitness Center COVID-19 community hours of operation are from 4-6 a.m. and from 2-7 p.m. Community members using the Edgar fitness center must leave when the morning and night sessions are over, so staff can sanitize and disinfect it. The Edgar fitness center is closed all day on Saturdays and Sundays. People who use the fitness center are expected to review posted guidelines prior to using the facility.
Athletic passes
Free athletic passes for citizens 62 years or older who live in the Edgar School District are available at Edgar High School along with schedules of sporting events.
The passes will not accepted for any WIAA sponsored tournament that Edgar School District may host.
Tournament
The Edgar Softball Association will hold a mens and womens "Last at Bat" wooden bat tournament Thurday through Sunday, Sept. 10-13, at the Edgar Softball Complex.
Open house
Edgar Elementary School will hold an open house Wednesday, Aug. 26, from 3:30 -6:30 p.m. For more information, call the school at 715-352-2727.