Posted on
Resignation follows AthensCOVID-19vote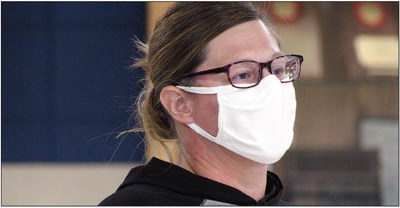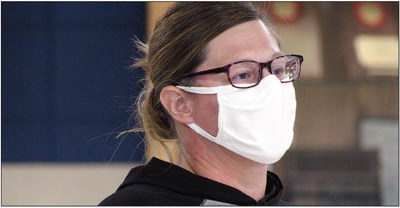 Guenther quits school board as teachers raise objections
Athens Board of Education member Julie Guenther has resigned in the wake of last week's special school board meeting about the school district's reopening plan. Guenther was not present at Monday's regular monthly school board meeting. School board members approved her resignation after a closed session at the end of the meeting. She was elect- ed to a three-year term on the Athens school board in April of 2019.
Jeff Mastin, Athens schools superintendent, said after the meeting he'd like to have Guenther's open school board seat filled by October.
The board's special meeting had other repercussions. Athens teachers Jessica Bingham, Adam Triebold and Samuel Puffer voiced concerns about the safety of students and staff during a public comments portion of the meeting.
At last week's meeting, the school board rejected the school district administration's COVID-19 plan developed with a 10-member committee over summer to hold in-person classes Monday through Friday for elementary school students, but only two days a week for middle school and high school students.
Bingham, a middle and high school health and physical education teacher, said she agrees with the school administration that teachers in the middle and high school building won't be able to safely teach in their classrooms where students would not be properly socially distanced. Bingham said the school board made a hasty decision at last week's meeting to send all students back to school five days per week without having a plan to keep both students and staff safe.
"Our school building doors have been shut since the middle of March, and all of a sudden come Sept. 1 they are going to be opened like nothing happened," Binham said. "That's a concern for us teachers. Yes, we will have Plexiglas in the office, which is awesome, but what about in our classrooms? I know a lot of teachers are concerned about their health and well being."
She asked the school board to consider a compromise between the school administration's reopening plan of sending middle and high school students to school in person two days a week, and the school board's decision to send them back to school in person five days a week. Bingham wants the school board to enforce a student mask mandate, instead of just recommending them. She also wants to see Athens middle and high school students have a block schedule during the school day to prevent them from mingling in the hallways between classes.
Triebold, a fourth year Athens middle and high school vocal music and elementary school general music teacher, said there needs to be a better safety plan in place for staff in the middle and high school building. He said he wanted the school board to require students to wear masks.
"I missed the last week's school board meeting, because I didn't feel like I would make much of a difference or that my voice would be welcomed if I did," Triebold said. "After finding the outcome of the meeting, I regret missing it now. I love teaching in Athens. I love this school and I love the students I teach. I am grateful to the community and to the school board for the opportunity to teach here. However, our community needs to support teachers if it wants to keep good teachers in this school district. We can't do our best teaching the students if our own needs aren't being met."
Triebold told the school board he's not looking forward to the 2020-21 school compared to past years.
"This is my first year ever that I'm not looking forward to teaching," he said. "I don't know what to expect and I am nervous and apprehensive. My thoughts are about my health and the health of my students and wife. The hasty decision the school board made at last week's meeting concerns me because it was done quickly with little or no discussion."
Samuel Puffer, an Athens middle and high school instrumental music teacher, agreed with his colleagues and explained to the school board the measures he's taking to keep band students socially distanced this school year.
"The first measure I'm taking as band director is having custom made masks for my students, which I have discovered from a business in New York," Puffer said. "They are basically a curtain in front of a band student's face with a slit for their instrument's mouth piece. These masks would allow students to speak during class without spreading much aerosol particles. There are also special facemask models for band members who play the flute, but that's a different concern altogether."
Puffer has also researched how his band students can cover the bell of their instruments.
"Most of the air a band member is blowing will be coming out of their instrument's bell, and there are sewing patterns for homemade masks for the bell," he said. "N95 masks could somehow fit onto a trumpet bell or the masks could be handmade from 300 count bed sheets, which is just the right count to keep most of the air particles from escaping the bells."
In other school news:
_ The school board reconvened from closed session to unanimously vote to give a two percent raise in pay for all Athens School District employees for the 2020-21 school year. All school board members, school district administration and teachers wore masks during Monday's meeting.
_ The school board approved the Athens School District administration's school closure plan in case students or staff would contact COVID- 19 during the 2020-21 school year.
Mastin said health offices in both school buildings would serve as isolation rooms if a student or staff member were suspected to have COVID- 19, based on the Wisconsin Department of Instruction's diagram of symptoms. A student who sprains his for her ankle in gym class would be treated by school district nurse Trina Kaiser in the main school building offi ces where the secretaries work.
He explained which area agencies the school district would be contacted if there were a student or staff member with a confirmed positive case of COVID-19. He said the school district would consult with Dr. Jeff LaMont, medical advisor for Marathon County's special education consortium; the Marathon County Health Department; school district nurse Trina Kaiser and Athens school board president Tim Krueger.
Mastin also explained steps Athens School District would take if there was an outbreak of COVID-19 among staff or an entire class of students. He said the school district would contact the Wisconsin Department of Health Services and hold a school district administration meeting and possibly hold an emergency school board meeting to decide whether school buildings should be closed.