Posted on
Mixed message in Mosinee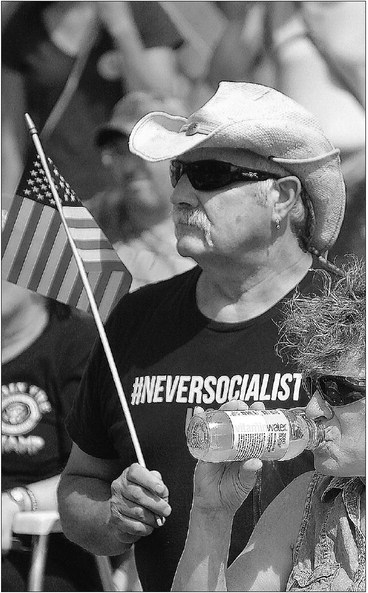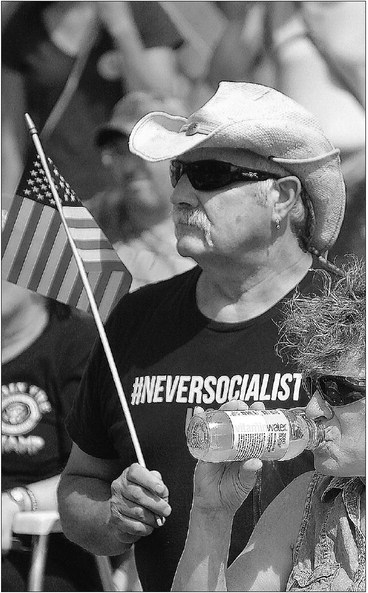 GOP speakers blast Gov. Evers, but also Assembly leadership
A Sunday rally held at IROW, Mosinee, to protest Gov. Tony Evers' executive order to mandate mask wearing in public interior spaces drew a sparse crowd, around 250 people, and presented a mixed political message after conservative Republican legislators, including Sen. Steve Nass (RWhitewater) and Rep. Mary Felzkowski (R-Tomahawk), chastised Assembly Speaker Robin Vos (R-Burlington), a fellow Republican, for failing to call his house of the legislature into special session to reverse the governor's order.
The rally drew only a quarter of the crowd that showed up for a first IROW rally back in April to protest Gov. Ever's "Safer at Home" order and, by comparison, had little of the energy. The speakers, which included a college professor and two doctors, went long in the sun-baked, two and one-half hour event. An elderly woman at the back of the crowd snoozed in a folding chair during the last speaker's speech. Back in April, the libertarian-leaning Open Wisconsin Now held rallies across Wisconsin meant to galvanize opposition to Gov. Evers's "Safer at Home" order and to push Republicans in the legislature to fight the order in the Wisconsin Supreme Court. That strategy worked when a conservative majority knocked down the order May 13 in a 4-3 vote.
Senator Nass told Sunday's crowd that a similar strategy would not be effective in cancelling the governor's mandatory mask order. He said the Wisconsin Supreme Court would likely not take the case when the legislature had the power to nullify the mask order on its own.
Nass said he met with Senate Majority Leader Scott Fitzgerald (R-Juneau) and received a pledge to reverse the mask order. Later, he said, the Senate Republican caucus agreed to the same thing. "We were all in go mode," he said.
Senate action will do nothing, he said, until the Wisconsin assembly also votes to undo the mask mandate.
"Speaker Vos has yet to bring this to his membership," said the senator. "We need to get the assembly to stop this madness right now."
Members of the crowd expressed dismay with Vos. "He's a turn-coat!" yelled one unidentified man in the audience.
Press reports note that the Wisconsin legislature can declare the state's COVID-19 a non-emergency, ending the basis for the mask mandate, but, if it does so, the state will be unable to use the Wisconsin National Guard to help run elections or to man testing stations around the state.
Nass called the mask mandate "illegal" and a "power grab" and part of a larger plot by government to scare citizens into compliance with socialism.
The senator said it should be the choice of citizens whether to wear a mask or not.
"Your strength is not in government in Madison," he said. "It is in the people. You want to push back against an illegal government order."
Rep. Felzkowski, a candidate for the state senate, said she "came out real strong" against the Evers mask mandate, but could not convince Speaker Vos to call a special session to deal with the issue. "I am not real popular with Mr. Voss," she said.
Felzkowski said the mask mandate was socialist interference in people's lives and should be opposed, even if taking this stance proved divisive. "This is splitting families, but so did the Civil War," she said. "You can live without talking to your ex-best friend. You can't survive socialism."
Felzkowski said she and other Republicans were worried about her party's chances in the November general election and urged crowd members not just to vote for GOP candidates, but to run for offi ce themselves. She called on people in the crowd to do more than simply attend political rallies. "I'm not a doomsday person, but that's where we are at," she said.
Other speakers talked generally about their opposition to socialism and their belief the danger of the COVID-19 pandemic has been exaggerated.
_ Dr. Yuri Maltsev, a professor of economics at Carthage College, Keno- sha, said Wisconsin citizens should fear socialist policies like a mask mandate because, as the history of the Soviet Union shows, "socialism is always murderous." Maltsev, a Russian native, defected to the United States after working for President Mikhail Gorbachev.
_ Wausau thoracic surgeon Fernando Riveron, a native of Cuba, said he would wear a mask all day to keep school children safe or to keep a local restaurant open, but that the mask mandate was really "all about power" and leftist politics, which included Black Lives Matter. He said the threat of COVID-19 had been vastly exaggerated. "Here we are cowering in place in the land of the brave for a mortality that is less than one percent" of cases, he said. "How does that make any sense?"
_ Emergency medicine Dr. Simone Gold, California, said there was "no scientific reason to wear a mask" and that an Food and Drug Administration warning for people outside of heart research not to use hydroxychloroquine to prevent COVID-19 represented a "hoax perpetrated on the American people." The doctor said hydroxychloroquine was a safe medicine used to prevent malaria in many tropical countries and was available for over-the-counter sale worldwide. She said COVID-19 did not threaten the lives of people except for the obese, diabetics and the medically frail. Addressing the medical community's consensus viewpoint on COVID-19, she said to crowd applause, "The emperor has no clothes."
Sunday's rally was officially sponsored by Get Involved Wisconsin, Inc. A flyer handed out by rally workers stated that people attended the gathering at their own risk and were required to "use good judgment, obey all laws and take reasonable care to avoid any injury to their person or property."