Posted on
Abond forms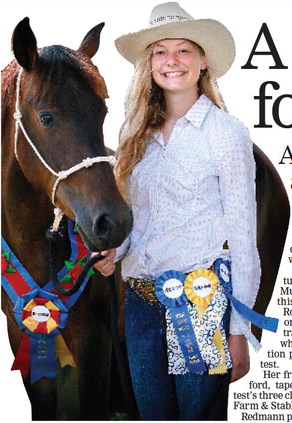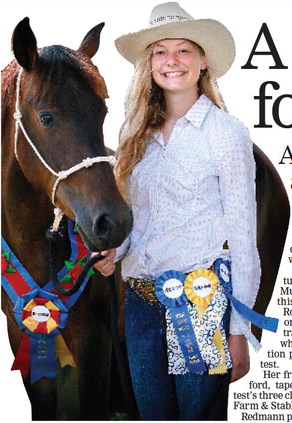 Athens teen and horse win contest
Maleah Redmann is an intelligent Athens teenager who's discovered a talent in training wild mustang horses. Redmann, 17, won the virtual Kentucky Youth Extreme Mustang Makeover 2020 contest this summer with her mustang, Rogue. The mustang lover was one of 40 youth wild mustang trainers throughout the country who were selected in the application process to compete in the contest.
Her friend, Carley Tomandl of Medford, taped her competing in the contest's three classes with Rogue at Matrolling Farm & Stable in Medford.
Redmann placed third in the handling and conditioning class, but she was first in both the trail and freestyle classes in her 14 to 17-year-old age division. Her performances in all three classes helped her win first place in her age group and in both age groups combined.
Her love of training mustangs began when she and her fellow Athens FFA members attended the Legends to Shine at Midwest Horse Fair last year in Madison. It was here where she witnessed the Mustang Challenge in person. She fondly recalls what she told former Athens FFA adviser Shauna White.
"I'd really like to do something like that but I'm pretty sure my mom would kill me," Redmann joked.
She told her mother, Lisa Redmann, the very next day when the Athens FFA group arrived home from Madison that she wanted to adopt wild mustangs and train them. Her mom was anxious of her idea at first, but she realized how passionate her daughter was about handling mustang horses.
Redmann applied for and was rewarded an FFA grant she used to buy six-feet tall metal panels to create a corral for mustangs. Her first mustang was Renegade, which she brought home from a satellite adoption event in Marshfield. Renegade was a wild mustang from Green Mountain, Wyoming.
She learned how to train wild mustangs herself from watching YouTube videos. Redmann needed to gain Renegade's trust, which was not easy. Renegade charged at her like he was going to injure her, but he took the hay in her hand and trotted back to his corner to eat it. When she returned to the stable later that day, Redmann was able to pet Renegade's body and he enjoyed it.
Redmann halter broke Renegade to lead the way, back up, respect space, pivot, lie down, bow and sit.
"People around the world think wild mustangs are useless because they're never going to get the wild out of them, but that's so far from the truth," she said.
The handling and conditioning class in the Kentucky Youth Extreme Mustang Makeover 2020 contest required Redmann to have Rogue set a pattern in the corral. The trail class consisted of judges seeing how well Rogue did in an obstacle course. Lastly, Redmann and Rogue performed "Putting on the Ritz" in the freestyle class.
Redmann rode a horse for the first time when she was six years old. Her Athens neighbor, Hanna Luther, gave Redmann the contact information so she could begin horse riding lessons at a place in Mauston. Redmann started spending time at Matrolling Farm & Stable in Medford, which is owned by Lynn Marthaler, when she was 13 years old.
She plans to use the $1,000 she received from winning the virtual Kentucky Youth Extreme Mustang Makeover 2020 contest on the feed she'll need for two more wild mustangs she plans to adopt in September.
Redmann noted there are over 80,000 wild horses living in portions of the western United States. The Bureau of Land Management is in charge of controlling the wild mustang herd so it doesn't get too huge and do damage to the natural habitat.
She will be a senior at Athens High School this fall. After she graduates from high school next spring, she plans to study in the UW-River Falls equine science program. Then she'll attend a veterinary school to earn her doctorate of veterinary medicine.