Posted on
Open school safely?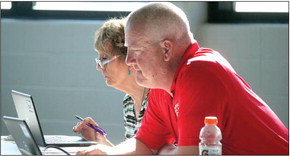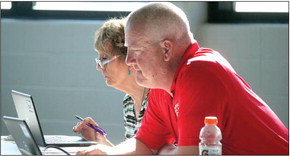 Marathon committee will report to school board
A committee of 13 people over the next several weeks will come up with a COVID-19 plan to re-open Marathon Public Schools this fall, district administrator Rick Parks told the Marathon Board of Education on Thursday.
Parks said the committee, which will include teaching staff, a school nurse, a parent and school administration, will likely recommend some hybrid of in-person instruction and virtual education conducted in a live-streaming format.
The administrator told school board members it was impossible to teach all stu- dents five days a week in current classrooms and observe social distancing recommended by the Marathon County Health Department and other public health agencies.
That means, Parks said, the district must come up with a plan where some students come to school, while others learn at home on computers.
The administrator stressed that any plan must be flexible and adjust to whether the number of COVID-19 cases in the Marathon community flatten out or continue to increase.
As of Friday, Marathon County had 327 confirmed cases of COVID-19 and two deaths. A state Department of Health Services map reported more than 10 cases within a census tract that includes Marathon and Edgar school districts.
Board members generally approved Park's approach to reopening.
"We have to open the doors but we have to set it up so that things are as safe as possible," said board president Brian Gumtz.
Board member Ted Knoeck agreed that the school needed to shift its approach as COVID-19 numbers will change. "There will be an ebb and flow," he said. "If there is a big outbreak, then we do the virtual stuff."
Parks said Marathon Public Schools this past spring installed video cameras in classrooms so teachers could communicate over the school's computer network with students while school was closed at the end of the 2019-20 school year.
Looking to the fall, he said the district needed to install cameras in all classrooms for this purpose. He proposed installing 42 additional cameras at a cost of $350 apiece.
Parks said it is the hope that students will be more engaged with livestream virtual classes than the online education students received earlier in the year.
The administrator said a virtual education system will help any student who contracts COVID-19 be able to keep up with school work while he or she is quarantined at home.
Parks said the committee will figure out whether students and staff must wear masks or whether they will all have their temperatures taken as they enter the school building.
The administrator said there were practical concerns to all of these issues.
"Taking the temperature of 700 kids a day will take time," he said.
Parks said busing students to school while observing social dstrancing will be a challenge. He said Fischer Transportation Co., Fenwood, has proposed seating 24 students on a bus with a plexiglass shield to protect the driver.
It is not clear, said Parks, how many bus runs will be needed to pick up students who need transportation. The bus company, he said, is surveying parents to see just how many Marathon students will be riding the bus in the fall.
Board members discussed school reopening with Amanda Ostrowski from the Marathon County Health Department.
She told board members her department doesn't object to school being held in the fall as long as district minimize the risk of COVID-19 infection through six foot social distancing, hand washing and use of face masks.
Ostrowski reported that there are according to the state Department of Health Services 120 children in Marathon County who are currently under COVID-19 quarantine and who would not be able to attend school.
Board members Beth Seubert and Ted Knoeck stressed it was imperative the school district communicate with parents about their decision-making process in how they will re-open school in the fall.
In other school board business:
_ Board members tabled action on a busing contract with Fischer Transportation Co. It was reported, however, that the company received a $151,000 in Paycheck Protection Program loan/ grant that will be shared between the Marathon, Edgar and Athens school districts.
_ Board members agreed to purchase the Margaret Shidell home, 100 Second Street, for $144,700 with the school district paying for all closing costs. The school district will charge the home occupants $500 a month rent with the district responsible for all utility bills and property maintenance. A vote at the district annual meeting is needed to finalize the sale.
_ Board members accepted the resignation of Mandy Wright as Marathon Venture Academy (MVA) language arts teacher.
_ The board voted to approve an agreement to share the services of art instructor Jackie Imhoff with Edgar School District. Marathon School District will get 46 percent of her contract.
_ The board approved a contract with Sport and Spine Clinic L.P. for athletic trainer services at sporting events.
_ Administrator Parks said a joint project with Marathon Cheese Corp. to construct a parking lot north of Marathon Area Elementary School (MAES) would likely not be completed by the start of school in September. He said the district would receive clean fill from basement excavation planned for new company property facing Fourth Street.
_ Board members agreed to hours for a reopened Marathon Wellness Center. The center will be open Monday through Friday for all community use 4:30 a.m. to 5:45 a.m. and 5 p.m. to 10 p.m. The center will open for community members over age 55 from 3 p.m. to 5 p.m.
The center will be open to a maximum of 20 people at a time.
_ Administrator Parks reported there were six incidents of physical restraints at MAES in 2019-20 but none at MVA or Marathon High School.
_ An annual district health report states that there were 1,259 visits to school nurse Lara Beranek in the 2019-20 school year. She managed 42 medical action plans, including 13 for asthma and 16 for life threatening allergies.
_ MAES/MVA principal Ryan Mc-Cain said he would interview candidates for reading and math teacher openings.
_ Administrator Parks reported that $100,000 saved in the MAES/MVA remodeling project was applied towards installation of a new school gym floor.
_ Principal McCain said 294 students attend 12 classes of July summer school.
_ Board members voted to hire Gina Smith for a MVA science position.