Posted on
Ange grabs defensive honor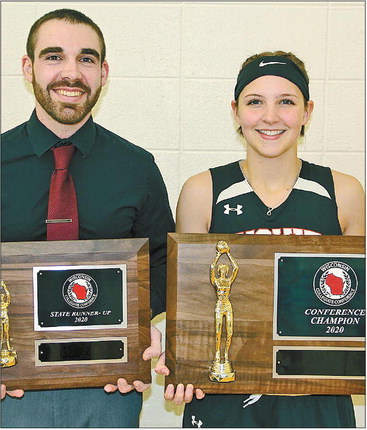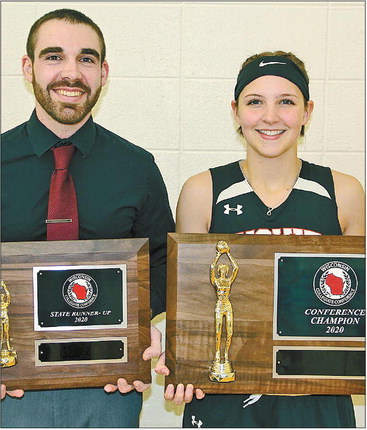 She has a stellar college hoops year for Huskies
By Casey Krautkramer
Athens native Brittany Ange loves playing college basketball and skydiving.
Brittany, who is the daughter of Cliff Ange and Amy Weiler, enjoyed her most successful women's basketball season in 2019-20 while playing for the UW-Stevens Point at Wausau Huskies.
She was awarded to the Wisconsin Collegiate Conference (WCC) women's basketball first team with her teammate, sophomore Patience Pyan of Merrill.
Brittany, who is a five-foot, seveninch combo sophomore guard and forward, was also named WCC women's basketball defensive player of the year. Pyan, meanwhile, was the WCC player of the year for the second straight season. Freshman forward Kateri Hackel of Edgar earned honorable mention all-WCC after she led the Huskies in rebounding with an average of 12.2 boards per game this season.
The Huskies won the WCC regular season women's basketball championship and finished as state runnersup to UW-Barron County this season, after they won the state title during Brittany's freshman college season.
Brittany has always taken pride in playing solid defense, even during her Athens High School basketball career. But she's now perfected her craft of playing shutdown defense during her two years playing college basketball in Wausau.
"Being awarded conference defensive player of the year is probably one of the biggest accomplishments in my life," she said.
Marathon native Koleman Schilling, who is the UW-Stevens Point at Wausau women's basketball head coach, had Brittany guard the opponent's best player during games.
"It's tough to totally shut down another team's best scorer, but Brittany definitely made the other team's best player more vulnerable in her skill set," he said.
Schilling was the Huskies' firstyear head women's basketball coach this past season, after serving as the team's assistant coach the two prior seasons. He was thankful he could rely on Brittany's strong leadership qualities in leading team drills during practices and being a loud voice in the team huddles during timeouts in games.
Brittany was one of three team captains during her first two years playing women's college basketball, along with being the team's lead captain this past season. She's always been a good basketball defender, but she worked hard on improving her shooting ability in the summer between her freshman and sophomore women's college basketball seasons.
"I shot the ball for 45 minutes each day in the gym, which really helped me improve my scoring average this season," she said. Brittany was second for the Huskies in scoring with an average of 13.2 points per game in the 2019-20 season, after only averaging a few points per game in her freshmen year.
The UW-Stevens Point at Wausau women's basketball team only had five players on its team this past season, but it'll receive a reinforcement when Athens 2020 graduating senior Allison Wolf joins the Huskies this upcoming season.
Brittany also plans to play for the Huskies one more season while she earns her associate's degree from the UW-Stevens Point at Wausau in December.
Then she'll study nursing at the main UW-Stevens Point campus.
In the meantime, she was honored to take her father, Cliff, skydiving for his first time on Father's Day.