Posted on
Pair are scholar athlete finalists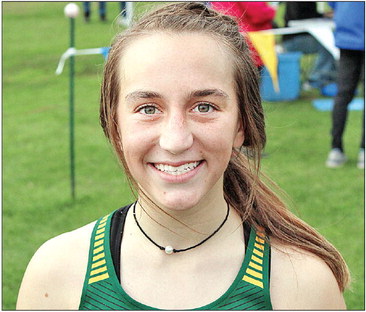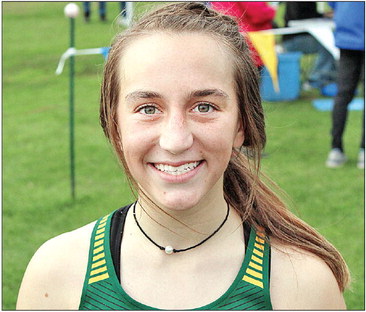 Ellenbecker and Schwabe going to same college
By Casey Krautkramer
It just so happens both local 2020 WIAA scholar athlete award finalists, seniors Marissa Ellenbecker of Edgar High School and Max Schwabe of Stratford, plan to attend the University of Minnesota State-Mankato this fall to further their academic and athletic careers.
Marissa is Edgar's 11th WIAA scholar athlete award finalist since the program began in 1984, while Max is Stratford's ninth scholar athlete award finalist. Both of them are among a total of 32 scholar athlete award finalists, which consists of 16 boys and 16 girls in the state this year.
The WIAA determined the top 32 finalists of four boys and four girls from each of the four divisions based on both their academic and athletic achievements. Marissa was named a scholar athlete award finalist in Division 3 girls and Schwabe in Division 3 boys.
Marissa is the daughter of Ryan and Karen Ellenbecker of rural Edgar and Max is the son of Joe and Tammi Schwabe of rural Stratford. Marissa has maintained a 3.989 grade point average throughout high school and she is her Edgar Class of 2020 salutatorian, while Max has kept a 3.98 grade point average. Marissa is honored to be a WIAA scholar athletic award finalist.
"It's a great accomplishment for me both academically and athletically," she said. "My Edgar High School teachers and coaches pushed me to do my best."
Marissa earned 10 varsity letters at Edgar High School in cross country, basketball and track and field. She is a two-time individual cross country state champion in cross country, and she also won individual track state championships in the 1,600 and 3,200-meter runs.
She was awarded first team all-conference honors in cross country dur- ing her entire four-year high school career, and she was also named Most Valuable Player on the Edgar cross country team all four years and MVP of her track and field team for two years. Marissa didn't get a chance to attempt to win more state championships in track and field this spring because of the coronavirus pandemic closing schools and the WIAA cancelling all spring sports.
Marissa signed her college letter of intent in December to compete in both cross country and track and field at Division 2 University of Minnesota State-Mankato. She joined her good friend and Edgar teammate, Bailey Imhoff, at a college athletic signing ceremony held at Edgar High School in early March.
Imhoff, who is the Edgar Class of 2020 valedictorian, announced during the ceremony she plans to major in neuroscience and run track and field at Division 3 UW-Eau Claire this fall. Marissa said she loves to see children's educational growth over the years, which has led her to major in elementary education at the University of Minnesota State-Mankato.
Max earned 11 varsity letters in football, wrestling and baseball at Stratford High School. He was an individual state champion in wrestling, a member of Stratford wrestling teams that won two state titles and on Stratford's baseball team that won the first ever state championship in school history last spring. Unfortunately, his Stratford baseball team won't have an opportunity to defend their WIAA Division 3 state title this spring because of spring sports being cancelled during the coronavirus pandemic.
He was also named Most Valuable Player on the Tigers' wrestling team for two years and he was awarded Offensive Player of the Year of his football team one year. Max is also humbled to be a WIAA scholar athlete award finalist.
"It's pretty awesome," Max said.
He also thinks it's neat both Marissa and him are the two local WIAA scholar athlete award finalists planning to study and play sports at the same college.
"Stratford and Edgar are obviously very good schools for both academics and athletics," Max said.
He will major in mechanical engineering at the University of Minnesota State-Mankato.
"My dad told me about mechanical engineering when I was in seventh grade, because I skipped two grades because I was so good at math and I was always wanting to build things," Max said. "I knew back then I wanted to study mechanical engineering one day in college and I just stuck with it ever since."
The 2020 WIAA scholar athlete finalists will be recognized in a video to be posted Friday, May 15, on the WIAA website and broadcast statewide by Fox Sports on several dates yet to be announced. The video will include a special message from Alec Ingold, who currently plays for the NFL's Las Vegas Raiders and is a former member of the Wisconsin Badgers football team. Ingold, who graduated from Bay Port High School in rural Green Bay, was named a WIAA scholar athlete finalist in 2015.
Each 2020 WIAA scholar athlete finalist will receive a medallion, a certifi cate and a special plaque to display in their high school's trophy case. Student athletes nominated for the award by their high school athletic directors, but not selected as one of the 32 statewide finalists, will be recognized locally by their school district administrations.