Posted on
Edgar coach discusses her career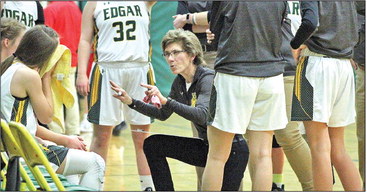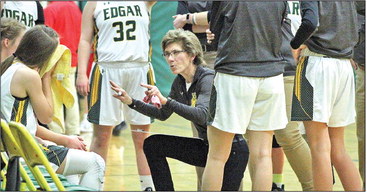 Urmanski has fond memories from each year
Betty Urmanski has accomplished a lot during his 17 years as Edgar's varsity head girls basketball coach, as she's now chosen to retire so she can spend more time with her family and leave whoever the next coach will be with a talented team next season.
Edgar will return many great players, including guard Makenna Guden and forward Gabriella Keim who will be seniors. These experienced starting players helped the Wildcats win a regional championship this season.
"I never wanted to be the coach who stepped away after a great year, knowing maybe the next year or two were going to be challenging," Urmanski said.
She is hoping the next head coach will enjoy the many aspects of coaching as she did during her career.
"My high school basketball coach, Steve Zais, made coaching look fun and easy; he was a huge impact on why I began coaching 22 years ago," Urmanski said. "He even attended our team's sectional finals game at Waupaca against Oshkosh Lourdes and waited around after the game to talk to me, which was a pleasant surprise and a great memory.
"Over the past few weeks, I've had time to reflect on the my past 17 years as a head coach, and by going through each season, I can recall something special about each of them; it has truly been an amazing experience. I've also had the luxury of coaching with extremely talented individuals as assistant coaches over the past 17 years, because without their support and time devoted to our program it wouldn't be as successful as it is today."
Urmanski was hired by Bob Houts in September of 2003 to be the new Edgar varsity head girl's basketball coach.
"The senior players that year were receiving their fourth head coach in their high school career," she recalled. "My oldest daughter, Jenny, was on that team. Edgar won its first conference championship in 2008 and went on to play in the regional finals, losing to Amherst in a close game; Amherst ended up winning the state championship that year. The girls program added another conference championship in 2016; the program has three regional championships and two back-to-back sectional final appearances."
Urmanski had the privilege of coaching all three of her daughters at Edgar High School. Her daughters Jenny graduated in 2004, Amanda in 2007 and Connie in 2009. Urmanski is also proud to have coached three players in Holly (Denfeld) Nowak, Tianna Borchardt and most recently Makenna Guden this season. Her daughter, Connie, scored 903 points in her high school career.
She's also happy Nowak and Borchardt are two of her former players who've returned to coach the past two years in the Edgar girls basketball program. Nowak has served as Urmanski's varsity assistant coach and Borchardt has been the seventh grade coach.
"Having Holly as an assistant varsity coach the past two years has been an amazing experience, because she brings so much energy and passion to the game," Urmanski said. "Holly is excited to put her hat in the ring for a chance to become Edgar's new girls basketball head coach, and if she is selected, I know she will be extremely successful. We've had many athletes from our girls basketball program, which have coached or are still coaching, which is a great tribute to the foundation we provided for them."
Urmanski is looking forward to having more time now to spend with her children and grandchildren.
"One of my daughters lives in Green Bay, another is in Madison, and Connie lives in Indiana and my son Matt will be moving to Duluth, Minn., this summer to begin his doctorate program in physical therapy at the College of St. Scholastica," she said. "Our five grandchildren, plus one that'll be born any day now, are getting older and beginning school with activities of their own to attend. My husband and I want to begin travelling to see them. I have one niece and three nephews who will be playing basketball at the high school level and one niece at the college level, therefore we want to have time to attend their games."