Posted on
Drexler is an All-American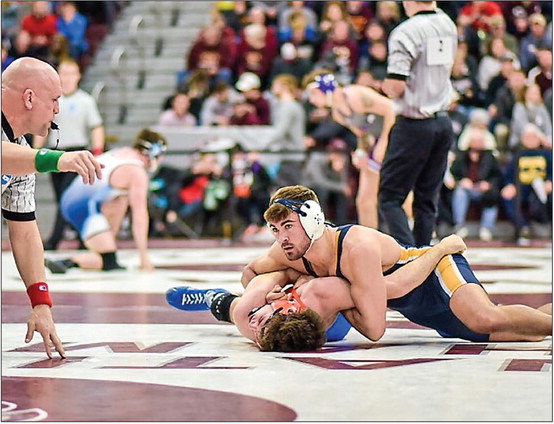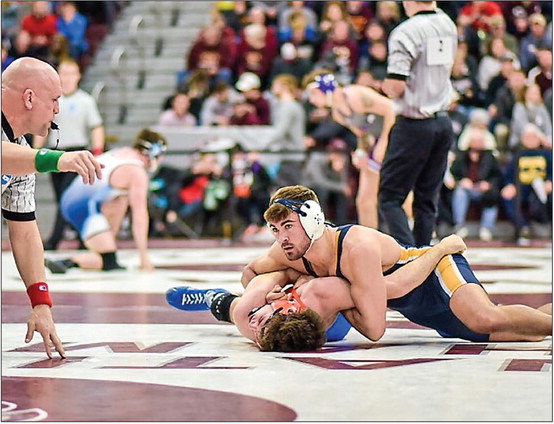 He qualified for the D-3 national championships
By Casey Krautkramer
Jake Drexler of Stratford didn't reach his goal of winning a WIAA Division 3 individual state wrestling championship in high school, which has driven him to continue working hard on his wrestling techniques as a member of the UW-Eau Claire team so he can win a NCAA Division 3 individual national championship in the future.
Drexler's best finish at high school individual state was third place in both his junior and senior years. Although Drexler didn't win an individual state title, UW-Eau Claire head wrestling coach Tim Fader was impressed so much with his sound wrestling techniques that he recruited Drexler to compete for the Blugolds.
"I recruited Jake because I was impressed with his wrestling skills and dedication to the sport," Fader said. "He also wrestled for a great coach, UW-Eau Claire alum Joe Schwabe, while attending Stratford High School. Jake had a good college freshman season wrestling for us at 141 pounds, and his move up to 149 pounds this season paid off big for him. He scores a lot of points against his opponents and pins many of them."
Drexler wrestled against his former Stratford teammate, Sam Wenzel, twice during the NCCA Division 3 regionals meet. Drexler lost his first match to Wenzel, who was a senior wrestling for UW-La Crosse this season. Later on, Drexler rebounded to win the third-place match against Wenzel to qualify for the NCAA Division 3 national championships on March 13-14 in Cedar Rapids, Iowa.
"I told Sam after our match it was unfortunate we needed to wrestle against each other for an opportunity to qualify for the national championships," Drexler said. "Sam congratulated me on the win and wished me good luck at the national championships."
Drexler and two of his other UWEau Claire wrestling teammates, junior Evan Lawrence of Hugo, Minn., and sophomore Noah Carter of Rochester, Minn., all qualified out of regionals to the national championships. Fader traveled with the wrestlers to Cedar Falls, Iowa, on the day before the national championships were supposed to start so they could get in some practice time and not focus on the coronavirus pandemic affecting the United States. Drexler's opportunity to wrestle at the national championships never happened.
"We found out 12 hours before the wrestling national championships were to begin they were being canceled because of the coronavirus pandemic," Drexler said. "It's unfortunate my teammates and I couldn't wrestle in the national championships, because this season there were three of us who made it while last season nobody on our team did."
Fader said the National Wrestling Coaches Association (NWCA) normally announces its Division 3 All-American team after the national championships concludes. Since the national championships never occurred, the NWCA awarded Drexler and his two teammates who qualified for nationals to the 2020 Division 3 All-America team.
Drexler finished his sophomore college wrestling season with a 32-6 record in matches. He now has two more years to get an opportunity to win a NCAA Division 3 national championship. He chose to major in business entrepreneurship at UW-Eau Claire. His parents, Dan and Cara Drexler, own Stratford Sign Co.