Posted on
They prefer distance learning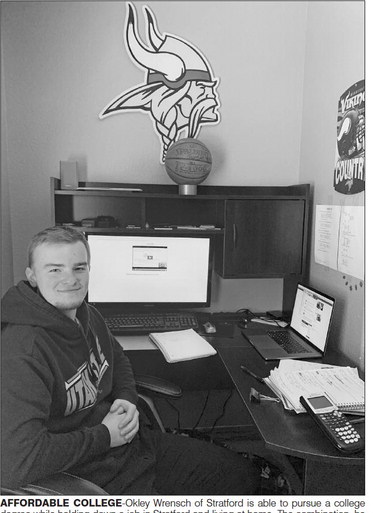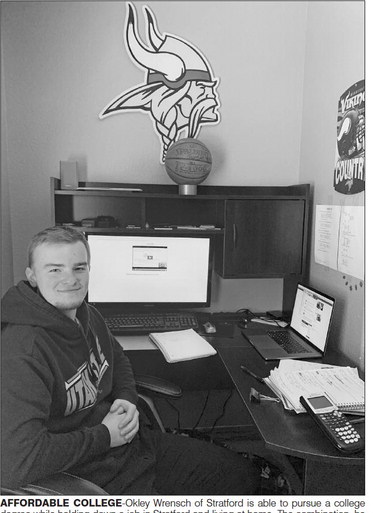 High school senior and college freshman take classes at home
High school senior McKenzie Erdman of Marathon and college freshman Okley Wrensch of Stratford were already accustomed to taking online classes from the comfort of their parents' homes before the coronavirus outbreak.
Not much has changed in their daily online learning routines, except for sometimes having a slower Internet speed to work with because of the vast amount of people now studying or working online from home as a result of non-essential businesses and all school buildings being closed in the state to prevent the spread of COVID- 19.
Erdman attended Marathon High School until two weeks into her sophomore year. She then decided to enroll in Rural Virtual Academy (RVA), Medford.
"I chose to attend RVA because I had a hard time focusing on learning in a brick and mortar school," Erdman said. "It was scary to attend RVA at first, but the teachers in the RVA are such good helpers and they're always trying to provide one-on-one instruction to help students better understand the learning material. It isn't very hard to learn in my house since I am in my bedroom away from distractions."
She lives with her parents, Craig and Sarah (Seubert) Erdman in their village of Marathon house located on Hictory Street. Erdman described her normal online class schedule.
"My school day begins at 8 a.m. and it ends at 2:15 p.m.," she said. "I start my school day by going to my classes, which are 30 minutes long and there are different lengths of breaks between them. During those breaks, I usually either do some homework, go downstairs and grab a snack to eat, watch some TV or go for a drive to Wausau or just around Marathon."
The Erdman family isn't required to pay extra money to send their daughter to the RVA, because school property tax money they pay to the Marathon School District instead goes to the RVA.
"We don't pay anything for the RVA," McKenzie said. "If I were in a class that requires me to paint, then RVA would send me the supplies I would need. For one of my classes, RVA gave me a Fitbit to use so I could track my steps."
She has increased her GPA from 2.5 during her freshman year at Marathon High School to above 3.0 while attending RVA. McKenzie is scheduled to graduate high school from the RVA on Friday, May 29.
An economical degree
Okley Wrensch graduated from Stratford High School in spring of 2019, and he's currently in the midst of his freshman year attending college online at Utah State.
He lives with his parents, Patrick and Amy Wrensch, in their home located in the village of Stratford, while earning a college bachelor's degree in economics.
It was tempting for Okley to join his girlfriend, Brooke Peterson of Stratford, and his other close friends in attending a traditional brick and mortar college, but he felt earning a college degree online was best for him.
"I enjoy being able to do school work at my own pace, which is the biggest reason I love taking online classes," he said. "I wanted to get an affordable college education, so when I came across Utah State's online economics program, I knew it was the right fit for me."
He works weekday mornings in the purchasing department at A & B Process Systems/JBT Corporation in Stratford. Then he travels back to his parent's house to eat lunch before taking his college online classes in the afternoon.
"My classes are all prerecorded lectures and readings, so as long as I meet the due dates, I have the freedom to complete my classes whenever I want," Okley said. "COVID-19 has had a very minimal impact on my schooling because all of my classes have continued to stay on schedule. The only difference is all my tests are now proctored online; I used to have to take some of the tests at the Stratford public library. Surprisingly, neither my girlfriend Brooke nor my other friends have come to me seeking advice on how to complete their college semesters online."
Okley said the cost per college credit at Utah State is comparable to University of Wisconsin colleges, but he saves a lot of money by not having to pay for room and board.
"Utah State also allows online students to take summer classes, which would allow me to graduate college in less than three years if I continue on my current pace," he said. "From there I will be able to decide whether I would like to enter the workforce full time or possibly work towards earning a master's degree."
He would also be OK with earning his college degree from Utah State without ever stepping foot in the state of Utah.
"Honestly, attending my college graduation ceremony is not a big deal to me and I would be 100 percent fine if Utah State sent me my diploma in the mail," Okley said. "However, my aunt tells me Utah is a great state to visit so my college graduation ceremony would give me a good excuse to go on a vacation."