Posted on
Rachu concludes her career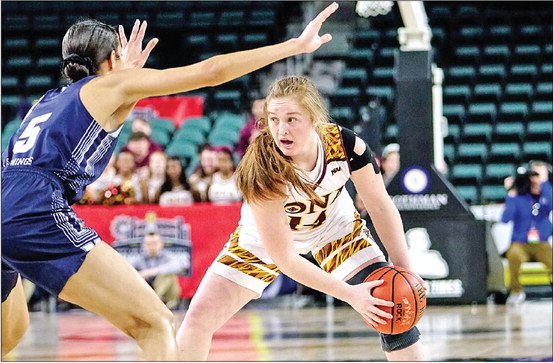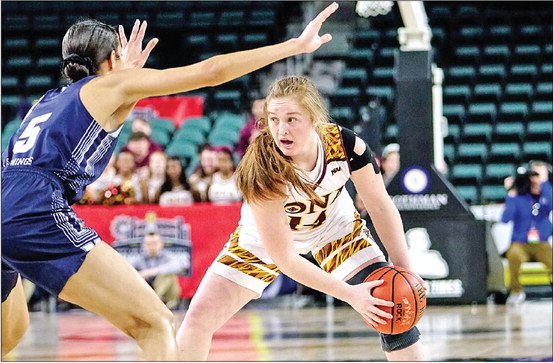 She overcomes injuries during her senior year
By Casey Krautkramer
A bevy of injuries couldn't keep Marathon native Morgan Rachu from finishing out her senior season playing Division 1 college women's basketball for the Iona Gaels.
Rachu's entire left side of her body ailed her this season. She dealt with injuries to her left foot, knee and shoulder during her most challenging season playing college basketball in her illustrious career.
She played her first two years of college basketball for the UW-Marathon County Huskies in Wausau, before transferring to Iona College in New Rochelle, N.Y. to finish her career. Rachu is the daughter of Jeff and Terri (Stencil) Rachu, and she'll graduate with a bachelor of arts degree in economics from Iona College during an online commencement ceremony on May 16.
Morgan dealt with many injuries during her senior college women's basketball season for the first time in both her playing career at Marathon High School and in her previous three college years.
Her senior college women's basketball season at Iona College started off great, when her grandparents, Lavern and Joan Stencil of rural Marathon, surprised her by attending the first game this season against Winthrop University in South Carolina.
Morgan unfortunately missed her first two conference games against Quinnipiac and Rider in early January because of her foot injury. She also sat out five games this season after she tore her Posterior Cruciate Ligament (PCL) in her knee against Monmouth on Jan. 11, and she later also played while dealing with a shoulder injury.
After her knee injury, Iona College's coaching staff gave Morgan the option of having surgery to end her season. The college would've then granted her another medical redshirt season. She opted to hold off on having knee surgery so she could play out her senior season for the Gaels.
"I knew I could overcome the injuries and tolerate certain pains, so I took every second of rehab and treat- ments seriously to get myself back to where I wanted to be strength wise for my team," she said. "I just wanted to do anything possible to get back on the basketball court."
Morgan returned from injury to play in her team's game on Feb. 6 against Canisius. Despite missing many games, she still ended up as the Gaels' second-leading scorer this season.
Morgan also finished her senior season in fashion by achieving the third double-double of her college basketball career with a team-high 17 points and a careerhigh 12 rebounds in the team's final game, which was a 69-60 loss to Monmouth in the conference tournament on March 10.
Her Iona College women's basketball team was on its bus ride from the conference tournament back to campus, when the coaching staff told Rachu and her teammates they needed to go home because of the coronavirus pandemic. Morgan took an airplane flight back home to Marathon that very same day, and she's been home studying online ever since.