Posted on
'Jays can't reverse the game script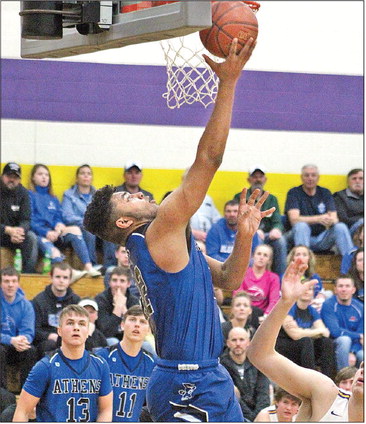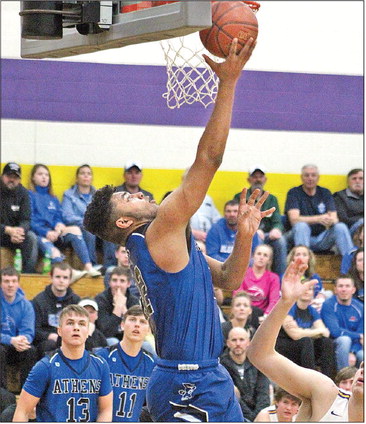 Pittsville ends Athens' season
Athens senior center Cameron Ford achieved his normal double double in points and rebounds, yet his efforts weren't enough to guide the Bluejays to a road playoff win against the Pittsville Panthers on Friday.
Ford concluded his stellar Athens boys basketball career by scoring 23 points and grabbing 18 rebounds during the team's 68-60 WIAA Division 5 regional semifinal loss to Pittsville. He was overcome with emotion when his mother and two younger sisters hugged him after the game.
"This is definitely the most fun year I've had because of playing with these guys; I love all of them," Ford said while shedding a few tears. The Athens boys basketball program wasn't very good until me and our team's other seniors, along with the seniors who graduated last year, helped turn things around."
Ford scored his 1,000th career point during Athens' WIAA Division 5 regional championship win against Rib Lake last season. It marked the first time in school history an Athens boys basketball team had won a regional title.
Athens found itself losing 32-20 to Pittsville at halftime, but co-head coach Aaron Ellenbecker said was proud of his players' strong effort in the final 18 minutes of the game.
"Our boys played their hearts out in the second half," he said.
Senior Javon Penney and sophomore Cooper Diedrich scored 12 points apiece for the Bluejays against the Panthers. Junior Dayne Diethelm added nine points. Junior Cobie Ellenbecker and Penney led Athens with four assists each, and Penney paced the team with six steals.
Archie Sherbinow, UW-Stout men's basketball assistant coach, attended the game to scout Pittsville senior Matthew Kissner who led the Panthers with 26 points, eight rebounds, four steals and two blocks against the Bluejays. Sherbinow chatted with Athens boys basketball assistant coach John Keefe after the game. This is Keefe's first school year teaching second grade at Athens Elementary School, after the Medford standout scored over 1,000 career points while playing for UW-Stout before he graduated college.
Athens finishes this season with a 17-7 record. Pittsville won the WIAA Division 5 regional championship against Almond-Bancroft, 62-49, on Saturday night. Pittsville, 19-6, now plays against Rib Lake in a Division 5 sectional semifinal at 7 p.m. this Thursday, March 12, at D.C. Everest High School.
Ford's Athens boys basketball career may be over now, but he will forever cherish his time spent playing with his first cousin, freshman Aiden Janke, on the Bluejays varsity team this season.
"We've been beating up on each other since we were little kids," Ford joked. "Aiden and I just kept pushing each other in practices to get better; he will be a good basketball player for Athens in the future."
Wildcats lose their lead
Edgar's boys basketball team couldn't hold onto its first half lead against Auburndale, as the Apaches stormed back for a 41-33 win to capture a WIAA Division 4 regional championship on Saturday night.
The Apaches did most of their damage in the second half with star senior guard Cooper Weinfurter in foul trouble on the bench. Junior guard Hunter Wright led Auburndale with 14 points, including 11 of them coming in the second half.
Junior guard Austin Dahlke was the lone Edgar player in double figure scoring with 14 points, including three treys. The Wildcats took an 18-12 halftime lead before things unraveled.
Edgar ends this season with an 18-6 record, while Auburndale improves its record to 20-4 and will now play against undefeated Stratford in a WIAA Division 4 sectional semifinal game at 7 p.m. this Thursday, March 12, at Wausau West High School.
The Wildcats downed Spencer, 62-38, at home on Friday to advance into the regional title game against the Apaches. Junior guard Drew Guden led Edgar with 22 points and seven assists in the win against the Rockets.
Red Raiders fall to Warriors
Marathon's boys basketball team concluded this season with a 13-11 record, after its 76-58 road loss to Neillsville in a WIAA Division 4 regional semifinal on Friday.
Sophomore guard Jaden Koeller paced the Red Raiders with 18 points, while junior forward Brock Warren led the team with eight rebounds against the Warriors.