Posted on
Marathon mounts comeback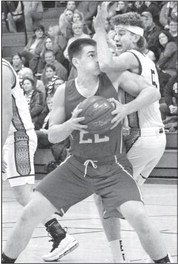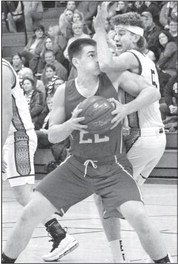 It outscores Wildcats in extra period
By Casey Krautkramer
The Marathon boys basketball team erased a 12-point halftime deficit to come back and tie its game against archrival Edgar at the end of regulation. Wildcats junior guard Kyle Brewster sank a three pointer to begin the four-minute overtime period, but then the Red Raiders went on a 13-0 scoring onslaught to end the game and earn a 64-54 win.
Red Raiders sophomore guard Jaden Koeller made six of his seven free-throw attempts in overtime to seal the win. He was Marathon's second-leading scorer with 15 points against Edgar.
"I was so focused on making my free throws that it felt like I was the only person in the gym and there was nobody else here," Jaden Koeller said.
Senior wing Clarke Mouw also converted a pair of double bonus free throws in the extra period toward his game-high 25 points scored to help the Red Raiders escape the Edgar gym with a victory.
Marathon held a sizable advantage against Edgar in free throws attempted. The Red Raiders made 16 of their 19 free throws for 84 percent shooting at the charity stripe against the Wildcats. Edgar, meanwhile, only attempted seven free throws and it made four of them.
Jaden Koeller said he's fortunate to play with his older brother, senior Kolby Koeller, on Marathon's varsity basketball team this season. The boys' parents are Gloria Litzer and Brian Koeller.
Edgar enjoyed a 13-0 scoring run in the first half to take a 20-10 lead on junior Konnor Wolf's basket, which forced Marathon head coach Adam Jacobson to call a full timeout with a little more than six minutes left until halftime. Marathon senior Nathan Trawicki's made three-point shot halted the team's eight-and-a-half minute scoring drought. Edgar senior Caden Higgins drained a three pointer at the halftime buzzer to give the Wildcats a 35-23 advantage at the break.
Marathon head coach Adam Jacobson employed a 1-3-1 defense against Edgar in the second half. His strategy worked because Edgar players kept throwing the ball past their teammates and out of bounds, which helped Marathon's come back bid.
"We were careless with the ball; we just weren't ourselves against Marathon," Brewster said.
Mouw's layup with three minutes, 20 seconds left in the contest, gave the Red Raiders their first lead of the game since they led, 10-7, five minutes into the start of the game.
Jaden Koeller believes Marathon could do some damage in the playoffs.
"Coach Jacobson told us to fight against the dying light, meaning we want to stretch our season out as long as we can for our senior players," he said.