Posted on
Edgar wins battle of the Wildcats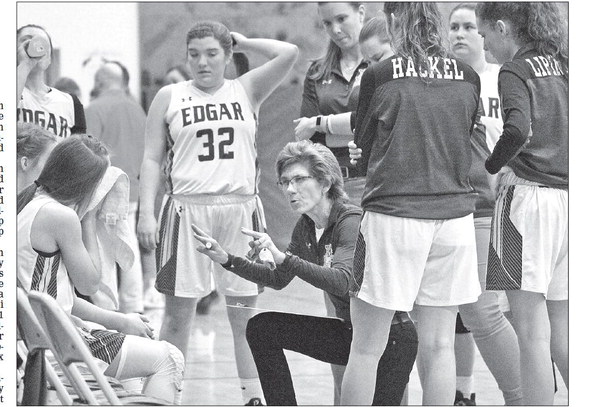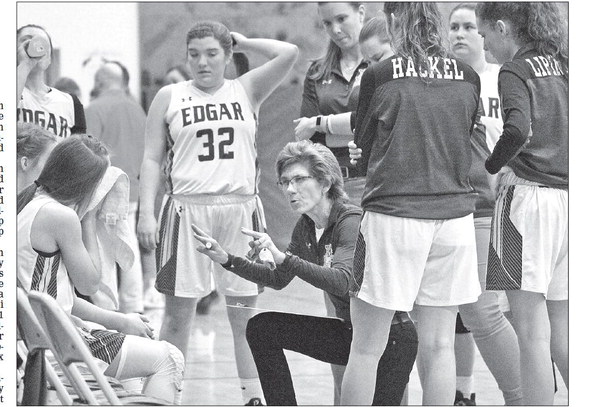 Team wins first regional title in eight seasons
By Casey Krautkramer
The Edgar girl's basketball team downed Wild Rose, 63-47, in a battle of schools with Wildcats' mascots in a WIAA Division 5 regional championship game on Saturday in the Wild Rose High School gym.
Ironically, the last time Edgar won a regional title was also against Wild Rose eight years ago in 2012. Edgar varsity assistant coach Holly Denfeld Nowak was a junior player on the Wildcats' 2011-2012 squad, which ended up playing in the sectional championship game.
Edgar junior guard Makenna Guden had a huge night against Wild Rose, by draining five of 11 three-point attempts toward her game-high 33 points. She added five rebounds, two steals and a pair of assists. Junior forward Gabbi Keim achieved a double double with 11 points and 10 rebounds. She also collected two steals and one assist. Senior guard Marissa Ellenbecker contributed seven points, four assists and six steals.
Wildcats head coach Betty Urmanski employed a sound game strategy for her team to have success against the other Wildcats.
"Going into Saturday's game, I knew Wild Rose's starters played a full game because their team only beat Wisconsin Rapids Assumption by three points on Friday night," Urmanski said. "I was still a little concerned how well we'd play in back-to-back games, with girls still not 100 percent healthy.
"I commend the girls for their effort against Wild Rose, as they followed our game plan perfectly. We put in a new press break at our walk through before leaving Edgar for Wild Rose, and our players executed it very well. Wild Rose came out with a full court 1-2-1-1 press, in which its players trapped and jumped every pass our girls made. Our players were patient and they had great ball movement by scoring 32 of our team's points in the paint."
Urmanski was also proud of her team's defensive prowess against Wild Rose, which ends its season with a 20-4 record. Wild Rose captured the Central Wisconsin South Conference championship with a 12-0 record.
"Our players made nice adjustments defensively, as we held a team in Wild Rose that averages 58 points per game to 47," she said. "Their leading scor- er averages 24 points per game and we held her to 13. We rotated 10 girls throughout the game, with everyone making contributions, to keep our legs fresh."
Edgar was tied with Rosholt, with 22 points for each team, in its home regional semifinal game on Friday. The Wildcats still ended up beating the Hornets, 55-48, to advance to Saturday's regional final. Keim paced Edgar with 16 points, six rebounds and two assists against Rosholt. Guden contributed 16 points, six rebounds and two assists. Senior forward Teresa Hackel added 12 points, five rebounds, five assists and six steals in the victory.
"I was a little concerned coming into this game, because Rosholt brought some height across the board and we were coming off of three of our starting players sick with the flu," Urmanski said. "Our team played back and forth during the second half and with about eight minutes left, we went into a full court press which created a lot of pressure on their guards and garnered a few transition layups. The turning point in the second half was when freshman Regan Borchardt hit a 3-point shot to put our team up by one point and Teresa Hackel had two huge offensive rebounds at the end of the game as we pushed through for the win."
Edgar swept three teams from the Wisconsin South Conference including No. 2 seed Wild Rose, No. 6 seed Rosholt and No. 14 seed Plainfield Tri-County in its regional bracket. The Wildcats improve to having an 18-7 record this season.
No. 3 seed Edgar improves its record to 18-7 in games this season, and the team is now set to face No. 1 seed Wausau Newman Catholic, 20-4, in a Division 5 sectional semifinal game at 7 p.m. this Thursday, March 5, at Mosinee High School.
The Wildcats only lost to the Cardinals by one point, 41-40, in the last game they played each other on Feb. 11 in Wausau. Newman won the Marawood South Conference championship this season.
Urmanski knows what to expect from a talented Newman squad.
"Wausau Newman has a handfull of three-point shooters who are all extremely quick," she said. "We need to be in control offensively and make good decisions with the basketball. Defensively, we need to contain the ball, give them one look at the basket and not allow them points off of their press. I know the girls are excited to erase our one-point loss from our last matchup against Newman."
Whichever team wins between Edgar and Newman would advance to play in the Division 4 sectional championship at 7 p.m. this Saturday, March 7, in Bowler. Edgar or Newman would play against either Oneida Nation or Niagara on Saturday night.