Posted on
Stratford dominates foes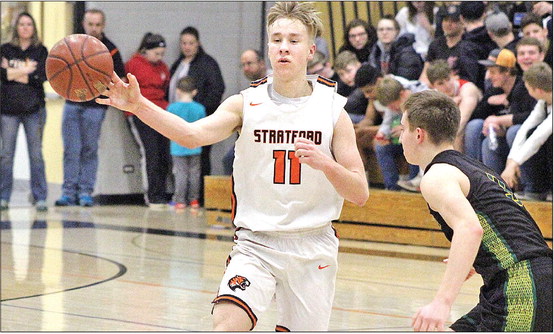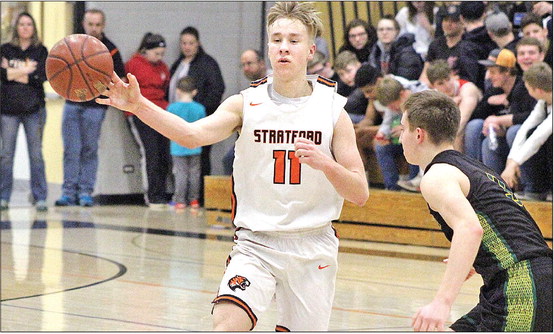 Tigers beat 'Cats to stay unbeaten in 2019-20 season
By Casey Krautkramer
Stratford's boys basketball team has now won back-to-back Marawood South Conference championships, and the Tigers are also attempting to go undefeated during the regular season for the second straight season.
Tigers senior post player Ben Barten scored over 1,000 career points in the team's 57-38 road win against Auburndale on Friday. He joins senior teammate, Vaughn Breit, as the only Stratford boys basketball players in school history to achieve the 1,000 career points milestone. Breit accomplished the feat during the team's road win against Owen-Withee on Jan. 7.
Barten explained the significance of him reaching the 1,000 career points scored benchmark.
"It's a special moment for our whole team because I know I wouldn't have gotten anywhere close to scoring 1,000 career points without my teammates helping me," he said.
Stratford head coach Curt Schmidt said he received an e-mail from a former basketball coach on Monday to let him know how unbelievable it is for two boys basketball players on the same team to score 1,000 career points in the same season.
"It's a big deal for a player to score 1,000 career points, because nobody in our school district has any records of any boy's basketball player doing this before Vaughn and now Ben has done it," Schmidt said.
Barten scored 20 points and he grabbed 15 rebounds in the team's win against Auburndale. Senior Dawson Danen added 11 points, and senior Chandler Schmidt paced the Tigers with five assists.
Edgar kept the score in the first half close against Stratford on Monday, as the Tigers only had a four-point lead at the break. But just like Stratford's done to most of its opponents this season, the Tigers shot the ball extremely well in the second half in cruising to a 60-32 home win against the Wildcats.
Wildcats head coach Dave Huss admits Stratford is a difficult team to beat this season. Edgar could face Stratford again in a WIAA Division 4 sectional semifinal game on Thursday, March 12, at Wausau West High School.
"Stratford has good player depth, size and shooters from the outside," Huss said. "They are at the cream of the crop, so to speak, not only in this area but in the state. I was proud of our players because I thought we hung with Stratford in the first half even though our team was short handed with starter Drew Guden out sick."
Barten led Stratford with 19 points in the victory against Edgar, while Breit grabbed 11 rebounds and Chandler Schmidt had six assists. Stratford remains ranked No. 2 behind Cuba City in this week's wissports.net Division 4 coaches' poll. Stratford, which now has a 20-0 record, just needs to beat Wisconsin Rapids Assumption at home this Thursday, Feb. 27, to secure back-toback undefeated regular seasons for the first time in school history.
The Tigers were awarded a first round bye in the first round of the playoffs this Tuesday, March 3. Stratford would play the winner between Stevens Point Pacelli versus Colby in a WIAA Division 4 home regional semifinal game at 7 p.m. on Friday, March 6.
Barten isn't concerned about his team competing in a perceived tough regional against possible opponents like Marathon and Neillsville, and in the sectional semifinal against possible foes such as Auburndale for Edgar.
"I look at it as yeah, it may be a tough regional and sectional, but it's a familiar one," he said. "We might go into it facing teams that are all ranked, but at the same time we played against them this season so it's not like there would be much of a change."
'Cats ready for the playoffs
Edgar edged Wausau Newman, 59-52, on the road Friday. Kyle Brewster led Edgar with 23 points and 10 rebounds. Drew Guden added 19 points and four assists.
Edgar (17-4) also has a first round playoff bye on Tuesday. Edgar will play Tuesday's winner between Spencer versus Abbotsford in a WIAA Division 4 home regional semifinal game at 7 p.m. on Friday, March 6.