Posted on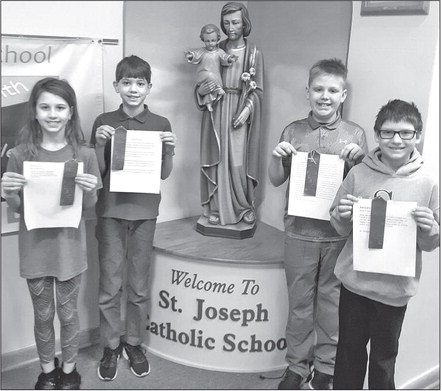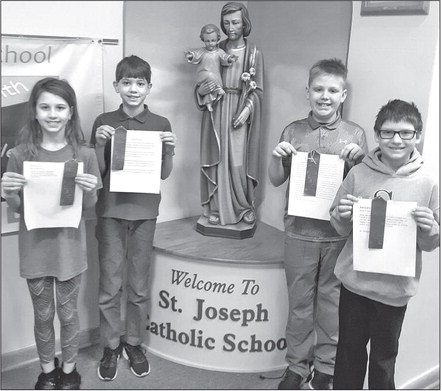 Send Stratford news to: [email protected] phone: 715-223-2342 fax: 715-223-3505 P.O. Box 677 103 West Spruce Street Abbotsford, WI 54405 High school honor roll
Athens High School has announced its honor roll for the second quarter of the 2019-20 school year.
High Honors
Grade nine: Ryan Becker, Tessa Berg, Samantha Budtke, Lydia Burrows, Lexie Christopherson, Evan Danielson, Kayla Drexler, Sara Fischer, Lauren Holcomb, Rachel Jennings, Victor Junemann, Sydney Kafka, Mercedes Kramer, Lauren Kraus, Lance Krieg, Bailey Linzmaier, Sophia Meyer, Ian Mikelson, Tessa Miller, Jackson Ormond, Kenidi Palmer, Sonia Peterson, Conner Radke, Chloe Schafer, Braeden Schueller, John Seitz, Olivia Seitz, Emma Jo Sutton, Conner Weigel, Remi Weis, Ava Weix, Ashton Wrensch and Benjamin Zuelke, Grade 10: Laura Aschenbrenner, Brett Bangart, Jaden Bauer, Mei Bean, Caden Bruesewitz, Hailey Chapel, Kaedyn Dahl, Camden Daul, Delaney Dennee, Gavin Drexler, Alexis Folz, Lydia Golbach, Kaden Griesmer, Tyler Heckel, Darin Heeg, Carolynn Hiebl, Dylan Hollatz, Dillon Kirsch, Gavin Kirsch, Kambria Leonhard, Elijah Lucio, Kylee Manecke, Heidi Moen, Tanner Oertel, Samuel Reiff, Leslie Rojas, Addison Schafer, Kara Schara, Marah Schillinger, Sabrina Schmidt, Zackary Seitz, Olivia Spindler, Maria Stuttgen, Devin Ulrich, Elizabeth Wenzel, Megan Wiese, Allison Wiesman, Lauryn Wiesman, Sarah Zuelke and Allyson Zuleger.
Grade 11: Kaitlyn Asplund, Riley Bauman, Kaley Bloom, Sydney Busche, Drey Drexler, Cole Ebner, Camryn Fisher, Leonardo Franzese, Mikayla Guldan, Gracie Hauke, Tyler Holcomb, Zachary Johnson, Joseph Kloos, Tucker Knoeck, Hannah Krueger, Theo Lecarme, Makenna Leonhardt, Adam Lieders, Sarah Martin, Shawna Moen, Abbygail Oertel, Autumm Oertel, Martina Preziosi, Laura Robus, Maria Schoenfuss, Kayla Serwe, Max Vanderhoof, Kale Weisenberger and Tristan Wirkus.
Grade 12: Nicholas Asplund, Clare Bargender, Riley Bento, Mandy Benz, Devyn Dahlke, Dawson Danen, Devin Dennee, Trevor Dennee, Calli Drexler, Jaxson Fabry, Kaden Haupt, James Heeg, Ashley Heiden, Sophia Hoffman, Rose Huther, Elizabeth Jennings, Easton Kilty, Paige Kolbeck, Tyler Lappe, Jenna Lieders, Dawson Moen, Michael Mootz, Ashley O'Neil, Lexi Ossmann, Erica Papini, Madeline Pavloski, Jessamae Rice, Megan Schmidt, Justin Schoenherr, Kamryn Schueller, Max Schwabe, Hannah Stoiber, Coy Stueber, Logan Stueber, Isaac Thompson, Saige Tichy, Jordan Van Schyndel, Cole Varsho, Angellia Verdone, Tucker Zawislan and Hannah Zuelke. Honors
Grade nine: Brooke Bohman, Annalee Casperson, Audrey Dillinger, Brooke Faber, Keegan Fisher, Sawyer Grabow, Jasmine Grell, Ella Heidmann, Billie Hoffman, Sadie Kauffman, Allison Lindner, Emma Mielke, Alexander Mueller, Shaylee Overholt, Katrina Purvis, Logan Schmidt, Brayden Weber, Lily Yoder.
Grade 10: Brayan Anguiano Contreras, Noah Barrett, Connor Dillinger, Leilani Gouveia, Ashtyn Kuehn, Kassidy Landwehr, Cole Marten, Cameron Mootz, Anna Peterson, Alyssa Soczka, Brenda Stack, Alexander Weis, Dawson Weisenberger, Garet Zoellick.
Grade 11: Breanna Ackley, Tyler Bastman, Justin Briggs, Kaitlyn Eiberg, Kelsey Fons, Hunter Ford, Luke Gaulke, Grace Greenberg, Spencer Griepentrog, Jacob Heiden, Emily Hughes, Thomas Kaiser, Sydney Kauffman, Joshua Leick, Kolby Mueller, Lauryn Nagel, Logan Rueth, Andrea Schallock, Colten Schillinger, Tanaya Schillinger, Odin Schulte, Jacob Serwe, Jacob Skroch, Antonio Verdone, Janilee Weiland, Keegan Weiler, Benno Wenzel.
Grade 12: Benjamin Barten, Andrew Chapel, Matthew Dickinson, Nicholas Fox, Matthew Goode, Matthew Handrick, Olivia Hoffman, John Kloos, McKenna Krall, Derek Kraus, Brenna Manecke, Jaykob Mikelson, Isabelle Multerer, Devyn Palmer, Justin Radke, Rachel Riesen, David Tonche, Jaden Weiland.
Middle school honors
Athens High School has announced its honor roll for the first quarter of the 2016-17 school year.
High Honors
Grade six: Trygve Aschenbrenner, Brady Berg, Coltan Breit, Amanda Budtke, Ryan Christopherson, Colin Cournoyer, Lily Dabbert, Carley Ehrike, Hailey Fecker, Hayden Fecker, Eire Fisher, Lucas Forrest, Adrianna Hamsing, Mason Hollatz, Mathias Kaiser, Alexa Krieg, Gracie Krummel, Sylvia McMeeken, Ireland Moran, Jaegar Ormond, Seth Ostricki, Cody Randow, Calvin Rasmussen, Jack Remus, Isabelle Schill, Gracie Schmidt, Meadow Schmidt, Robin Serwe, Riley Spindler, Brody Thomer, Paige Treutel, Tria Tubbs, Brooks Vanderhoof, Hailey Wiesman and Lucy Zaleski. Grade seven: Jesse Bauer, Addison Bauman, Drew Bruesewitz, Kayla Casperson, Gavin Cepress, Alec Chapel, Trenton Cournoyer, Andrew Dickinson, Kassedey Downey, Kaden Foster, Aidan Hadlock, Ethan Heeg, Matthew Kolb, Dylan Lange, Claire LaPointe, Cayden Leonhardt, Abbigail Lewerenz, Brandon Messmann, Reid Miller, Mason Oertel, Laney Pankratz, Emma Roeper, Emerson Roy, Hunter Schmidt, Jett Schoenherr, Kalyn Schueller, Maggie Schwabe, Breleigh Skaya, Paige Spindler, Maci Stueber, Alex Trowbridge, Jack Tubbs, Walker Weis, Derek Wiese, Caleb Wrensch, Trevor Zawislan and Garrett Zuelke.
Grade eight: Jacob Dahlke, Brandon Drexler, Peyton Drexler, Rachel Fischer, Matthew Folz, Payton Glenn, Ashley Hollatz, Sailor Kauffman, Ava Kramer, Jarrett Landwehr, Aliya Manecke, Andrew McCormick, Nathan Remus, Landon Schallock, Brady Schmidt, Hawkens Schmidt, Margaret Schmidt, Roman Schmidt, Ashlyn Solinsky, Cole Tichy, Blake Weber, Sadie Weigel, Carissa Weis, Kressa Wenzel, Logan Wright, Henry Zaleski and Landon Zawislan.
Honors
Grade six: Jonathan Avin-Melgarejo, Masyn Bredl-Hryndej, Esmeralda Castellanos, Jackson Dahlke, Bradley Fox, Drew Gage, Emilee Gebelein, Parker Glenn, Charlie Kolbeck, Allie Leonhardt, Aleydi Martinez-Torres, Matthew Mueller, Austin O'Neil, Kaylee Ostricki, Reese Terry, Issaic Wiese, Derek Williams and Zander Zawislan.
Grade seven: Cooper Bosmans, Xander Curtice, Garrett Drexler, Kyler Gollubske, Lydia Junemann, Brandon Knetter, Carter Lueck, Samantha Mielke, Mckenzie Novotny, Mason Wavrunek, Jasmine Weiland and Daisy Yoder.
Grade eight: Braden Bloom, Madelyn Danielson, Abbigail Dennee, Brandon Gebelein, Hannah Gilbert, Addison Grabow, Lucas Gudgeon, Austyn Johnson, Koehler Kilty, Riley Kroening, Misty Krug, Kaleb Krummel, Makenzie Kuehnhold, Brianna Landwehr, Dylan Leffel, Gavin Leonhardt, Ashton Martin, Saliza Pilsner, Libby Schade, Adam Serwe, Alexzandria Stargardt and Gavin Zoellick.
VFW blood drives
The following is the 2020 schedule for Stratford Community Blood Drives from 3:30-6:30 p.m. at the VFW Clubhouse: Feb. 25, April 28, June 23, Aug. 25 and Oct. 27.
People are encouraged to walk in the door of the VFW Clubhouse to donate blood, and then they'll be treated to a light lunch and refreshments.
Continuing Education
Stratford Continuing Education is offering a Gentle Yoga class on Wednesdays through May 6 at 6:30-7:30 p.m. in Stratford.
Advance sign up is required. People wanting more information and to sign up for the class can visit www.stratfordclasses. com.
Book Club
People are welcome to discuss with each other the book titled, "The Witch Elm" by author Tana French at the Stratford Book Club, held at 1 p.m. on Tuesday, Feb. 18.
Middle School family event
Families with Stratford Middle School students are invited to attend a winter outdoor fun event from 3-5 p.m. on Sunday, Feb. 16, at Klemme Reserve in Stratford.
Students should bring their snow sleds and the school will provide snowshoes and cocoa.
Genealogy training
Adults can work on their family histories and swap genealogy tips with one another during a free monthly event that from 1-2 p.m. at the Marathon County Public Library's Stratford Branch on March 11 and April 8.
Family Story Time
Stratford-area parents and their young children can attend Family Story Time at 10:30 a.m. every Wednesday until May 27 at the Marathon County Stratford Branch Library.