Posted on
Raiders lower the 'Boom'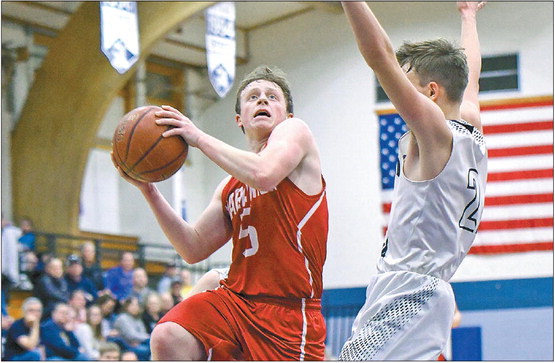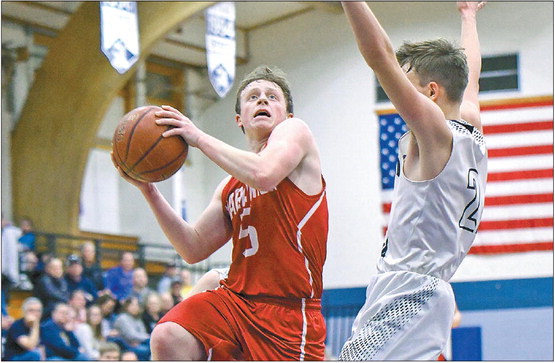 Marathon guard nets 27 points in win over Dons
With a last name that ends with "Boom" it's more than fitting that Matt Vande Boom made a big bang in Marshfield on Thursday, Feb. 6 as the Red Raiders trounced the Dons to snap a three game losing skid.
The 6'2" junior exploded for 27 points against Columbus Catholic as he drilled shot after shot - including five triples - to lead Marathon to a 90-68 drubbing of last year's WIAA D-5 state runner-ups. "We came out and played tough, and as teammates," Vande Boom said. "I thought we communicated really well and found open guys. We played together as a group and we won as a group on Thursday."
It was a complete team effort on Thursday as eight Red Raiders lit up the scoreboard, with four players in double digits. Brock Warren scored 20 points, Jaden Koeller scored 18 and had a team high nine rebounds and Mike Hahn added ten points.
Marathon shot better than 40 percent from beyond the arc, converting eight of 17 three point attempts. The offense wasn't just from Down Town, with the Red Raiders going strong to the basket.
"We were a lot bigger and tougher than they were, so we looked to get inside, and just get that extra pass," Vande Boom said. "Those passes really helped us break down that defense, and we finished with I think 30 assists."
It was actually 31 assists, and by halftime, the Red Raiders led 39-27. But Marathon didn't truly get going until the second half.
The Red Raiders torched the nylon in Marshfield as they filled the nets to the tune of 51 points in the second half. The Dons weren't exactly quiet either, scoring 41 points in the second half as three players finished in double figures, with three point specialist Tom Nystrom dropping 21 points on Marathon.
"Columbus always shoots it really well," Marathon head coach Adam Jacobson said. "Nystrom got off for five of them, but for the most part I think we handled the dribble."
That adjustment on defense proved crucial for Marathon, with the Red Raiders taking away the paint and forcing the Dons to jack up deep threes. Jacobson is hoping to see more of that.
"If we can do that we can get good stops," Jacobson said about stopping dribble-drive penetration. "Early on we got broken down off the dribble, and I thought for the most part, for tonight and last night we handled the dribble."
Red Raiders top Falcons
Marathon's hot hand continued the following night as the Red Raiders were on fire early and often on Friday.The Red Raiders were hosting the Abbotsford Falcons on Tuesday, and the game was almost over before it even started as Marathon raced out to a 46-24 lead at the break.
Losses to Athens, Auburndale and Stratford the week before hurt, but it also helped, said head coach Adam Jacobson.
"Our schedule has prepared us. We keep coming to practice every day and getting better. I think the big thing is the toughness - the mental and the physical. That's come a long way."
It's a welcome sign to see after Marathon lost its top two scorers, along with six seniors from a squad that nearly made it to the WIAA D-4 sectional championship.
The Red Raiders looked poised for another deep run on Friday as they outscored Abby 38-15 in the last stanza to win 84-39, improving their record to 7-9.
Jaden Koeller scored 18 points once again, and Matt Vande Boom added 13 and Mike Hahn finished with 10 points.
It took some time, but this year's program is hitting its stride, with players stepping up and providing new sparks on offense and defense.
"I think we all in all know our roles now and we're more comfortable out on varsity," Vande Boom said. "Last year we lost a lot of seniors, a lot of go-to guys. But now we've got some varsity experience and we're starting to click. I feel like we're only going to get better, and I can't wait until March."