Posted on
Marathon gets four in a row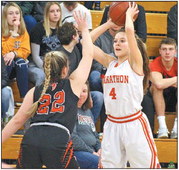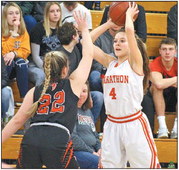 Raiders on a hot streak as of late
By Ross Pattermann
It's the middle of February and the regular season for the Marathon Red Raiders girls basketball team is drawing to a close. With the postseason now just around the corner they Red Raiders are peaking at the perfect time.
The Red Raiders edged into a two way tie for third place in the Marawood South after picking up wins over Abbotsford on Friday and Assumption on Tuesday.
The victories extend Marathon's win streak to four - a season best - and after looking at 7-7 record at the end of January, thed Red Raiders are now stting with an overa record of 11-7.
Marathon knocked off Abbotsford 66-21 at home on Friday and then defeated the Royals on the road Tuesday night, 49-39, to improve to 8-5 in conference action.
"The kids have worked hard all season and we've improved and now we're ready to take it and hopefully play well in some big games that we got coming up, especially on the road," Marathon head coach Jeff Schneider said.
The Red Raiders had no such problems taking care of business against the Falcons as Marathon raced out to a huge lead at the break, heading into the second half with a 37-15 advantage.
Marathon then enjoyed a running clock through the majority of the second half as they added 29 points to their first half total and limited the Falcons to just six points. It's turning that defense into offense that Free credits for the victory.
"Coming from defense to offense, pushing the ball down the floor, I thought we did really well on that. Turning defense into points is what helps us win games."
The Red Raiders were led by a trio of players in double figures, with Elizabeth Boehm scoring a game high 20 points.
Bradyn Free added 13 points and Kyli Blume pumped in 10 points.
"I think we've found our rhythm and what works best for us," Free said. "We've figured out how to keep it going and how to win."
Free's teammate Anna Cleven echoed her sentiments, citing stronger teamwork and greater communication as the key factors behind Marathon's current run of form, after the Red Raiders dropped back to back games against Loyal and Stratford in late January.
"Our teamwork has really flourished after those two losses, but now we've found ourselves and we're just going with it," Cleven said. "When we can build that relationship, and we're all on the same page, we're a really good team. I think we saw that tonight."
Raiders top Royals
After enjoying an easy victory over the Abbotsford Falcons on Friday, the Red Raiders found themselves in a dogfight with the Assumption Royals on Tuesday.
It was a big road test for the Red Raiders, who went toe to toe with the Royals (11-8, 7-6 MSC). With Marathon being on the road, a fast start was vital to an upset.
The Red Raiders did just that, playing an excellent brand of basketball in the first half.
"The girls played some of their best basketball in the first half, getting and running in transition really well," Red Raiders head coach Jeff Schneider said afterward.
Elizabeth Boehm continued to provide strong senior leadership on the court, stuffing the stat line as she finished with 17 points, four rebounds and three steals. Kyli Blume had another strong showing as she pitched in with nine points, two steals and two assists. Allison Wokatsch added nine points and Anna Cleven finished with a team high eight boards as all five starters made big contributions. The Red Raiders would need everyone to execute on a high level as the Royals refused to wilt, and by the time the clock struck zero, Marathon had managed to leave with a 49-39 victory, a result Schneider attributed to exceptional defense.
"Everyone's effort was outstanding, especially on the defensive end in holding off their second half rally. It was a fantastic road victory in our tough conference."