Posted on
Tigers in seventh heaven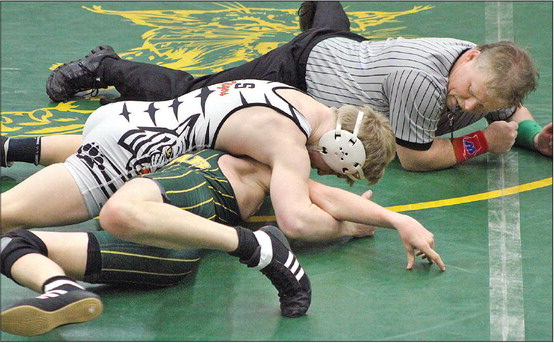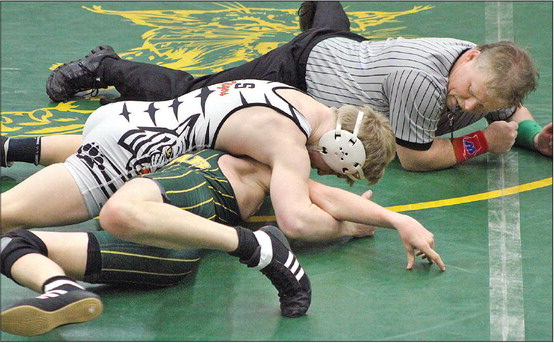 Stratford keeps dominating its conference foes
By Casey Krautkramer
Every sports team needs a Swiss Army knife athlete, who is versatile and can play any position needed in the starting lineup. Junior Beau Gross is the Stratford wrestling team's Swiss Army knife this season.
Gross won a 7-3 decision against Edgar senior Austin Miller in the 195-pound match at the end of Thursday's dual match in Edgar. He helped Stratford dominate Edgar, 75-6, to win its seventh consecutive Marawood Conference dual meet championship.
"I'm now wrestling at 195 pounds but I also competed at 285 pounds at the Bi-State Classic, because our team didn't have a heavyweight wrestler," Gross said. "I drank a gallon of water just to make heavyweight at Bi-State. I'm the utility knife which every team needs."
Stratford has added reinforcements to its starting lineup. Senior Easton Kilty is now the team's starting heavyweight and junior Camryn Fischer is wrestling at 106 pounds in the Tigers' starting lineup. Both Kilty and Fischer received forfeit wins against Edgar.
Edgar scored its lone six points right away when senior Ethan Heil pinned Patrick Greenberg in one minute, 13 seconds to remain undefeated this season.
Stratford dominated the remainder of the match. The following Stratford wrestlers pinned their Edgar opponents: Senior Max Schwabe against sophomore Kalvin Kingsley in 1:11 at 138 pounds, freshman Konnor Stuttgen against sophomore Jesse Jisko in 2:26 at 145, junior Jake Heiden against sophomore Collin Gajewski in 1:46 at 152 and senior Trevor Dennee against RJ Knetter in 1:56 at 182.
Other Tigers receiving forfeit wins were sophomores Logan Gaulke, Benno Wenzel, Gavin Drexler and Elijah Lucio, junior Hunter Ford and senior Devin Dennee.
Max joins elite company
Stratford's Max Schwabe became the 20th wrestler in Marawood Conference history on Saturday to win four individual conference titles during the conference tournament in Park Falls. He won the Marawood Conference Tournament's Most Valuable Wrestler Award.
Max has won conference titles at 138 pounds this year, 132 pounds as a junior, 126 pounds as a sophomore and 113 pounds as a freshman.
He is only the sixth Stratford wrestler in school history to win four individual Marawood Conference championships. Max joins four-time conference champions Manny Drexler, Jeremy Schoenherr, AJ Schoenfuss, Kamren Bornbach and Shawn Kitchner.
Another tournament title
Stratford's wrestling team captured its seventh consecutive Marawood Conference tournament championship on Saturday in Park Falls, to go along with the seventh straight conference dual meet title it won on Thursday in Edgar.
Nine of the Tigers competing in the 12 out of 14 weight classes won individual conference championships.
Stratford's team amassed 293 points, well ahead of Phillips in second place with 167. Chequamegon finished in third place with 160 points, followed by Athens fourth with 109, Auburndale fifth with 99, Marathon sixth with 82 and Edgar seventh with 62.
The following nine Stratford wrestlers won individual conference titles: Logan Gaulke at 113 pounds, Gavin Drexler at 126, Elijah Lucio at 132, Max Schwabe at 138, Jake Heiden at 152, Devin Dennee at 160, Hunter Ford at 170, Trevor Dennee at 182 and Beau Gross at 195.
Trevor Dennee won his third conference championship. Trevor achieved his 100th career match win last season and his twin brother, Devin, earned his 100th career match victory this season.
Individual wrestlers who won their conference tournament finals matches were awarded first team all-Marawood Conference this season, while finals runners- ups receive second team all-conference honors. Wrestlers who placed third are awarded third team all-conference and those who placed fourth are given honorable mention all-conference.
Tiger wrestlers gaining second-place finishes were Benno Wenzel at 120 pounds, Konnor Stuttgen at 145 and Easton Kilty at 285. Patrick Greenberg placed third at 220 pounds.
Stratford head coach Joe Schwabe was pleased on how well his team wrestled in the conference tournament, which was hosted by Chequamegon.
"I couldn't be more proud of these guys," Joe said. "They had a great day and we even left a couple matches out there that we almost had. Still, our team can enjoy winning seven straight conference dual and tournament championships, but we need to go back to work to prepare for a very tough regional in two weeks in Cadott."
Heil earns 100th win
Edgar senior wrestler Ethan Heil achieved his 100th career match win, while also capturing his third Marawood Conference wrestling championship on Saturday in Park Falls. Heil remains undefeated in matches this season and he's still ranked No. 1 in Division 3 at 220 pounds, according to Wisconsin Wrestling online.
Wildcats grappler RJ Knetter took third place in the conference at 182 pounds, Jesse Jisko fourth at 145, Austin Miller fifth at 195, Collin Gajewski sixth at 152 and Keghan Hartway sixth at 138.
Kraus' take second
Athens brother wrestlers Brooks and Spencer Kraus both placed second, at 106 and 160 pounds respectively, at the Marawood Conference tournament on Saturday in Park Falls.
Senior Carter Brunke took third place in the conference at 145 pounds, senior Connor Westfall third at 285, freshman Connor Lewandowski fourth at 120, senior Chase Ellenbecker fourth at 138, sophomore Peyton Zettler fourth at 220, freshman Kyler Ellenbecker fourth at 182, junior Trystan Cator fourth at 152 and junior Patrick Redmann sixth at 170.
Werner is runners-up
Marathon freshman Noah Werner garnered a second-place finish in the 220-pound weight class at the Marawood Conference championships on Saturday in Park Falls.
A trio of Red Raiders placed third at conference including junior Jared Sweno at 132 pounds, freshman Mason Putnam at 106 and freshman Tommy Renard at 113. Senior Cameron Blount took fourth place at 285 pounds, freshman Hector Pintor fifth at 152, junior Nick Sommers fifth at 170 and junior Nick Van Rixel fifth at 138.
'Jays lose pair of matches
The Athens wrestling team lost its final Marawood Conference dual match of the season, 42-32, to Chequamegon on Thursday in Park Falls.
Bluejay grapplers who won their competitive bouts against the Screaming Eagles were Carter Brunke with a 15-0 technical fall against William Graf at 145 pounds, Kyler Ellenbecker pinning Collin Luhtala in 2:16 at 195, Brooks Kraus pinning Aiden Miesbauer in 1:10 at 106 and Connor Lewandowski with a 4-3 decision against Tristan Pankratz at 120.
Athens lost an away non-conference dual to Tomahawk, 60-16, on Tuesday.
The following Bluejay grapplers earned wins against their Hatchet opponents: Connor Westfall with a 6-5 decision against Tony Matti at 285 pounds, Brooks Kraus with a 15-0 technical fall against Addison Peissig at 106, Carter Brunke with a 16-1 technical fall against Isaiah Scheffler at 145 and Spencer Kraus with a 7-2 decision against Marcus Matti at 170.