Posted on
Stratford girls get a complete win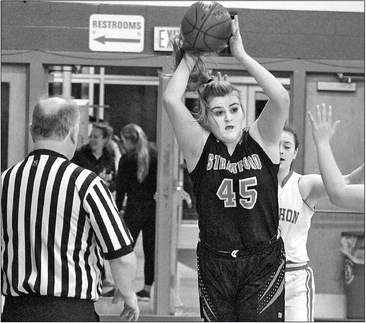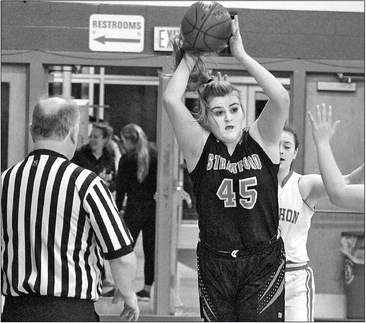 Relentless Tiger players outdual the Red Raiders
By Casey Krautkramer
Tammie Christopherson gave an emphatic high five to a Tigers fan who offered it to her as she walked off the Marathon High School court on Thursday.
The Stratford head varsity girl's basketball coach had good reason to celebrate her team's 57-49 win against Marathon, because before Thursday the Tigers had struggled all season to play good basketball for an entire game.
"I just told the girls in the locker room after the win this is the game coach Christopherson has been waiting for all year," she said in excitement. "We did it on the offensive and defensive ends, and every single girl that came on the court made contributions to help our team win. I told them when we play like that then we can absolutely beat any team out there. I am so beyond proud because we've had some hard times this season, but this was absolutely wonderful."
Stratford took a slim 29-28 lead against Marathon at halftime. The usual Tigers this season, up until Thursday's game, would've endured long scoring droughts in the second half and saw their lead slip away. That didn't happen in this game against the Red Raiders as the Tigers snapped a four-game losing streak. Stratford had also lost eight of its last nine games this season before Thursday's victory against Marathon.
Junior center Breanna Ackley led Stratford with a game-high 17 points and she paced the Tigers with three blocks. She explained how the Tigers were able to beat the Red Raiders.
"It feels really good to get this win," she said. "We've been working hard in practice and doing some team bonding, so everything is coming together now for our team."
Stratford junior forward Emily Hughes contributed 11 points in the win, while junior Gracie Hauke and senior Tanaya Schillinger added eight points apiece. Hauke led the Tigers with four steals and junior McKenna Leonhardt paced the team with four assists. The Tigers now have a 4-8 record in the Marawood South Conference and are 5-12 overall this season.
Senior guard Elizabeth Boehm led Marathon with 12 points and senior guard Kyli Blume had 10. Sophomore Allison Wokatsch and junior Anna Cleven scored nine points each.
Marathon head coach Jeff Schneider said after the loss to Stratford his team has plenty of things to improve on in practice.
"Our players need to communicate with each other better on the basketball court and show a little more patience at times and just make better passes," Schneider said. "We just need to keep working at it and be able to get some good shots, but the turnovers were a huge part of the game, not being able to get looks at the basket and giving Stratford more possessions. Give the Tigers credit because I thought they played a pretty good game and they shot the ball pretty well. They played one of their best games this season."
Raiders rebound
Marathon's girls basketball team picked up two home non-conference wins against Shiocton and Antigo following its loss to Stratford.
The Red Raiders knocked off the Chieftains, 58-50, on Friday. Kyli Blume led a balanced team scoring attack with 17 points. Boehm contributed 11 points, Cleven nine and senior Bradyn Free eight. Boehm scored a teamhigh 20 points in the team's 51-49 win against the Red Robbins on Monday.
Marathon improves its record to 10-7 overall this season.
'Jays gain pair of wins
The Athens girls basketball team is on a two-game winning streak.
Athens beat Chequamegon, 64-22, at home on Thursday. Senior center Allison Wolf led Athens with 20 points and 14 rebounds. Junior forward Crystal Dearth added 12 points and 11 rebounds. Senior center Abby Van Rixel paced the Bluejays with three steals and three blocks against the Screaming Eagles. Sophomore Sierra Hart led Athens with six assists.
The team easily defeated Tomahawk, 61-27, at home on Monday. Abby Van Rixel led Athens with 19 points, 15 rebounds and six blocks. Her younger sister, Elizabeth Van Rixel, added 12 points. Senior guard Paula Lira paced the Bluejays with six steals and junior guard Kaitlyn Riehle with six assists.
Athens now has a 5-7 record in the Marawood North Conference and is 6-12 overall this season.
Edgar's on fire
The Edgar girls basketball team has won eight of its last 10 games this season, including its pair of recent impressive victories. Junior guard Makenna Guden erupted to score a game-high 34 points to lead Edgar to a 60-48 road win against Auburndale on Thursday. The game was tied at 26 points apiece for each team at halftime, until Guden went on a scoring spree by tallying 25 points in the second half.
Wildcats head coach Betty Urmanski said her team played its best game of this season against the Apaches.
"Our defense was spot on against Auburndale," she said. "Skylee Manecke and Malia Hoesly did an outstanding job making life miserable for their point guard, thus forcing difficult passing situations and allowing our other players to jump into the passing lanes to steal the ball. Our team controlled the tempo of the game and only had 10 turnovers."
Manecke, a sophomore guard, dislocated her shoulder with about eight minutes left in Edgar's win against Auburndale. Urmanski was pleased senior Kailee Davis came off the bench to replace Manecke and provide the Wildcats with solid play on both ends of the basketball court.
Edgar beat Thorp, 60-51, in a nonconference road game on Monday. Manecke didn't play while she recovers from her shoulder injury. Junior forward Gabriella Keim led Edgar with 21 points, while senior guard Marissa Ellenbecker had 16. Guden added 14 points and Davis had eight.
The Wildcats improve their record to 8-3 in the Marawood South Conference and 12-3 overall this season.
Tiger boys keep rolling
Stratford's boys basketball team beat Spring Grove, Minn., 60-39, in the 14th annual Wisconsin versus Minnesota Border Battle played in La Crosse on Saturday.
Senior Vaughn Breit led Stratford with 17 points and three blocks, while senior Ben Barten had a solid game with 15 points and 12 rebounds. Senior Dawson Danen added 13 points and junior Max Vanderhoof paced the Tigers with seven assists.
Stratford then beat Marathon, 63-49, in a road game on Tuesday. The Red Raiders held Barten in check, as he only scored eight points and grabbed two rebounds. Unfortunately for Marathon, Stratford has a deep and talented team as Breit led the Tigers with 21 points and 11 rebounds. Senior guard Chandler Schmidt added 18 points and five assists, while Danen had 10 points and five assists. Senior guard Teddy Redman paced Stratford with three blocked shots.
Stratford remains undefeated this season with a 16-0 record. Stratford is also still ranked No. 2 in the state's Division 4 behind Cuba City.
Junior guard Matt Vande Boom led Marathon with 17 points in the loss to Stratford. The Red Raiders now have a 5-7 record in the Marawood South Conference and are 5-9 overall this season.
Athens boys win a pair
The Athens boys basketball team easily beat Port Edwards, 67-52, at home on Friday. Senior center Cameron Ford led Athens with 22 points and 16 rebounds. Sophomore guard Cooper Diedrich added 16 points and he paced the Bluejays with three steals in the victory. Freshman forward Aiden Janke had 10 points.
Athens then downed Chequamegon, 75-48, at home on Tuesday. Senior guard Javon Penney paced the Bluejays with 22 points, while Diedrich added 14. Ford tallied nine points and 13 rebounds.
The Bluejays improve their record to 7-5 in the Marawood North Conference and 11-5 overall this season.
'Cats earn victory
Edgar's boys basketball team dominated Elmwood/Plum City, 64-35, in a nonconference home game on Saturday. Edgar's defense forced Elmwood/ Plum City into committing 22 turnovers that led to 28 Wildcat points on offense.
Junior guard Austin Dahlke led Edgar with 18 points. Junior guard Drew Guden played a solid overall game with 15 points, six defensive rebounds, eight assists, three steals and two blocked shots. Junior Kyle Brewster added 13 points and he paced the Wildcats with five steals in the victory.
Edgar improves its record to 12-3 overall this season.