Posted on
COMMUNITY LIVING Send Marathon news ….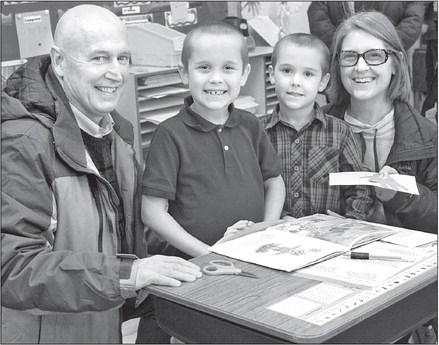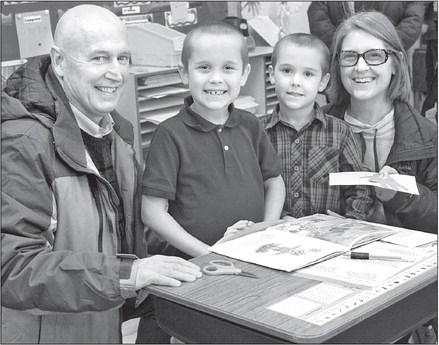 COMMUNITY LIVING
Send Marathon news to: [email protected] phone: 715-223-2342 fax: 715-223-3505 P.O. Box 677 103 West Spruce Street Abbotsford, WI 54405 High school honor roll
Marathon High School has released its second quarter honor roll for the 2019-20 school year.
High Honor Roll Seniors: Mira Beranek, Kyli Blume, Elizabeth Boehm, Tyler Cliver, Sierra Eckardt, Emily Exline, Lucas Feck, Makayla Folan, Katrina Fredrickson, Sarah Fritz, Madigan Fuhrman, Grace Gage, Sierra Gage, Erica Guralski, Luke Hahn, Devin Hall, Rebekah Henrichs, Luke Hieronimus, Hannah Hornung, Shane Kahan, Bailey Karlen, Breanne Karlen, Bryn Kennedy, Logan Ludwig, Molly Mohr, Clarke Mouw, Lorelie Peters, Will Prihoda, Sophia Schalk, Aaron Schumacher, Nathan Seubert, Marguerite Stoffel, Peyton Timler, Shawn Williams.
Juniors: Emma Baeseman, Anna Cleven, Colton Free, Alexander Gosse, Michael Hahn, Dakota Hall, Kaitlyn Kaiser, Cullen Krasselt, Hope Krautkramer, Jaicee Kunkel, Mikayla Mathwich, Jocelyn Opela, Piper Pietrowski, Kaitlyn Rusch, Jake Sweno, Jared Sweno, Keean Turnquist, Matthew VandeBoom, Steven Vesnefsky, Brock Warren Sophomores: Emily Duberstein, Noah Fritz, Noah Gage, McKenna Haehlke, Alyssa Hall, Laci Hoeksema, Trinity Hornung, Brooke Jourdan, Jaden Koeller, Alexandria Kraimer, Vanessa Krueger, Elizabeth LaQua, McKinnley Marks, Margaret Mouw, Abigail Plachetka, Jada Prihoda, Kayla Radtke, Laila Smith, Chloe Sonnentag, Lindsey Sparr, Kendra Stoffel, Jonah Streveler, Julianna Thurs, Sofi a Tylinski, Katelyn Underwood.
Freshmen: Ian Blake, Ava Buchberger, Jalyn Burish, Jaron Gage, Andrew Goergen, Charlotte Gruetzmacher, Brianna Hieronimus, Grace Kahon, Andrew Love, Madeline Martin, Elizabeth Paul, Ashley Phakitthong, Meridith Poremba, Kali Prihoda, Grace Riesgraf, Derek Scheiderer, Ashley Seliger, Ian Skala, Griffin Treankler.
Honor Roll Seniors: Zachary Baumann, Bradyn Free, Jocelyn Hamann, Emma Handrick, Kole Kaldunski, Darin Karlen, Michael Lawrence, Mercedes Lobner, Joseph Matis, Courtney Myszka, Jared Seymour, Nathan Trawicki, Garrison Treankler, Cassandra Tucker, Mikaela Wood.
Juniors: Jaidyn Carlson, Kylie Draeger, Reed Klinger, Hunter Krautkramer, Dawson Lang, Cayd Luther, Erika Moore, Alexa Mroczenski, Katrina Mroczenski, Chentaly Phakitthong, Madalyn Phelps, Lyndsay Pintor, Aria Quiggle, Connor Strasser, Kristoffer Twerberg.
Sophomores: Jenna Aschbrenner, Angela Baumann, Stefani Chesek, Matthew Dzwonkowski, Brett Gertschen, Lucille Hahn, Nathan Hanke, Ella Mader, Owen Marks, Camryn Sapinski, John Stoffel, Marysol Zavaleta.
Freshmen: Nicholas Bahr, Hannah Baldeshwiler, Saul Beranek, Emma DeBroux, David Duberstein, Pierson Hamann, Daniel LaQua, Chloe LaValley, Jacob Lo, Jersey Lobner, Sierra Meyer, Korin Mroczenski, Ahlexis Dru Nowak, Megan Oertel, Taylor Pawlowicz, Katie Robbins, Brayden Sturm, Logan Werner.
New hours
The Marathon City Heritage Center, 301 Main St., has announced new hours. The center will be open the second Sunday of every month (October April) from 12 p.m. to 2 p.m. The center can also be open by appointment. For more information about the center, go to [email protected]
Finger Knitting
Kids, tweens and teens can learn the basics of finger knitting and make their own finger-knitted accessories like armbands, necklaces, scarves on Wednesday, Feb. 19, from 3-5 p.m. at the Marathon City Branch Public Library. Attendees should bring a 3.5 oz. skein of bulky yarn. There is no charge for this event. For more information, call 715-443-2775.
On campus
UW-Rivers Falls has awarded Gabriella Blair, Marathon, a bachelor of science in horticulture as part of a December 2019 commencement.
UW-Green Bay has awarded two Marathon students with fall 2019 semester academic honors. Tanner Dallman has been awarded semester honors (GPA 3.74 to 3.5) and Mackenzie Longdo has been awarded semester highest honors (GPA 4.0).
Book Club
The Marathon City Book Club will discuss "A Thousand Acres" by Jane Smiley at the Marathon Branch Public Library on Monday, Feb. 10, 5:45 p.m. Contact the library branch at 615-4432775.
Science drop-in
From Feb. 10-14, kids in grades K-5 and tweens can drop in to use Magna-Tiles (magnetic building tiles) or to work on different 3-D building experiments. These activities are aimed to help develop kids' communication, collaboration, critical thinking and creativity. All supplies will be provided. Stop in any time the Marathon City Branch is open to participate.
This event is free and open to kids and tweens. Adults are also welcome to build and create with their children. For more information, call 715443-2775.
Development days
Marathon Area Elementary School will hold Child Development Days Wednesday, Feb. 12, and Thursday, Feb. 13. There are no school these days. Parents are urged to schedule an appointment for all incoming 4K and newly enrolled 5K students. All children will receive a goody bag.
Solo-ensembles
Marathon High School will host solo- ensemble on Tuesday, March 17. On this day high school students will not report to school unless they are taking part in the music competition. All other students in the district will have a normal school day.
Buses will run and transport students at St. Mary's School, Marathon Area Elementary School and Marathon Venture Academy.
Washington Wednesdays
Kurt-n-Jo's Restaurant in Marathon City has offered to host "Washington Wednesdays" in support of a Marathon Venture Academy trip to Washington, D.C. Kurt-n-Jo's will donate 10 percent of Wednesday sales (dine-in, take-out, and ice cream) from 4-8 p.m. to the student trip. The fundraiser will last through Wednesday, Feb. 26, 2020.