Posted on
Athens lumber milll suffers roof collapse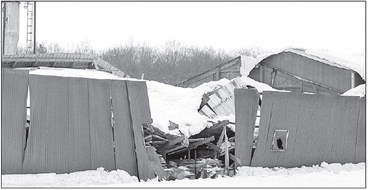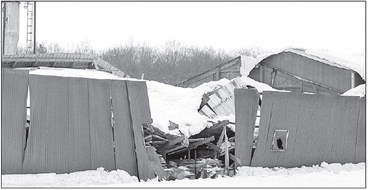 Dvorak Lumber Company of rural Athens has suspended operations after heavy wet snow atop its sawmill recently caused the roof to collapse.
Father and son co-owners Jim and David Dvorak are hoping to rebuild the town of Bern sawmill in spring. They discovered at 9:30 p.m. on Jan. 24 the sawmill roof had caved.
David said the sawmill closure has left six employees out of work. He said the sawmill being shut down also affects area logging companies, because he's not currently able to buy timber from them. He is going to instead use the money in his bank savings account to pay for the future construction of a new sawmill.
David said the sawmill roof collapsing occurred during a time when the timber industry is not as profitable as it's been in the past. He said there is currently an oversupply of wood available on the market for consumers to purchase, similar to when dairy farmers receive low milk checks when there is an oversupply of milk on the market.
One week later, David said he was just "scratching the surface" on the huge task of cleaning up the wreckage from the sawmill building collapse. He said thankfully there was only minor damage to equipment inside the sawmill when the roof collapsed. There were also no workers inside the building when the incident occurred.
The Dvorak family has owned and operated Dvorak Lumber Company for several years. David's grandfather, Harry Dvorak, and his father, Jim, were ownership partners when the sawmill began in the mid-1970s. Today, Jim and David own the company and David's uncle, Tom Dvorak, is one of their employees after formerly being a co-owner of the business.