Posted on
Wildcats making late surge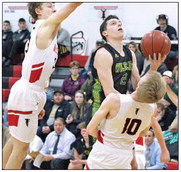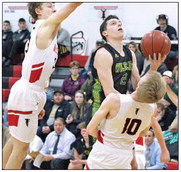 Pick up a pair of wins
By Ross Pattermann
As the month of Februrary grows closer by the day, the Edgar Wildcats have begun to approach each game with greater intensity and urgency.
Only a handful of regular season games remain, and the playoff seeding meeting is just weeks away. Each win, each game is an opportunity to make a case for being one of the best teams in the state.
"We have eight games before our seeding meeting, and I talked about it tonight in the locker room and threw that out there," Edgar head coach Dave Huss said. "I see no reason why we can't go and put eight together and into the seeding meeting and saying we're 17-3."
The Edgar Wildcats got closer to that goal with a pair of wins over Abbotsford on the road Friday night, and Assumption at home on Tuesday night to improve to 10-3 overall and 7-3 in the Marawood Conference.
It was their game against the Falcons that truly tested the mettle of Edgar, with the 'Cats coming off a loss to Stratford the game before.
Edgar had a full week to sit and stew about that Jan. 17 defeat.
"A lot of times when you lose a game, you want to get right back into it," Huss said about Edgar's week long furlough. "We had a week to sit on it and think about it. We knew Abby was going to play hard, it's Friday night and their gym, so we knew it wasn't going to be an easy game by any stretch of the imagination. They did just that. It was a battle."
The Falcons might only have three wins on the season, but they have shown the ability to be dynamic and explosive at times.
Abby's Cade Faber did the heavy lifting, with Edgar struggling to stop the swift junior who scored a game high 28 points.
But Edgar is not a one man show, and they win by committee. On Friday the 'Cats used team chemistry, and a potent defense to set the tone early, taking a early 20-14 lead in the first half.
"We have a good bond, we know each other so well, so we don't try to run through one guy," Kaleb Hafferman said. "We try to see the whole court and get everyone involved."
Abby responded with white-hot shooting, splashing nearly 50 percent of their shots. Edgar responded by going inside and drawing contact, converting 20 of 25 free throws.
"We came out slow but we worked into it and as we warmed up we picked up the pace and played well together," junior guard Kyle Brewster said.
Abby kept things close, making it a 21-17 game with 5:07 to play before Edgar swiped several turnovers for fast break points to go into the locker room up 28-21.
Edgar took a lead, only to see Abby snap off a 7-2 run to pull within eight at 40-32.
But with all the inevitability of death and taxes, Edgar began to slowly pull away late in the second half.
Brewster, Austin Dahlke and Konnor Wolf began to find a rhythm from the floor. Brewster scored 15 and Dahlke and Wolf added 16 apiece as the 'Cats benefited from Abby's 24 turnovers, and a 14-9 edge on the offensive glass, to leave Abbotsford with a 68-56 victory.
"It feels good," Hafferman said about the win. "We just need to bring great focus and energy to every game and make sure we are out-playing and outhustling our opponents."
Wildcats dispatch Royals
Edgar took an early lead against the Assumption Royals on Tuesday, and never looked back as they began a new winning streak, notching back to back wins after dumping the Royals 64-35 at home.
The 'Cats stifled Assumptions' offense, giving up just 15 points in the first frame, and then doubling their visitors' points as they took a 30-15 advantage into the second half.
The Cats won the majority of all statistical categories, at least the ones that mattered. Edgar shot better than 50 percent from the floor, including nearly 60 percent on two point shots, with Edgar gashing the Royals inside for 34 points in the paint to just 14 for Assumption.
Drew Guden was active all over the floor on Tuesday, canning three triples as he pulled up and popped to the tune of a game high 19 points on seven of 13 field goal attempts.
Caden Higgins added 12 for Edgar and Kyle Brewster scored nine points as the Wildcats are now 7-3 in Marawood Conference action.