Posted on
Edgar tops Abby, falls to Mosinee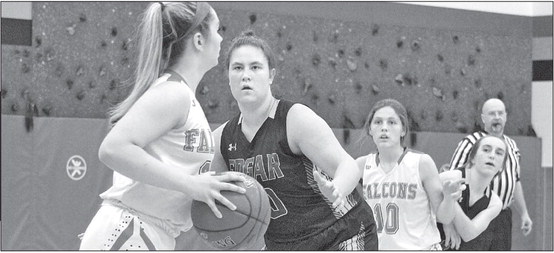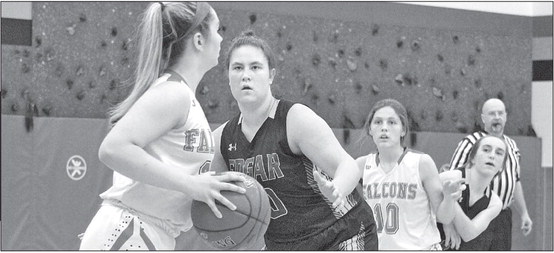 Wildcats split last two games
The Edgar Wildcats have been on a mission all season long, and it's a simple one - do better.
Each game, each practice, the coaching staff and team is hoping to improve every day, with the goal of 13 wins in their sights.
For most people, 13 is an unlucky number, but for Edgar, it would mean one more win than last season's 12-12 mark.
"We've lost some seniors last year, but we just had to come in this year, stay focused and our goal is to finish with a better record than last year," Kailee Davis said after her Wildcats team defeated the Abbotsford Falcons for a 64-22 road victory.
Davis is one of five seniors on the team this season, and she knew that her teammates are looking for the Class of 2020 to provide the leadership needed to navigate the ups and downs of the Marawood Conference.
On Saturday, the seniors provided the spark, but it was the juniors who brought the heat, as MaKenna Guden and Gabbie Keim turned Abby defenders in turnstiles with their speed on both sides of the ball.
The 'Cats pounced on an inexperienced Abby team, forcing turnovers that led to quick run-outs as Guden made her case as the best player in the Marawood with a 25 point effort.
Keim was right behind with 21 points, with the two teaming up to score all but six of Edgar's 41 first half points.
The 'Cats defense held Abby to single digits in the first frame, giving up just eight points for a 41-8 lead through one half of play.
Edgar's defense continued to play at a high level, forcing more turnovers as Abby scored just 14 in the final frame.
It was a solid night, head coach Betty Urmanski, but she knows that with playoffs looming, there's plenty of work that needs to be done if Edgar hopes to not only reach 13 wins, but make a deep playoff run.
"We still have some work to do," Urmanski noted. "Sometimes we get caught in that "over defensive mode" instead of just playing great on-theball defense. So we need to really hone in and make better choices."
On Friday, Edgar made all the right moves, taking the game 64-22 as eight different players scored.
"We got a big win tonight and our seniors really led us through," Davis said. "We're hoping to win conference and get our conference games over and done with and just keep playing our hearts out."
'Cats fall to Indians
The Edgar Wildcats enjoyed home field advantage on Monday night, but that's about all they enjoyed as they lost a heartbreaker at home that would have given them double digit wins on the year.
Mosinee played spoiler in the nonconference game, with the Indians taking a 27-26 lead at the half, and then hanging on by a thread for 54-50 victory.
The loss drops Edgar to 9-5 on the year, but Edgar remains 6-4 in league play. Gabbie Keim had 19 points and MaKenna Guden scored 15.
"Played a good, scrappy Mosinee team tonight," Edgar head coach Betty Urmanski said.
The Indians might have played well, but they also benefited from Edgar's bad luck when the 'Cats' leading scorer Makenna Guden left the game for six minutes with an ankle injury.
As a result, Edgar found itself in a ten point hole in the second half, but even with Guden re-entering the game, the 'Cats could never get closer than four points.
"We rebounded extremely well, giving them one look at the basket," Urmanski said. "Our girls played a full 36 minutes - proud of their output!"