Posted on
Barnes defends rural vision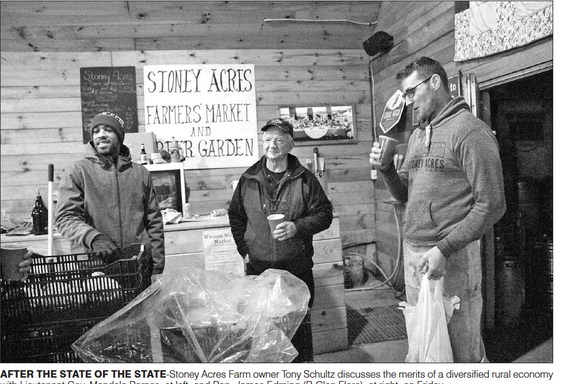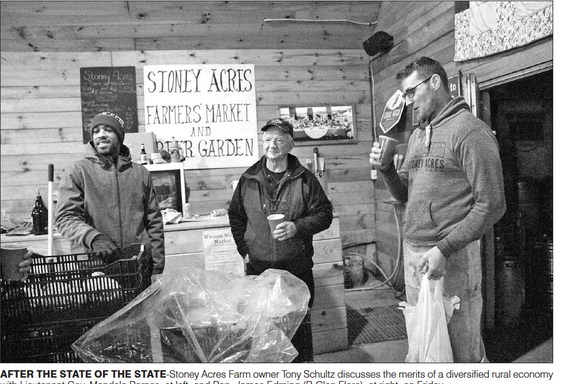 Lieutenant governor says Evers wants to protect dairy identity
Lt. Gov. Mandela Barnes on Friday visited Stoney Acres Farm, town of Bern, to remind owner Tony Schultz that the governor hopes a planned special session on agriculture is meant to help small farmers, not large corporate businesses.
"This year, we had challenging federal government policy, a rainy season and low prices for milk, especially for those smaller sized operations," Barnes said. "We are concerned when these producers get squeezed out of the market. That's not what we want to see."
Barnes said a proposed bundle of eight bills is meant to protect Wisconsin's identity as America's Dairyland and to return prosperity to the state's agricultural community.
"We want to move forward so that every little farm has a piece of wealth, not just so we concentrate it," he said.
Barnes said the governor would create a Wisconsin Initiative for Dairy Exports to make up for Trump administration tariff's on farm commodities.
"The state government has to step up where the federal government has failed farms," he said.
The various bills would fund farmer planning grants, create a Small Farm Diversity grant program, promote sales of locally grown food in schools and colleges, encourage value-added agricultural products and hire more UW-Extension agricultural agents.
Schultz himself saw value in some of the governor's initiatives. He said the state would be wise to help farmers produce "special, interesting food" rather than mere commodities.
"Kraft singles are not exciting," he said.
Rep. "Jimmy Boy" Edming (R-Glen Flora) discussed the governor's plans with Schultz and Barnes as part of the farm tour.
The representative said Edming Rd. in Rusk County (named after "Jimmy Boy's" grandfather) used to be lined up with dairy farmers, but no longer. Old dairies now sit dilapidated, he said.
"The family dairy just can't do it any more," he said.
Edming said he possibly could vote for an Evers initiative to finance greater mental health help for Wisconsin farmers.