Posted on
Stratford wins battle of the Tigers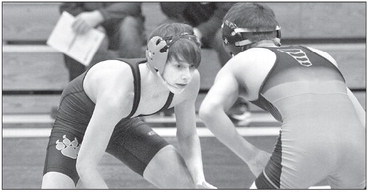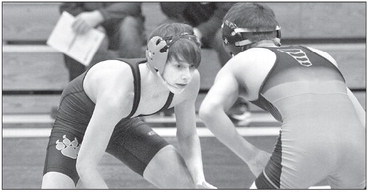 Team defeats D-1 Marshfield
Stratford's wrestling team enjoyed a come-from-behind match win against Division 1 Marshfield, which is only located 10 miles away, during Friday's home quadrangular in the Stratford High School gym. Stratford beat Marshfield, 43-24; Holmen, 42-33 and Amherst, 69-12.
Holmen, which is ranked 11th in Division 1 in this week's Wisconsin Wrestling online poll, won its other two matches against Marshfield, 49-24, and Amherst, 69-12.
Stratford's wrestling team is ranked third in Division 3 in the Wisconsin Wrestling online poll. Division 3 defending state champion Fennimore is ranked second and Coleman is first.
The following are Stratford wrestlers' individual records against Marshfield, Holmen and Amherst in the home quadrangular: Sophomore Logan Gaulke, 2-1 in the 113-pound weight class; sophomore Benno Wenzel, 1-2 at 120; sophomore Gavin Drexler, 3-0 at 126; sophomore Logan Gliniecki, 2-1 at 132; senior Max Schwabe, 2-1 at 138 and freshman Konnor Stuttgen, 3-0 at 145.
Also, junior Jake Heiden, 1-1 at 152; senior Derek Kraus, 1-0 at 152; senior Devin Dennee, 3-0 at 160; junior Hunter Ford, 2-0 at 170; junior Logan Rueth, 1-0 at 170; senior Trevor Dennee, 3-0 at 182; sophomore Raife Smart, 3-0 at 195; sophomore Cole Marten, 2-0 at 220 and junior Beau Gross, 2-0 at 285.
Stratford head coach Joe Schwabe was pleased with how well his wrestlers performed against Marshfield, Holmen and Amherst on Friday.
"Holmen and Marshfield are both solid Division 1 wrestling programs with a lot of talent, while Amherst though it was down with some injuries I still give its wrestlers a lot of credit," Schwabe said. "There were so many good wrestlers battling on Friday night; this was the exact reason why we wanted to schedule this event. Many ranked kids in the state were 'locking horns' and putting their best efforts out on the mat. If one person fell, his teammate was there to pick them up.
"Against Marshfield, we had some great match ups together. When Stratford wrestled Holmen, the Vikings jumped out in front by winning four out of the first five matches to take a 24-6 lead; our kids didn't fret and kept their focus. We had some unselfish team contributions as we moved a few guys around a bit for advantageous matchups. Ultimately, we went into the last match of the dual up by three points, 36-33. Junior Beau Gross stepped up from being behind 0-2 to earn a pin and help Stratford get a great victory, 4233, against Holmen. The wrestlers on our bench were on their feet screaming and the crowd was cheering. It was just a spectacular high school sporting event."
Tigers down Apaches
The Stratford wrestling team easily won its Marawood Conference dual match against Auburndale, 66-12, last Thursday.
Max Schwabe won a 3-1 decision against Dylan Baird at 138 pounds, Konnor Stuttgen pinned Brent Lau in four minutes, 52 seconds at 145, Ford pinned Cody Poeschel in 2:22 at 170, Trevor Dennee pinned Sloan Welch in 42 seconds at 182 and Smart won a 4-1 decision against Bryce Thiel at 195.
Edgar edges Marathon
The Edgar wrestling team gained a close 33-27 match win against Marathon on Tuesday at home.
Edgar wrestlers obtaining competitive wins were Jesse Jisko pinning Nick Reynolds in 3:21 at 145 pounds, RJ Knetter won a 9-6 decision against Nick Sommers at 182, Austin Miller pinned Logan Werner in 3:14 at 220 and Ethan Heil pinned Cameron Blount in 56 seconds.
Marathon wrestlers achieving competitive wins were Jared Sweno pinning Keghan Hartway in 1:32 at 132 pounds, Nick Van Rixel gaining an 1110 decision against Kalvin Kingsley at 138 and Hector Pintor pinnning Carson Lemmer in 3:24 at 160.