Posted on
Edgar snaps five-game win streak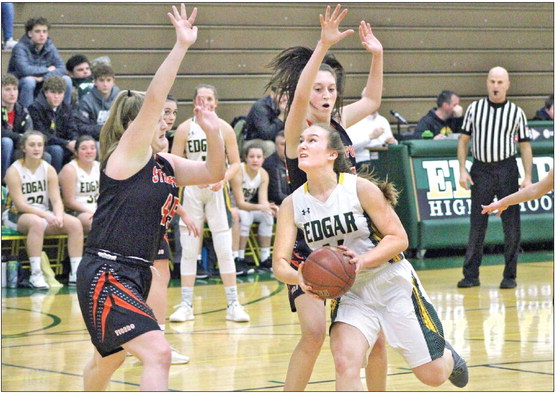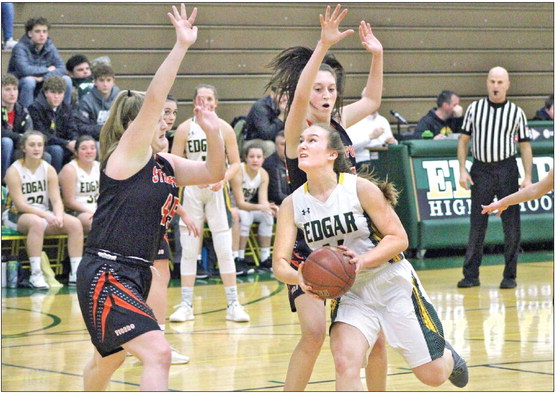 Wildcat girls are able to rally and beat the Tigers
By Casey Krautkramer
Both the Edgar boys and girls basketball teams saw their long winning streaks end within this past week in the Edgar High School gym.
The Edgar boys had their six-consecutive game win streak halted in a 56-39 loss to Stratford on Friday, while the Edgar girls' five-game winning streak was snapped in a 52-43 defeat to Wisconsin Rapids Assumption on Monday.
Edgar's boys basketball squad couldn't prevent Stratford senior center Ben Barten from scoring and rebounding the ball close to the basket. Barten achieved a double double with a game-high 16 points and 11 rebounds. Stratford enjoyed a 30-15 advantage in rebounding against Edgar, including a 21-11 edge on the defensive boards. Barten helped the Tigers dominate the Wildcats, 22-8, in points scored in the paint.
Stratford senior guard Teddy Redman contributed 13 points and three steals in the big win against Edgar, while senior guard Chandler Schmidt added 12 points and six assists. Edgar junior guards Drew Guden and Konnor Wolf paced the Wildcats with 11 points each.
The Tigers improve to 8-0 in the Marawood Conference and 12-0 overall this season, following their 72-44 dominating non-conference win against Gale-Ettrick-Trempeleau on Tuesday at home. Schmidt led Stratford with 15 points and seven assists. Senior forward Vaughn Breit and Barten contributed 13 points apiece, and Barten also grabbed nine rebounds. Redman added 12 points and seven rebounds in the victory.
Stratford remains ranked No. 2 in this week's wissports.net Division 4 coaches' poll, behind Cuba City who is also undefeated this season. The Edgar boy's basketball team is now 5-3 in the Marawood South and 8-3 overall this season.
The Edgar girls basketball team was tied with Assumption, at 26 points apiece, during halftime of Monday's loss to the Royals. Wildcat juniors Makenna Guden and Gabbi Keim led the team with 15 and 13 points, respectively. Edgar falls to 6-4 in the Marawood South and 9-4 overall this season.
Edgar head coach Betty Urmanski said her team simply didn't play well in the second half against Assumption.
"Our team's inability to control the boards gave Assumption too many successful second-chance points in the second half," Urmanski said. "We were also not being patient on offense to allow ourselves better looks at the basket; we forced early shots versus making the extra pass to look for better scoring opportunities."
Edgar did achieve a come-from-behind win, 47-42, against Stratford last Thursday at home. The Wildcats fell behind, 26-18, at halftime to the Tigers. Makenna Guden sank big corner three pointers to seal the victory for Edgar. She led the Wildcats with 19 points and Gabbi Keim powered her way to the basket for 15. Guden outlined the key to her team playing better defense in the second half to gain the victory.
"The talk amongst our players in the locker room at halftime was we need to trust each other more on defense in the second half," Guden said. "Breanna Ackley had a great game for Stratford, but my teammate Skylee Manecke did a really good job guarding her in the second half."
Ackley, a junior center, scored a game-high 20 points but the majority of her scoring was in the first half against Edgar. Junior forward Emily Hughes added 12 points for Stratford. Ackley did make a three-quarter shot at the buzzer to make the final score closer and put a smile on her face, despite her team's defeat to the Wildcats.
Edgar head coach Betty Urmanski said she and her assistant coaches' strategy in the second half was to not play a half court game against Stratford, which would've allowed the Tigers' taller post players to dominate in scoring near the basket.
"We switched to a full court man defense in the second half," Urmanski said. "We thought maybe if we'd put a little more pressure on Stratford's players bringing the ball down the court that it would get them a little more fatigued and then their shots wouldn't fall on offense."
The Stratford girls basketball team lost, 32-22, to Wausau Newman on Tuesday at home. The Tigers were down, 17-6, at halftime. No Stratford player scored in double figures.
The Cardinals remain atop the Marawood South Conference standings, while the Tigers are in last place.
Marathon upsets Newman
Marathon's girls basketball team edged Wausau Newman, 40-38, last Thursday at home.
The Red Raiders rallied from a 27-22 halftime deficit to gain the victory. Junior forward Anna Cleven made seven two-point field goals to lead the team with 14 points.
Marathon head coach Jeff Schneider was pleased with his team's performance against Newman.
"I'm so proud of the effort the girls gave on the defensive end," he said. "They held a high-powered Newman offense to just 11 points in the second half. Our girls rebounded very well while also allowing Newman to just one shot on most possessions. It's great to see the girls rewarded for their hard work and improvement during this season; they are a joy to coach."
Marathon couldn't keep the momentum intact in Tuesday's home game against Auburndale. The Red Raiders fell, 45-34, to the Apaches.
The Red Raiders shot a dismal 10 of 51, or 19 percent, from the floor.
"We played well enough defensively to beat Auburndle, but we just couldn't get a lot of shots to fall that we have in our past games," Schneider said. "We will keep working hard on shooting and it will come."
Senior guards Elizabeth Boehm and Kyli Blume paced Marathon with 12 and 10 points, respectively. The Red Raiders are now 6-4 in the Marawood South Conference and 7-5 overall this season.
Red Raider boys win
Marathon's boys basketball team easily dispatched Wausau Newman, 72-45, Friday on the road.
Sophomore guard Jaden Koeller poured in a game-high 32 points for the Red Raiders. Junior guard Matt Vande Boom contributed 10 points and seven rebounds, while senior guard Kole Kaldunski added nine points and four assists in the win.
Marathon improves to 5-4 in the Marawood South Conference and 5-6 overall this season.
'Jays dismantle Falcons
The Athens girls basketball dismantled Abbotsford, 72-20, on the road last Thursday. The Bluejays built a 35-9 halftime advantage.
Senior post player Allison Wolf led Athens with 20 points and she was second on the team with nine rebounds. Senior post player Abby Van Rixel paced the team with 11 rebounds and four blocks and she added 11 points. Crystal Dearth contributed 10 points and Kaitlyn Riehle led Athens with four steals.
Athens lost a tight game to Phillips, 66-58, on the road Monday. The Bluejays built a 32-27 halftime lead but they couldn't hold onto it in the second half.
Wolf obtained a double double with 16 points and 11 rebounds against Phillips. Riehle added 11 points and four steals. Abby Van Rixel enjoyed a solid game with six points, seven rebounds and five blocks.
Athens is now 4-6 in the Marawood North Conference and 4-10 overall this season.
Athens boys destroy Abby
The Athens boys basketball team had no trouble beating Abbotsford, 6233, on the road Friday. The Bluejays held a 29-14 halftime advantage.
Sophomore guard Cooper Diedrich led Athens with 20 points. Senior center Cameron Ford achieved a double double of 17 points and 16 rebounds. Diedrich and Ford paced the Bluejays with four steals apiece, while senior guard Javon Penney and Diedrich led the team with five assists each.
Athens improves to 5-4 in the Marawood North Conference and 7-4 overall this season.