Posted on
County broadband study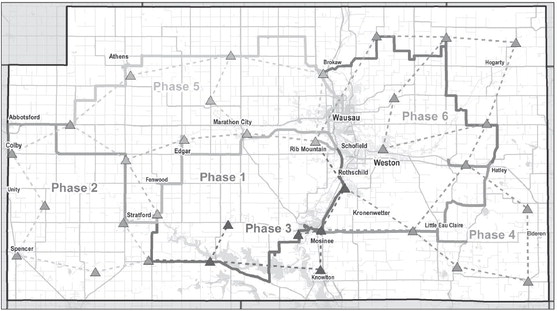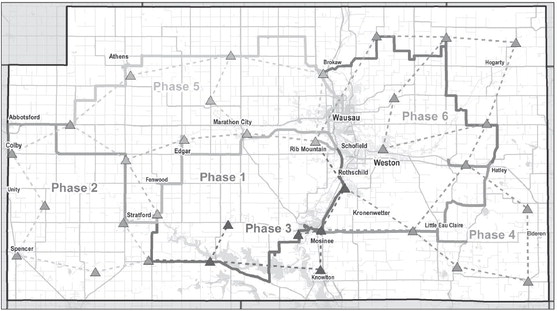 Consultant's plan calls for running 211 miles of fiber
A blueprint for an updated broadband system across Marathon County was unveiled Thursday to supervisors. The initial price tag: $35.3 million. The plan, as outlined by Design Nine senior business analyst Jack Maytum, Blacksburg, Va., would run 211 miles of fiber optic cable within a circle of 20 transmission towers across the county. These towers, many which are existing, would be supplemented by community poles where line of site transmission is an issue.
Maytum said the goal is to provide 90 percent of county residents broadband speeds of 25 megabits per second download and 3 megabits upload.
The consultant, who has helped install broadband in rural counties across the United States, said the investment in broadband was worth it. He predicted Marathon County's 54,820 homes and 3,353 businesses will spend $3,014,068,097 in internet, telephone and television service over the next 30 years. He said an investment of 4 percent of this sum or $16 a month on a residential bill could make the county's broadband ready for the future.
The county has plenty of broadband providers, but there continue to be gaps in service in the most rural parts of Marathon County. The providers are Frontier DSL, Amherst Communications DSL, TDS DSL, Wittenberg DSL, Packerland Broadband Cable, Spectrum Cable, Amherst Cable, Airrunner Wireless, Avis Wireless, Bertram Wireless, Country Wireless and Network Professionals.
The project, according to the plan, would be broken up into six phases. A first phase would sent fiber optic cable from Wausau to Marathon City, Edgar, Fenwood and Stratford. The cost would be $6,5000,849. The plan would serve 1,600 people in the first year and 300 to 500 people each year after that.
The broadband plan considers various funding sources, including grants, bonding, fees and property taxes.
A one cent increase on the county mil rate could generate $27 million towards the project over a 30-year time span.