Posted on
Tiger girls snap four game slump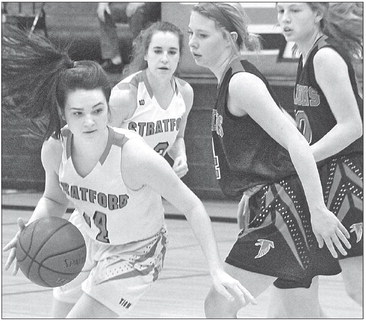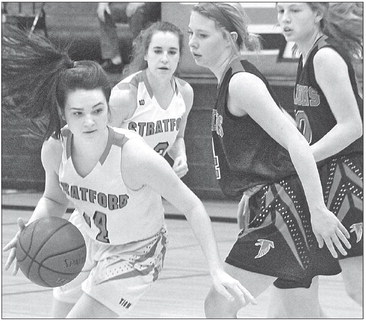 SPORTS
Stratford boys stay undefeated
It would be fair to say that the Stratford Tigers girls basketball team has had an up and down 2019-20 season thus far.
The Tigers have been in every game they've played this year, but it's the little things that make a big difference, and Stratford has seen late leads evaporate from turnovers, cold-shooting or foul troubles, or a combination of all three.
As a result, the Tigers came into their Friday night home game with the Falcons looking to put the past behind them and start 2020 with a fresh outlook.
"I just told them we have to turn the page on the first half of the season and we can't look back," Tigers head coach Tammie Christopherson said. "We can play with anybody. We just have to keep taking those steps to get us over the hump."
Stratford answered that plea with an emphatic win over Abbotsford that snapped a four game winning streak, trouncing the Falcons 58-12 as they limited their guests to just six points in each frame.
"It's a good win for us, and now we start next week on our trip through the Marawood South again," Christopherson said, putting the game into perspective. "We just said 'We're not going to be 1-5 this time', and lose almost all those games by 11 points or under. We are right there."
The Tigers controlled all facets of the game, and came in with a distinct height advantage that they used to great effect, crashing the glass as they out-rebounded Abby 50-22. The Tigers also finished with a season high of 16 assists.
Breanna Ackley and Emily Hughes were the straws that stirred Stratford's drink as each went off on Abby for a pair of double-doubles.
Ackley added 13 points and 12 rebounds and Hughes had 13 points and 16 rebounds. Makenna Leonhardt added 10 points and Tanaya Schillinger scored eight points.
"It's very exciting," Ackley said about the win. "I think we finally found out how to play together and work as a team. I think we turned the page and we have been working very hard in practices. We've moved on from the first part of the season and put it in the past."
The Tigers improve their record to 4-8 on the year, and will hope to use the win to put some wind in their sails as they prepare to face a brutal stretch of games in the coming weeks.
"The second half of the season it is a gauntlet . . . we have Edgar, Newman. Phillips," Christopherson said. "So there is no rest here once we get going. These kids can play at high level, and our biggest thing is we have to put together two halves of basketball."
Stratford tops opponents
Unfinished business.
If there was ever a motto that was proper and right for the Stratford boys basketball team it would be those two simple words.
There's so many emotions captured in those two words, and so many hopes and expectations that this season, this team can do for Stratford what no other Tigers squad has done before.
"We were undefeated last year at this point, but our motto is 'unfinished business' and honestly, an undefeated record doesn't mean anything unless you play your best," senior guard Chandler Schmidt said after a 83-45 drubbing of Abbotsford on Friday.
The Tigers moved to 9-0 on the season, the same place they were last year, during their 24-1 season. But those 24 wins came to a crashing halt with a 70- 64 loss to Wisconsin Dells in the WIAA D-3 sectional semifinal.
This year's squad has come in with a new focus and reneweed intensity, and no matter the opponent, the Tigers use every game as a chance to get better.
"We want to be the best versions of ourselves," Chandler said. "We come to practice every day thinking we have to get one percent better every day."
Stratford retained their unblemished record by moving past a scrappy Abbotsford Falcons team that pushed them through the first ten minutes of the first half.
After that, the Tigers made their adjustments and began to turn the screws on Abby, posting up for points in the paint, and then getting the crowd off their feet with a pair of booming slam dunks from Vaughn Breit and Teddy Redman.
"It's fun. Let's face it, coaches - we are all fans. The players are fans, they play in it and it's electric and you don't always get that open court to do that," Tigers head coach Curt Schmidt said. "It was an electric game and it was a great night for Parents Night - everybody got to play and contribute."
The Tigers began to pull away late in the first half, taking a 49-24 lead into the break, and they continued to hammer Abby down low and outside in the second half.
Stratford subbed in their bench players, and the Tigers continued to score at a high clip, holding a 34-21 scoring advantage in the last stanza.
Ben Barten was an absolute beast, scoring a career high 31 points. Redman added nine points and Schmidt, Dawson Danen and Chase Flink all added seven points apiece.
"I think it was a great team effort," coach Schmidt said afterwards. "The kids looked out for each other and played for each other. It was a credit to the great chemistry and the great teamwork."
Royals dethroned
The Tigers made it a perfect 10 on Tuesday with a 58-18 dismantling of the Assumption Royals.
The Tigers raced out to an early 40-9 lead in the first half, and even with their subs coming off the bench to play in the second half, it was all Stratford as the Tigers held the Royals to nine second half points.
Ben Barten and Vaughn Breit got the party started, and led the Tigers with Barten pumping in 16 points and corralling 16 rebounds. Breit added 11 points, Max Vanderhoof added nine and Chandler Schmidt scored eight to give Stratford its tenth straight victory.