Posted on
Tiger girls face adversity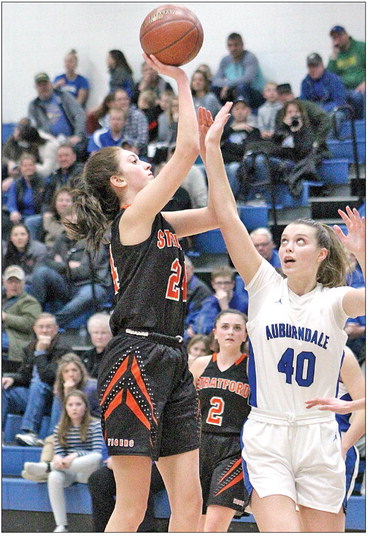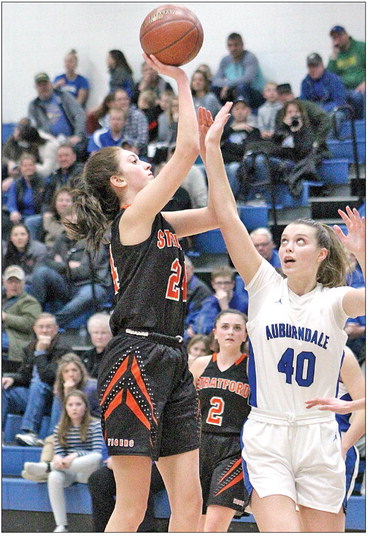 Stratford boys win matchup of unbeaten teams
By Casey Krautkramer
The way the Stratford girl's basketball team lost to Auburndale on Thursday was eerily similar to how the Tigers fell to the Colby Hornets on Dec. 16.
S t r at fo rd found itself down by two points against both Auburndale on the road and Colby at home. The Tigers ended up losing a close game to the Apaches, 44-40, and to the Hornets, 46-39.
In both Stratford defeats, the main statistic that jumps out on paper is Auburndale and Colby enjoying a considerable advantage at the free-throw line. Auburndale sank 20 of 33 free-throw attempts, while making 13 of 19 at the charity stripe in the second half. Stratford, meanwhile, only made eight of 15 free throws.
Colby made 21 of 28 free-throw attempts, with the majority of them also occurring in the second half against Stratford. The Tigers only converted six of eight free throws against the Hornets.
Stratford head coach Tammie Christopherson and her players were frustrated they found themselves in the same freethrow conundrum against Auburndale 17 days after its game against Colby.
"We fouled Auburndale way too much; I mean well over half its points probably came from the free-throw line, which is reminiscent of our shades of Colby game where we kept putting its players on the free-throw line too," Christopherson said. "We have a talented team and things are starting to come together for us, but it's frustrating being this close to winning and not being able to get over the hump.
"Our schedule is ruthless but we are not quitting. We are getting closer to winning every single time and we are going to get over that hump, and all we can do is put our heads down and work harder."
Stratford battled back from an early six-point deficit against Auburndale on Thursday, and the Tigers took a 19-18 lead on senior forward Kamryn Schueller's basket with three-and-a-half minutes left before halftime. Unfortunately for the Tigers, Auburndale junior guard Georgi Schmutzer answered with a made three pointer to help the Apaches quickly regain a 21-19 advantage.
Tigers' senior guard/forward Paige Kolbeck fouled Apaches senior guard Isabelle Hilber, who sank both free throws to give Auburndale a 23-19 lead. Schueller's basket brought Stratford back within two points, 23-21, at the break.
Stratford tied the game at the start of the second half, at 23 points for each team, when junior guard Abby Oertel passed the ball to junior forward Emily Hughes for a basket near the hoop.
The game was a back-and-forth tussle in the second half with several lead changes for each team. Stratford junior center Breanna Ackley's basket tied the game at 27 points apiece for each team. Auburndale senior guard Natalie Aue answered with a three pointer to give the Apaches a 30-27 lead. Hughes answered with a basket underneath the hoop, and following a Tigers timeout, junior guard Makenna Leonhardt passed the ball to senior guard Tanaya Schillinger for a made corner three pointer to give the Tigers a 32-31 advantage.
Auburndale freshman forward Annamarie Aue was fouled and she converted one of two free throws to tie the game at 32 points apiece. Stratford regained the lead on Schueller's basket until Auburndale junior Hailey Grimm's pair of made bonus free throws tied the game again at 34 points for each team. Auburndale senior guard Taylor Stanton, however, drained a corner three pointer to give the Apaches a lead they would no longer relinquish the remainder of the game. Stanton paced the Apaches with 12 points.
Auburndale improves to 4-2 in the Marawood South Conference and 8-3 overall this season after beating Stratford. The Tigers fall to 1-3 in the conference and 3-7 overall.
Ackley led Stratford with 13 points, two steals and a pair of blocked shots. Hughes contributed 10 points and seven rebounds, while Schueller added nine points and seven rebounds. Leonhardt paced the Tigers with three assists.
Tanaya Schillinger, the daughter of Todd and Jill Schillinger, is confident her team can get out of its funk and start utilizing the amount of talent it possesses to start winning games on the hardwood.
"We just need to play well on both the offensive and defensive ends of the court for two full halves," Schillinger said. "We have a brutal schedule so things won't get any easier for our team. We just need to put our heads down and keep working hard."
Tiger girls edged by Royals
The Stratford girl's basketball team nearly came back from a large 24-9 halftime deficit to beat Wisconsin Rapids Assumption in Tuesday's road game.
Unfortunately, the Tigers ended up just short again of beating another opponent. Stratford fell, 50-48, to Assumption.
Ackley led Stratford with 19 points, seven rebounds and three steals. Hughes also scored 19 points and Gracie Hauke paced the team with four assists.
Stratford boys undefeated
Stratford's boys' basketball team easily won the big matchup between unbeaten teams this season, 61-34, against Auburndale on Friday at home. The Tigers were ranked No. 2 and the Apaches No. 7 in the latest wissports.net Division 4 coaches' poll going into their matchup.
The Tigers jumped out to a daunting 36-10 halftime lead, which was too insurmountable for the Apaches to rally back from in the second half. Stratford shot 71 percent from two-point field goals and 60 percent overall from the floor against Auburndale.
Stratford senior guards Chandler Schmidt and Teddy Redman clamped down on defense against Auburndale's dominant outside shooting duo of Cooper Weinfurtner and Hunter Wright.
Stratford held a considerable height advantage inside the paint with senior center Ben Barten and senior forwards Vaughn Breit and Dawson Danen. Stratford's guards kept feeding Barten in the post for a game-high 22 points, three blocks and 13 rebounds.
Schmidt contributed 12 points, Danen 11 and Breit eight for the Tigers. Breit led the team with eight assists and he added seven rebounds in the win.
The Tigers improve to 5-0 in the Marawood South Conference and 7-0 overall this season, while the Apaches fall to 5-1 in the conference and 9-1 overall.
Breit achieves 1,000 points
Stratford senior Vaughn Breit scored 10 points to reach the 1,000 career point plateau on Tuesday night, during the team's 78-34 non-conference road win against Owen-Withee on Tuesday.
Junior Max Vanderhoof led the Tigers with 17 points, while senior Teddy Redman added 13. Seniors Tyler Lappe and Chase Flink scored 10 points apiece.
Stratford senior Nick Fox paced the team with six rebounds and Redman with seven steals.
Edgar girls beat Marathon
The Edgar girls basketball team downed Marathon, 69-64, in a Marawood South Conference game on Tuesday in Marathon.
Makenna Guden led the Wildcats with 17 points, while Malia Hoesly and Gabriella Keim had 12 apiece. Marissa Ellenbecker and Teresa Hackel added 10 points each in the win.
Edgar head coach Betty Urmanski explained how her team defeated Marathon.
"Balanced scoring and great freethrow shooting shooting were the keys to our win, as we made 20 of 23 free throws against Marathon," Urmanski said. "The girls moved the ball better offensively in the second half, by being a little more patient which allowed for them taking high er percentage shots."
Allison Wokatsch paced Marathon with 18 points. Anna Cleven added 13 points, Bradyn Free 12 and Elizabeth Boehm 10 in the loss to Edgar.