Posted on
Athens has trouble beating Colby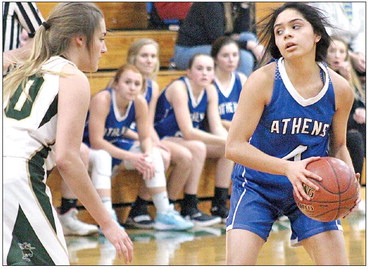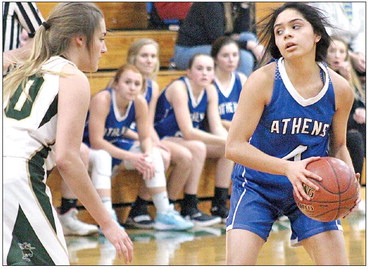 Turnovers kill 'Jays chances
A promising start gave way to a disappointing finish as the Athens Bluejays lost on the road to the Colby Hornets 84-62 on Thursday, Jan. 2.
Athens opened up the non-conference road game with a 10-3 lead as Paula Lira and Alison Wolf scored eight and 10 points in the first half.
But last year's East Cloverbelt champs began to play better as the half wore on, and the Hornets' defense forced Athens to commit 33 turnovers, 29 of which were steals.
"Those turnovers were very crucial. . . we looked at the score and we were down eight, and then we looked at the score a few minutes later and we were down 20," Athens head coach Kincaid Diedrich.
The Hornets made the most of the steals, turning them into points to take a 38-27 lead into the break.
In the second half Colby held Lira scoreless while Colby;s Hailey Voelker nearly had a triple-double, finishing with a career high 32 points, 12 steals and nine assists. Lexi Underwood and Lexi Krebsbach each scored 18 points.
Athens rode the stellar play of Wolf, who was sensational in the final frame, scoring 15 points of Athens' 35 points.
Sierra Hart got in the mix, but Hart and Wolf were the only 'Jays to score multiple baskets as Colby raced away from the 'Jays, outscoring Athens 46-35 in the latter half.
Wolf finished with a team high 25 points, Hart added 11 and Elizabeth Van Rixel scored nine points.
"I told my girls, we control our energy, our effort and our attitudes the whole game," Diedrich said. "They came out with energy, their attitudes were great, and they had so much effort. Very proud of how they performed."
Athens falls to Prentice
Athens fell 67-39 at home to Prentice on Tuesday. Athens is 3-8 overall, and 3-2 in the Marawood-North.