Posted on
New Athens bank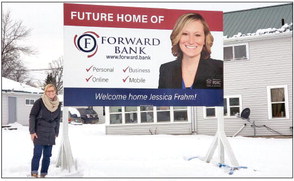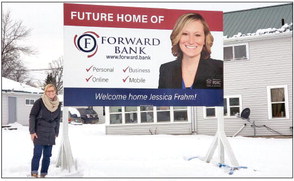 Forward Bank will break ground in the spring
Forward Bank has plans to build a branch in the village of Athens, located at the intersection of Alfred and Mueller streets. Forward Bank currently has a large sign, which includes a picture of employee Jessica Frahm of Athens on it, erected on this corner piece of land.
Frahm said Monday her employer is in the process of purchasing four lots of land, which includes an apartment building that was formerly Sisko Realty, from the Athens Area Fire Department Commission.
"Forward Bank is excited and committed to coming to Athens, because we feel our new branch will be a great fit for the community," Frahm said.
She said Forward Bank is hoping to break ground this spring on construction of the new branch in Athens, and the goal is for the new building to be open to customers before the end of this year. Frahm said the Athens For- ward Bank branch would have two drive-thru windows.
Other Athens financial institutions are U.S. Bank and Athens Area Credit Union.
Forward Bank was originally incorporated in Marshfield in 1919, and it celebrated its centennial last year. William W. Sennholz is the CEO and president of Forward Bank, which has a seven-member board of directors who live in the bank's branch locations. The Athens branch would become Forward Bank's tenth location. Forward Bank currently has branches in Marshfield, Colby, Greenwood, Medford, Withee, Park Falls, Phillips, Stanley and Thorp.
As it does in other branch communities, Forward Bank sponsored a $5,000 half court shot during this winter Athens sports season.
Attendees at the Athens varsity girl's basketball game on Dec. 17, 2019, were given a ticket and Athens High School 2019 graduate Kenadi Diedrich's ticket number was randomly picked for her to attempt two half court shots.
Even though Diedrich missed both shot attempts, Forward Bank donated $250 to the Athens School District. Had Diedrich made one of her two shots, Forward Bank would have given her $2,500 and another $2,500 to Athens School District.