Posted on
'Cats pull off big wins after Christmas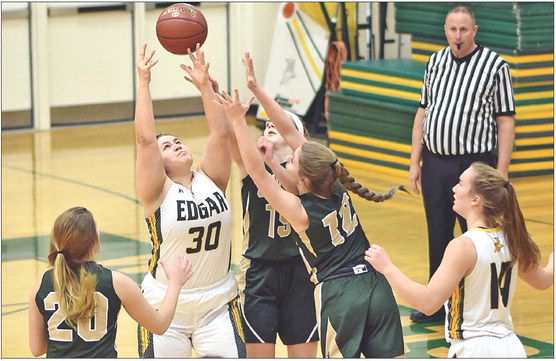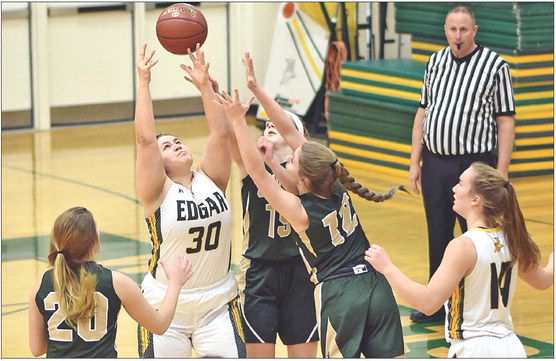 SPORTS
Boys win Sentry Classic, girls nip solid Colby team
By Casey Krautkramer
The Edgar boy's basketball team won the highly touted Sentry Classic holiday tournament, held on Thursday and Friday on the UW-Stevens Point campus.
Edgar was losing, 23-15, to Almond-Bancroft in the Sentry Classic championship game on Friday. The Wildcats, however, rallied in the second half to edge the Eagles, 39-37.
The Wildcats committed 10 less turnovers than the Eagles, and they also held a 13 to 3 advantage in scoring points off turnovers. Junior guard Drew Guden led the Wildcats with 13 points, while senior Caden Higgins and junior Austin Dahlke added nine points each. Senor guard Kaleb Hafferman paced the Wildcats with seven rebounds, five assists and five steals in the victory against Almond-Bancroft.
Edgar began the Sentry Classic with a 57-46 win against Stevens Point Pacelli. Edgar built a 31-20 lead at halftime on its way to beating a solid Pacelli squad.
Edgar won the battle against Pacelli in three pivotal aspects of the game, which helped the Wildcats achieve the victory. The Cardinals committed 16 turnovers compared to eight for the Wildcats. Edgar scored 15 points off turnovers compared to five for Pacelli. The Wildcats also scored nine points in transition compared to only two for the Cardinals.
Junior Kyle Brewster paced Edgar with 18 points, and he added two steals and four assists in the win against Pacelli. Dahlke contributed 15 points and Guden added 14 points, seven rebounds and three assists. Max Larson had seven points, while Hafferman contributed seven rebounds and seven assists.
Edgar head coach Dave Huss was pleased his squad beat two formidable opponents to capture the Sentry Classic title.
"We are very excited to come out of the holiday break with two wins against quality opponents in Pacelli and Almond-Bancroft," he said. " Our ability to fight through adversity and get a comeback victory against Almond- Bancroft was very exciting to see. We are still in the early stages of our season and we are continuing to evolve as a group, but we took many positive steps forward these last two games. We look forward to using this momentum in the month of January as we get into the full swing of conference play."
The Wildcats improve to 5-2 this season.
Edgar girls edge Colby
The Edgar girl's basketball team edged Colby, 52-51, in a non-conference home game on Friday. Colby returns some solid players from last year's squad that played in the WIAA Division 4 state tournament.
Junior Makenna Guden poured in a game-high 24 points for the Wildcats, while senior Marissa Ellenbecker added 12. Gabriella Keim contributed seven, Teresa Hackel six and Malia Hoesly three points for Edgar.
Wildcats head coach Betty Urmanski was pleased with her team's strong effort in the second half against the Hornets.
"The girls had a sluggish start as we were down, 31-23, at halftime," she said. "In the second half, we brought more energy to the floor and did a better job defending Colby's dribble penetration and grabbing defensive rebounds. Even though we were short one starting player, the girls showed resilience and some competitive spirit in coming back in the second half to get the win."
Edgar improves to 5-3 this season.
Tiger boys win the holiday
The Stratford boy's basketball team downed Altoona on Friday and Wausau East on Saturday to win its inaugural home holiday tournament. The Tigers improve to 6-0 this season, heading into their home Marawood South Conference showdown this Friday, Jan. 3, against undefeated Auburndale. The Apaches are now 9-0 after winning their own home holiday tournament championship game against Neillsville.
Senior Chandler Schmidt led Stratford with 25 points and six assists in its 87-64 win against Altoona. Senior Ben Barten paced the Tigers with nine rebounds. Barten and fellow senior Teddy Redman scored 14 points each. Seniors Vaughn Breit and Jacob Danen contributed 11 points apiece, while junior Max Vanderhoof had 10.
Breit erupted to score 22 points and grab 10 rebounds in Stratford's 64-51 victory against Wausau East. Barten added 17 points and eight rebounds, while Danen had 11 points. Redman and Schmidt paced the Tigers with three steals each.
Tiger girls lose tournament
The Stratford girl's basketball team suffered a pair of setbacks in the Bangor holiday tournament. Stratford lost to Bangor, 56-45, on Friday.
Junior center Breanna Ackley led the Tigers with 20 points and two blocks, and she added eight rebounds. Junior guard Tanaya Schillinger had 14 points and she led the team with three assists. Junior Emily Hughes paced the Tigers with 11 rebounds.
Stratford also fell to Cochrane-Fountain City, 48-37, on Saturday. Ackley led the Tigers with 24 points and two blocks. Hughes paced the team with six rebounds.
The Tigers are now 3-6 this season.
'Jay boys beat Indians
The Athens boy's basketball team downed Greenwood, 55-41, in a nonconference road game on Friday. Senior center Cameron Ford led the Bluejays with 16 points, 11 rebounds and four assists. Sophomore guard Cooper Diedrich scored 14 points. Freshman forward Aiden Janke tallied nine points and 10 rebounds in the victory.
Athens improves to 5-2 this season.
Athens girls fall
The Athens girl's basketball team lost, 41-36, in a non-conference road game against Greenwood on Friday. Senior Elizabeth Van Rixel led the Bluejays with 13 points and she added nine rebounds. Senior Abby Van Rixel paced the team with 10 rebounds.
Athens falls to 3-6 this season.