Posted on
Tigers come back for win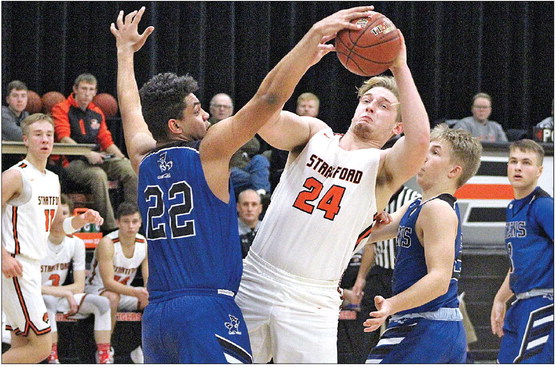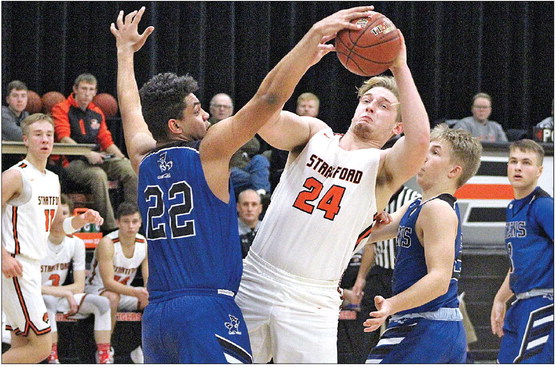 st me nn - neft nd at- 1 3
Breit sees the floor for the first time this season
By Casey Krautkramer
Stratford senior forward Vaughn Breit, the team's second-leading scorer and top rebounder last year, played in his first basketball game this season on Friday in a 6350 home win against Athens.
Breit injured his left leg on Nov. 15 near the end of the Stratford football team's playoff victory against Amherst. He played in the Tigers' state championship football game the following week, but the intense pain in his leg forced him back to the sideline.
Stratford boys basketball head coach Curt Schmidt substituted Breit into Friday's game in place of senior Dawson Danen, who's done an admirable job filling Breit's starting role in the team's first four games this season, after a team timeout. The Tigers were losing, 13-8, to the Bluejays when Breit entered the game with just over 12 minutes left before halftime.
Breit took Danen's spot as Stratford's player on top of the team's 1-3-1 zone defense, and Breit drained a three pointer to cut Athens' lead to four points toward his 11 points. Breit was happy to receive some playing time, although he realizes it's going to still be a while before he would be full recovered from his leg injury.
"I have bone bruising on both sides of my shin, so it's basically a stress fracture in my left leg that prevents me from jumping and cutting on the basketball court," Breit said. "It's going to be a nagging injury throughout the season so it's just something I need to deal with. It will probably take a couple of months for my leg to completely heal."
Stratford would need Breit at full health toward the end of this season, should the Tigers have aspirations of advancing to the WIAA Division 4 state tournament for the first time in school history.
In the beginning of Friday's game, it looked like Athens would pull off an upset against undefeated Stratford, which was ranked third in Division 4 before the game. Athens sophomore guard Cooper Diedrich sank a three pointer but Stratford senior guard Teddy Redman answered with a trey to cut the Bluejays' lead to three points with nine minutes left before halftime. Stratford tied the game, at 20 points for each team, while converting a traditional three-point play with just over six minutes remaining before the break. Athens freshman forward Aiden Janke drained two straight three pointers to give the Bluejays a 26-20 advantage with four minutes, 50 seconds left before halftime.
Later, Redmann stole the ball and passed it to senior center Ben Barten for a basket while he was fouled by Athens senior center Cameron Ford. Barten sank the free throw to complete the threepoint play and tie the game at 28 points for each team. Stratford senior guard Chandler Schmidt made a basket to give the Tigers a 30-28 halftime advantage.
Stratford outscored Athens by 13 points in the second half to obtain the win. Athens co-head coach Aaron Ellenbecker said it's pertinent for the Bluejays to play good for an entire 36-minute game against great teams like Stratford.
"We had better ball movement in the first half and we hit some three pointers, but we also had open looks at them too," Ellenbecker said. "We got down in the second half and then we kind of rushed some of our shots, and we didn't get that one or two more passes needed to get open shots. I told our team after the game, 'you guys can play basketball against very good teams like Stratford.'" The Tigers improve to 4-0 this season and the Bluejays fall to 4-2.
Success of 1-3-1 zone
Stratford has struggled in the first halves of its last two home games against Athens and Marathon. The Tigers were losing by 13 points to the Red Raiders on Tuesday, before the 1-3-1 zone forced turnovers to help Stratford outscore Marathon by 25 points in the second half to achieve a 63-51 win. Breit attributes his team's 1-3-1 zone defense to its 4-0 record to start this season.
"It's always been if our opponent would score on us against our man-toman defense then the 1-3-1 is always our plan B," Breit said. "The 1-3-1 zone defense has been working really well for us so far this season. It especially worked well against Marathon in which it helped us crawl back into that game and win it."
Red Raiders stumble
Marathon's boy's basketball team suffered its fourth consecutive loss this season, after succumbing to Rib Lake 58-42, during Friday's road game. Marathon has lost its last three games to teams ranked in the state, consisting of Auburndale and Stratford in Division 4 and Rib Lake in Division 5. Sophomore Jaden Koehler led the Red Raiders with 17 points in the defeat to the Redmen. Marathon falls to 2-4 this season.
Edgar's boys basketball team upended Prentice, 63-43, on Friday. The Wildcats improve to 5-3 overall this season.
The Wildcats were led by a trio of juniors. Kyle Brewster paced Edgar with a game-high 25 points, followed by Austin Dahlke with 15 and Drew Guden 13.