Posted on
Bluejays grapplers win dual via forfeits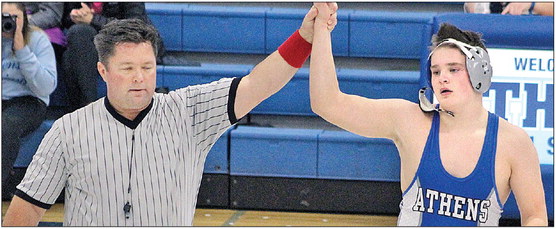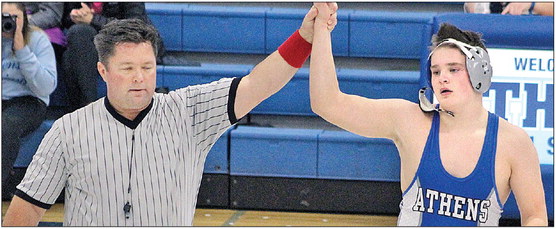 Cliff joins his brother Shawn in hall of fame
SPORTS
Two years ago, Shawn Ange was inducted into the Athens Wrestling Hall of Fame. On Thursday, Shawn introduced his older brother, Cliff Ange, as the seventh member in this prestigious group of people who have made signifi cant contributions to Athens wrestling since former coach Jerry Wagner started the program in 1962.
Cliff recorded a match record of 110 wins and 10 losses during his Athens High School wrestling career from 1983 until 1986. He's lived in Athens his entire life.
He became only the second wrestler to win four individual Marawood Conference championships. Brad Ellenbecker, who was inducted into the Athens Wrestling Hall of Fame last year, was the first wrestler in conference history to win four individual conference titles.
Cliff helped Athens wrestling win its first state team championship in 1984, and he was an individual state champion at 126 pounds in 1985 and 138 pounds in 1986. He's been a high school wrestling referee since 1987, or for the past 32 years, in which he's refereed eight years combined at the state individual and team championships.
"I wanted the best seat in the house and that was out on the mat, so I've been a wrestling official ever since," Cliff said. "It's kind of rare and cool that I am the only wrestling referee in Wisconsin to have won state individual and team championships in high school, and to also referee at both the state individual and team championships. My good buddy Joe Heil from Edgar was an individual state wrestling champion in high school and he's refereed at both the state individual and team championships, but his high school team never won a state title."
Cliff also joins his former head coach Wagner, huge Athens wrestling fan and supporter Clarence Liss, Kraig Underwood and the late Pat Switlick as members of the Athens Wrestling Hall of Fame.
"I am very honored and humbled to join this elite club of Athens wrestlers," Cliff said. He is the son of Terry Ange and his deceased mother, Bev. Terry attended Cliff's Athens Wrestling Hall of Fame induction ceremony. Cliff's daughter, Destiny Ange and his grandson, Kaiden, were also at the hall of fame ceremony. Cliff told his two sisters it wasn't necessary for them to travel on the snowy roads to attend the ceremony.
Dale Westfall, the current Athens wrestling coach, is Cliff Ange's former teammate. Dale said he believes Shawn was honored to introduce Cliff as the newest member of the Athens Wrestling Hall of Fame.
"I think he's proud because when Cliff was wrestling with us in high school, Shawn was just a little guy with really long hair," Westfall said. "We'd be on the wrestling mat lying around and Shawn would jump on top of us and start messing around with us, and his hair would be right down to his shoulders and in front of his eyes."
Athens wrestling results
Athens wrestling alumni and fans were hesitant to leave the bleachers after the team's 39-27 home match win against Auburndale on Thursday, probably because they were still in shock the match only lasted a little more than half an hour.
The Bluejays only won one of the five competitive bouts against the Apaches, yet Athens still won the match because Auburndale had so many forfeits.
Athens took a quick 12-0 lead on forfeits wins awarded to senior Mitchell Gore at 285 pounds and sophomore Brooks Kraus at 106. Both teams double forfeited at 113 pounds, and Auburndale sophomore Noah Altmann received a forfeit win at 120. Senior Chase Ellenbecker obtained a forfeit win at 132 pounds to give Athens an 18-6 match advantage.
Auburndale gained three straight bout wins for a 21-18 lead in the match. Senior Hunter Godard pinned Athens senior Izzy den Otter at 138 pounds, senior Dylan Baird won a 4-2 decision against Carter Brunke at 145 and senior Brent Lau pinned junior Trystan Cator at 152.
The Bluejays regained the match lead on forfeit wins by senior Spencer Kraus at 160 pounds and junior Patrick Redmann at 170. Freshman Kyler Ellenbecker achieved Athens' lone win in a competitive bout against Auburndale, with a 13-8 decision win against junior Cody Poeschel at 182 pounds.
Auburndale freshman Sloan Welch pinned senior Anthony Schug at 195 pounds, and Athens senior Connor Westfall received a forfeit win at 220 to conclude the match.
Athens took third place among 18 wrestling teams competing in the Laona/ Wabeno Rebel Invite on Saturday.
Tomahawk won the tournament with 205.50 points, followed by Cedar Grove/Belgium in second place with 202.53 and Athens in third with 172.04.
Carter Brunke, 8-2, won the individual 145-pound championship with a 6-4 decision against Tony Jopek, 10-2, of Crivitz in the first-place match.
The following four Athens wresters took home second-place finishes in their individual weight classes: Brooks Kraus, 9-1, at 106 pounds; Spencer Kraus, 9-1, at 160; Connor Westfall, 8-2, at 220 and Mitchell Gore, 9-1, at 285.
Chase Ellenbecker, 7-3, placed third at 132 pounds; Patrick Redmann, 5-5, fourth at 170; Kyler Ellenbecker, 5-5, fourth at 182 and Anthony Schug, 5-5, sixth at 195.
Wildcat grapplers
Edgar finished with a 1-5 record in the Adams-Friendship Devils Duals on Saturday.
The team's lone match win was against Wautoma/Wild Rose, 43-30. Edgar wrestlers winning competitive bouts were: Junior RJ Knetter pinning Kacey Graessley in 16 seconds at 195 pounds, senior Ethan Heil pinning Damean Netzler in 56 seconds at 285, sophomore Blake Tarter with an 8-6 decision against Steve Hellman at 126, freshman Keghan Hartway with a 15-2 major decision against Ashton Abraham at 138 and junior Brady Lemmer pinning Hector Paredes in one minute, 58 seconds at 182.
Edgar lost to Northwestern, 59-18. Ethan Heil pinned Brennen Werner in 1:04 at 220 pounds and Brady Lemmer pinned Michal Stoede in 28 seconds at 170. Edgar also lost to Appleton West, 57-16. RJ Knetter won a 14-4 major decision against Andrew Vanderputten at 182 pounds, senior Austin Miller pinned Spencer Brewton in 5:21 at 195 and Ethan Heil pinned Thatcher Linstedt in 53 seconds at 220.
The team was defeated by Cumberland, 62-18. RJ Knetter pinned Braxdyn Engstrand in 5:59 at 182 pounds and Ethan Heil pinned Milan Monchilovich in 1:40 at 220. Edgar lost to GET/ Melrose-Mindoro, 74-6. Ethan Heil pinned Carter Niederkorn at 220 to achieve the team's lone bout win.
Tigers wrestling
Stratford won all five of his dual matches at the Weyauwega Invite on Saturday. Stratford beat Weyauwega-Fremont, 59-15; Waupaca 72-0; Ripon 62-6; Seymour 69-12 and North Fond du Lac, 54-24.
The following nine wrestlers finished the tournament with 5-0 individual records: Seniors Max Schwabe, Trevor Dennee, Devin Dennee and Dawson Moen; juniors Karter Stuttgen and Jake Heiden; sophomores Gavin Drexler and Logan Gaulke and freshman Konnor Stuttgen.
Stratford sophomore Gavin Kirsch finished with a 4-1 bout record, junior Benno Wenzel 3-1, junior Hunter Ford 3-2 and sophomore Cole Marten 3-2.
Stratford won all five of its matches during its annual home Schoenherr Duals on Dec. 7. Stratford beat Barron, 54-27; Crandon, 66-12; Phillips, 666; Southern Door, 58-6 and Wautoma/ Wild Rose, 60-6.
The following Tigers wrestlers obtained first place in their individual weight classes: Gavin Drexler at 132 pounds, Max Schwabe at 138, Konnor Stuttgen at 145, Gavin Kirsch at 152, Jake Heiden at 160, Devin Dennee at 170, Hunter Ford at 182, Trevor Dennee at 195 and Cole Marten at 220.
Gavin Drexler achieved the most pins in the least amount of time, five pins in 5:29, at the Schoenherr Duals.
The Tigers won their season-opening dual match, 58-12, at Nekoosa/Port Edwards/ Assumption on Dec. 5.
Stratford's nine of 10 individual competitive bout wins were because of pins. The following Tigers obtained pins: Benno Wenzel against Blaze Thurber in 3:52 at 126 pounds, Gavin Drexler against Gavin Hall in 1:49 at 132, Max Schwabe against Juan Torres in 1:09 at 138, Konnor Stuttgen against Klayton Havlovic in 2:31 at 145, Gavin Kirsch against Sawyer Kniprath in 2:52 at 152, Devin Dennee against Hunter Boudreau in 46 seconds at 170, Cole Marten against Hudson Goodwin in 1:32 at 220 and Dawson Moen against James Schaefbauer in 2:22 at 285.
Karter Stuttgen won a 12-4 major decision against Nathan Gellerup at 120 pounds.
Marathon in Brillion
Marathon took sixth out of eight teams at the Brillion Invitational on Saturday. Jared Sweno placed second at 145 pounds, Hector Pintor third at 160 and Reed Klinger fifth at 138.