Posted on
Tigers reload with more talent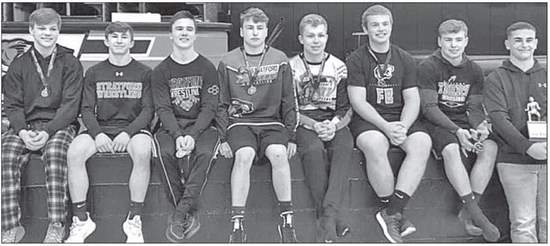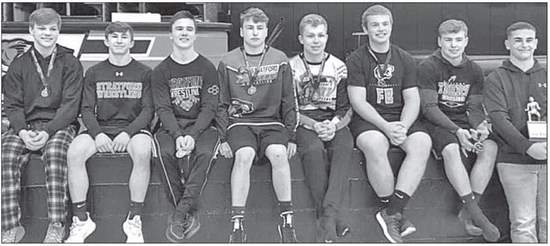 Stratford always in contention to win the state title
Stratford's wrestling team doesn't rebuild, but instead it reloads with talent, thanks to having a varsity reserve squad that obtains valuable experience wrestling against varsity squads in weekend tournaments. Therefore, this year's Stratford team has the potential again to accomplish anything it wants.
Many wrestling fans in the state figured Coleman would beat Stratford in the WIAA Division 3 sectional championship last season, yet the Tigers upset the Cougars to qualify for team state for the fifth consecutive year.
Fennimore halted Stratford's bid to win its third straight state championship, but many teams would love to accomplish as much as the Tigers have done recently after winning three state titles and two state championship runners-up trophies.
Joe Schwabe has begun his 28th year coaching wrestling in Stratford, including the past 23 years as the head varsity coach. His varsity wrestling assistant coaches boast plenty of experience themselves, with Kane Krummel coaching the past 20 years and Mark Marquardt 11 years in the Tigers program.
"Last year, Coleman was heavily favored in our Sectional with a dominant senior class," Joe Schwabe said. "Our team wrestled incredible that night and pulled off one of the biggest upsets in our school's history. We had enough to get into the state finals from there, and we missed out on a championship by one match and we had a couple close ones that day. I have no idea if we are going to be at that level this year, or even close, but I do know we will work like we do and see where that leads us."
Stratford returns two individual state champions in seniors Max Schwabe at 132 pounds and Trevor Dennee at 170 from last season.
The team's other top returning wrestlers are seniors Devin Dennee and Derek Kraus; juniors Jake Heiden, Hunter Ford, Karter Stuttgen and Parker West; and sophomores Gavin Drexler, Cole Marten, Logan Gaulke and Dillon Kirsch.
"It is great having not one but two state champions returning to the wrestling room," Joe Schwabe said. "Both Trevor Dennee and Max Schwabe have extremely different styles of wrestling, but what they have in common is the dedication and the will to work hard. They both dug deep last year and trained super hard by doing many extra workouts above and beyond the already high-level training expected by the entire team. They will need the same drive and hunger to become repeat state champions this season.
"We have a few other kids in the program that would like to join them by ending the season in the top spot on the podium. Devin Dennee was a state medalist last year, Jake Heiden and Karter Stuttgen were both state qualifiers and Gavin Drexler has high aspirations to make it to state this season. There is also always that 'unexpected' individual that has put enough offseason hours in to surprise the rest of our wrestlers."
Drexler was undefeated until he reached the sectional competition, where he lost a few matches and failed to qualify for state last season. He's working hard to make sure the same thing doesn't happen to him this season.
"Gavin Drexler puts most of his energy into the sport of wrestling and he has focused to become better and better," Joe Schwabe said. "He trains at a variety of locations and gets new practice partners from all over the state. He wrestled freestyle and Greco Roman this summer and placed second in the national tournament. He has some good practice partners right in our wrestling room that are close to his weight, so it will be fun watching him continue to improve this season."
Stratford's other wrestlers this season include seniors Coy Stueber, Dayne Singer and Oscar Telschow; juniors Benno Wenzel, Kix Grabow, Beau Gross and Logan Rueth; sophomores Gavin Kirsch, Ashtyn Kuehn, Elijah Lucio and Logan Gliniecki; and freshmen Ryan Becker, Jackson Ormand, Sawyer Grabow, Dawson Rueth, Patrick Greenberg, Konner Stuttgen, Logan Schmidt and Kayler Kramer.
The Tigers will attempt to win their seventh consecutive Marawood Conference regular season and tournament championships this season.
"The Marawood has always produced quality wrestlers, as evidenced on state meet results yearly since the 1980s," Joe Schwabe said. "It is way too early to predict who would be the favorites to win the conference this year. Phillips actually graduated the least number of wrestlers from last season and has the most starters returning. Chequamegan also has a solid number of wrestlers back and will be a determining factor in the race for the conference title.
"With seven good schools, it has always been my goal to put out a competitive team each season. If we can finish in the top half of the conference and be above .500, then I feel we have a decent product for the fan base to enjoy watching our dual and tournament matches."