Posted on
Red Raiders down Tigers to remain perfect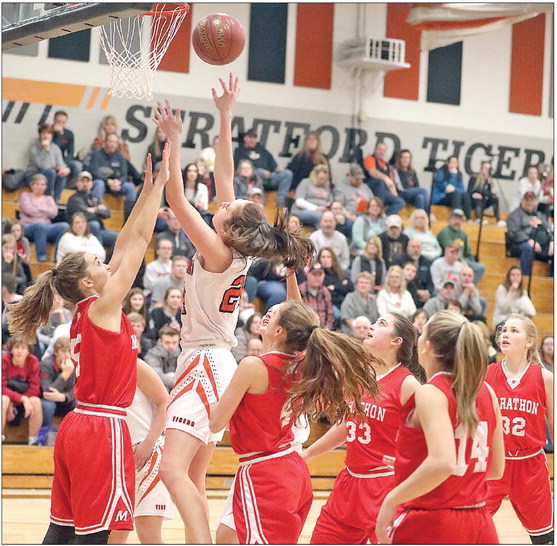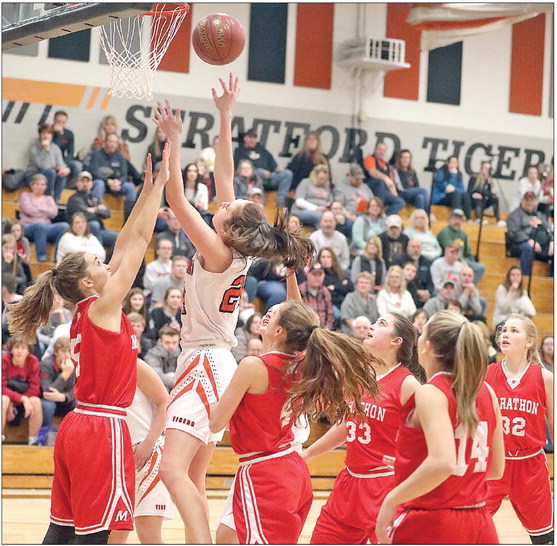 'Cats lose first game at buzzer against Apaches
By Casey Krautkramer
Marathon's girls basketball team remains undefeated this season, with a 4-0 record, after downing Stratford, 5948, in a road game on Tuesday.
The Red Raiders built a 33-23 lead at halftime against the Tigers in a key Marawood South Conference matchup. Senior guard Kyli Blume led Marathon with 16 points, followed by junior forward Anna Cleven with 15. Sophomore guard Allison Wokatsch contributed 13 points and senior guard Elizabeth Boehm had nine.
Senior forward Bradyn Free paced the Red Raiders with nine rebounds, while Blume and Boehm led the team with four steals apiece.
Marathon head coach Jeff Schneider was pleased with his team's performance against a solid Stratford squad.
"The girls really showed toughness in our win against Stratford with many playing sick and hurting," Schneider said. "A huge credit goes to the girls for having confidence in themselves and stepping up and making shots. Our team's rebounding and free throw shooting also got better as the game went on. I couldn't be more proud of this group of players so far this season; they are off to a fantastic start."
Stratford junior Emily Hughes scored a game-high 19 points in Tuesday's loss to Marathon, while junior center Breanna Ackley added 18. Junior McKenna Leonhardt paced the Tigers with four assists, while Ackley and Hughes led the team with nine rebounds each. Stratford falls to 1-3 this season.
Marathon blasted Chequamegon, 6531, at home on Friday. Boehm scored a game-high 22 points in the win and Wokatsch added 15. Stratford, meanwhile, fell 43-35 to Prentice at home on Friday. Ackley paced the Tigers with 11 points, four assists and nine rebounds in the loss. Leonhardt led Stratford with four steals.
Athens defeated Chequamegon, 5322, on the road Tuesday. It was a nice bounceback win for Athens, which lost 59-30, at Wausau Newman on Friday. Crystal Dearth led the Bluejays with eight points and Elizabeth Van Rixel had six against the Cardinals. Athens now has a 2-3 record this season.
'Cats lose first game
Edgar's girls' basketball team lost a nailbiter, 42-41, at home against Auburndale on Tuesday. The Wildcats now have a 3-1 record this season.
The Wildcats had an opportunity to tie the game against the Apaches at the every end, when an Edgar player was fouled while shooting a three pointer with only 2.3 seconds left in the game. She made two of three free throws, as the team fell just short of sending the Marawood Conference South matchup into overtime.
Edgar head coach Betty Urmanski hopes her team learned some things from its first defeat this season, so it could play better in future games.
"We gave up too many second chance points against Auburndale and we didn't rebound the ball well," Urmanski said. "We didn't shoot free throws well either, by only making 15 of 29 from the line. We need to regroup and control our opportunities."
Makenna Guden led Edgar with 21 points in the loss, while Gabriella Keim added 13.