Posted on
'Cats searching for their identity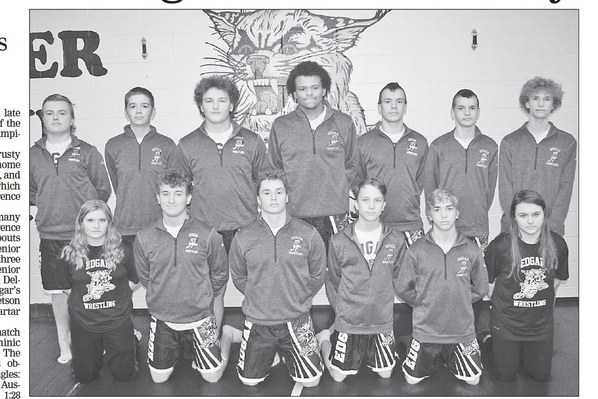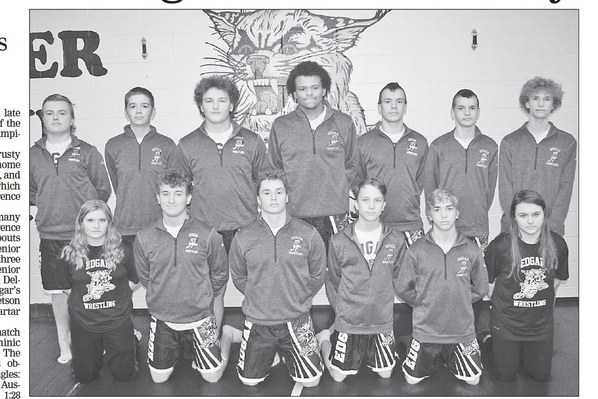 Edgar dropped its first matches of this season
Edgar's full wrestling team got a late start practicing this season, because of the football team playing in the state championship game again. The Wildcats, therefore, were a bit rusty to begin this season at Thursday's home dual meet. Edgar lost to Phillips, 48-24, and to Chequamegon, 48-36, in matches, which count toward the Marawood Conference standings.
A strong Phillips squad, which many people feel will contend for the conference title this season, won the first five bouts against Edgar before Wildcats senior Austin Miller pinned Owen Roe in three minutes, 51 seconds at 195 pounds. Senior Ethan Heil also pinned his opponent, Delton Heizler, in 26 seconds at 285. Edgar's other wins came via forfeit from Stetson Lemmer at 120 pounds and Blake Tartar at 126.
Kane Lipinski started off Edgar's match loss to Chequamegon by pinning Dominic Schmidt in 54 seconds at 152 pounds. The following other Wildcats wrestlers obtained wins against the Screaming Eagles: Brady Lemmer forfeit at 170 pounds, Austin Miller pinned Micah Schultz in 1:28 at 220, Ethan Heil pinned Parker Renken in 1:54 at 285, Blake Tartar pinned Wyatt Graceffa in 4:42 at 120 and Keghan Hartway pinned Ethan Ivy in 3:09 at 138.
Edgar head coach Andrew Lukasko realizes this season will be more challenging than his past two seasons in charge of the high school program, because the team lost great senior wrestlers Will Raatz and Brock Handrick to graduation in spring.
"We did graduate many senior contributors from last year's team and we bring back a team that does not have much varsity level experience," Lukasko said. "That being said, we bring back a lot of our junior varsity level wrestlers from last year and the year prior, and we look forward to seeing them grow into their role as varsity level wrestlers this season."
Lukasko was pleased with how his team wrestled in its home dual, despite it losing its first two matches of this season.
"It was an exciting opportunity for us to host a quad dual at home," Lukasko said. "We knew coming in we were going to have some pretty tough challenges between Phillips and Chequamegon, just from looking at the rosters they had coming back from last year's success they had and knowing our roster was quite different than it's been then last couple of years. We lost a big senior class but the guys are working hard.
"We had a short season to start having the football team make it down to the state tournament, so we were working on short time here at the start of this season but I thought our guys came out and did a really commendable job just giving their best efforts and we just fell a little short in our couple of matches, but we certainly have opportunities to learn, and I think the guys will be anxious to get back into the wrestling room and work on the improvements we can gain from these losses."
Lukasko believes his varsity squad could fill the majority of the 14 starting weight classes in its matches this season.
"We will be working hard to compete and win as many duals as we can throughout the conference season," he said.