Posted on
A reason for the season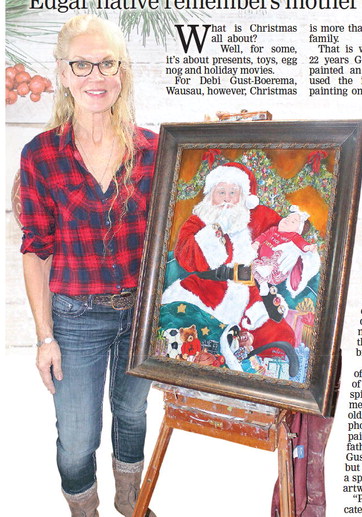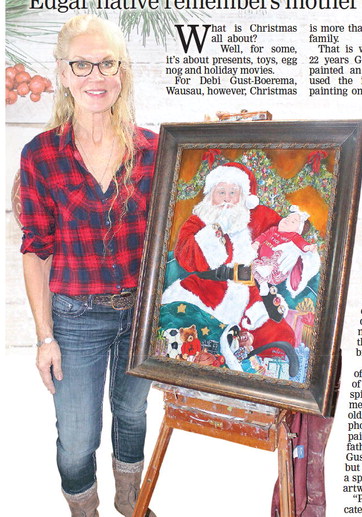 Edgar native remembers mother with Christmas cards
What is Christmas all about? Well, for some, it's about presents, toys, egg nog and holiday movies.
For Debi Gust-Boerema, Wausau, however, Christmas is more than that. It's about family.
That is why for the past 22 years Gust-Boerema has painted an oil canvas and used the image from the painting on a professionally printed Christmas card that she sends to over 200 people. More often than not, the Christmas card includes an original poem. The subjects of the oil painting have varied over the years. But a theme she returns to, again and again, is her mother Peggy Gust, and their life together on an 180-acre dairy family farm north of Edgar in the town of Rietbrock.
The paintings often depict scenes of the farm inspired by either memories or faded, old black and white photographs. The paintings show her father, Otto "Red" Gust, and siblings, but her mother has a special place in the artworks.
"Painted and dedicated cated to the memory of Peggy (Schill) Gust, our mother who made every Christmas special," reads the inscription on one of the cards.
Gust-Boerema said this special attention to her mother follows in part from her untimely death at 40 years old. Gust-Boerema herself was in the fourth grade when she passed away.
"I feel that she died so young." she explained. "All of our lives changed after that. I do this to keep her memory alive."
Gust-Boerema said her mother was an extraordinary woman. "She could do everything," she said. "She was a great cook, a great mother, worked out at Pauly Cheese, milked the cows, cut and raked the hay. She did everything that was needed to keep the family together."
Gust-Boerma said her mother loved animals, especially those on the farm.
"I remember we had a calf die in the barn," she said. "That left her sobbing. She had a heart for the farm."
Her mother also loved birds, said Gust-Boerema, and was a member of the Audubon Society. She recalls her mother taking her and her siblings out for walks to look for birds.
Gust-Boerema said her mother celebrated Christmas with a "theme-based" Christmas tree each year. It would be decorated with birds, poinsettias or tin foil chocolates. Gust-Boerema said her mother encouraged her as an artist. That nudge has kept her painting most of her adult life.
"My mother thought I was artistic and she pushed me," she said. "She thought I was good."
Gust-Boerema learned basic art from the late Carol Mularkey, the Edgar High School art teacher, and painting skills from an on-line class she took while living in Ojai, Calif.
Gust-Boerema has a small bedroom with a large collection of squeezed out oil paint tubes and artist brushes. She has enough painterly skills to complete a Christmas-themed oil painting in about two weeks. Once that is complete, she typically writes a poem.
"I start with the rough draft on a canvas in the middle of November," she said. "I want the card project done by Dec. 1."
The Gust family sold their 30 Holstein cows in January 2002 and, since then, the family offspring has sought to keep the farm going in new, creative ways. The farm now sells pumpkins, grapes, corn and soybeans.
For Gust-Boerema, Christmas will never be the same without her mother, but, through her art, the joys of life on a northern Wisconsin dairy farm can live once again.
Gust-Boerema's mother continues to make every Christmas special.