Posted on
Tigers aim for first state birth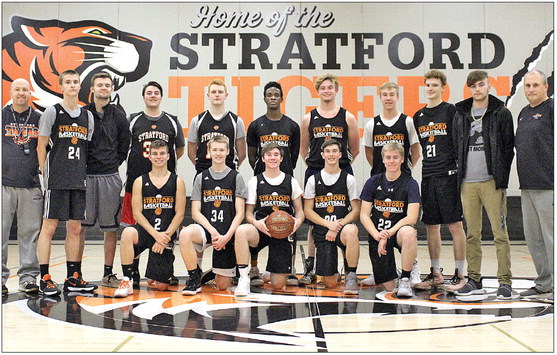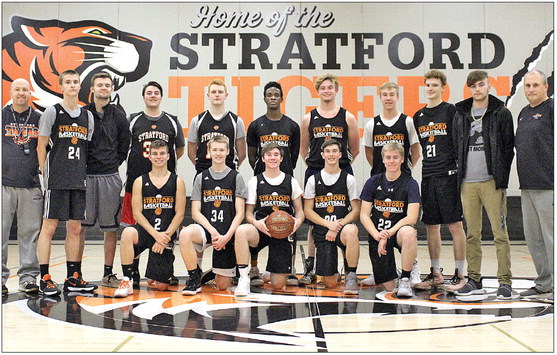 No boys hoops team has played in state tourney
By Casey Krautkramer
Stratford's senior-laden boy's basketball team is striving to play in the state tournament for the fist time in school history this season.
Head coach Curt Schmidt has a special team, which is full of talented players, this season. The Tigers boast plenty of experience with nine seniors on the team, which lost to Wisconsin Dells in a WIAA Division 3 sectional semifinal last season, after going undefeated during the regular season for the first time in school history.
Stratford is fortunate to drop down a division this season; therefore the Tigers should be playing against more local teams such as Auburndale, Marathon and Neillsville in the Division 4 playoffs this season. Curt Schmidt said dropping down one division doesn't necessarily mean his team would have an easier time advancing to the state tournament this season.
"I look at it as we have to still beat very good teams to advance in the playoffs," he said. "The big difference I saw with us playing Division 3 teams compared to those in Divisions 4 and 5 was Division 3 teams are stronger and have more length and quickness."
Although Stratford graduated two starting players, Lance Heidmann and Okley Wrensch from last year's squad, the Tigers have talented players waiting in the wings to fill their starting roles on the team.
Stratford will need to survive without senior Vaughn Breit, the team's second leading scorer and top rebounder, for the first few weeks of the regular season while he recovers from an injury he sustained at the end of the football season. Breit has been a starting player during his entire Tigers basketball career, and he averaged 15.4 points and 6.8 rebounds last season.
The Tigers also return experienced varsity players in seniors Ben Barten, Chandler Schmidt, Teddy Redman and Dawson Danen, and junior Max Van- derhoof.
The following players should make contributions on Stratford's team this season: Seniors Chase Flink and Tyler Lappe and juniors Cody Miller, Jake Skroch, Riley Bauman and Kale Weisenberger.
Stratford's team also wants to win a Marawood South Conference championship this season, because it's been a while since the Tigers won back-toback conference titles in the 2005 and 2006 seasons.
"I had a talented group of players on my 2005 and 2006 conference championship teams, but this year's group has more length," he said. "The players on this year's team are a tight knit group, just like those 2005 and 2006 teams were."