Posted on
Marathon looks to reload again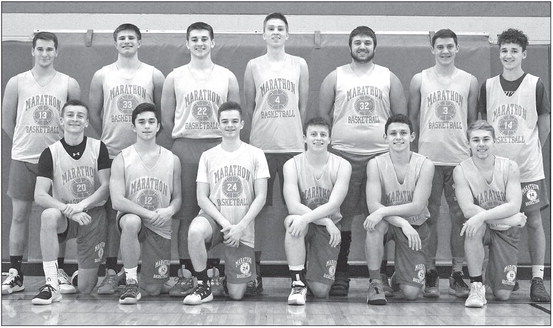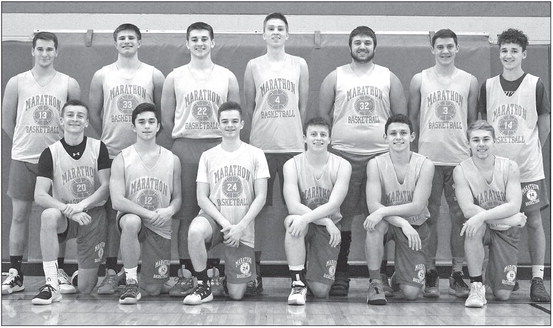 Red Raiders will build on team's recent successes
Marathon's boy's basketball team nearly made a return trip to the WIAA Division 4 state tournament last season, but the Red Raiders couldn't quite knock off a strong Oshkosh Lourdes squad in the sectional championship.
The team surprised some basketball fans in the area last year, because they didn't believe the Red Raiders would even be playing in a sectional title game for a shot at returning to state, considering the team lost great players Donovan Free and Nathan Stoffel to graduation. Free and Stoffel were key cogs on the 2017-18 Marathon team that finished as state title runners- up to Manitowoc Roncalli.
Basketball fans can never count out the Marathon boys, however, who seem to reload with talent every season despite the amount of experienced players it returns. Senior guard/forward Clarke is the team's lone starting player back from last year's squad. The team's other starting players Cameron Schilling, Carter Hanke, Hunter Seubert and Preston Weber have all graduated from high school. Hanke is now playing college basketball for UW-Eau Claire.
The talent cupboard isn't completely empty for head coach Jacobson.
"Clarke Mouw is a three-year varsity competitor who has played in every varsity basketball game he's been able to in the past three years," Jacobson said. "Clarke's experience, coupled with his tremendous leadership, is very important to our team as we try to get others up to speed and comfortable at the varsity level. We do have six players who return with varsity experience that are excited for the opportunity at potentially having expanded roles on our team this season. These guys know we lost some tremendous seniors last year that set a high standard for our program, but at the same time they have worked very hard to forge their own path and write their own chapter."
Marathon's other returning players who possess varsity experience are sophomore guard Jaden Koeller, junior guard Matt Vande Boom and junior forward Brock Warren and senior guard Kole Kaldunski and senior forward Kolby Koeller.
"Clarke and Jaden have worked very hard to become the basketball players they are," Jacobson said. "Their greatest strength is their drive and dedication to becoming the best players and teammates they can become. Being the great shooters and skilled offensive players they are doesn't just happen, it takes determination and many hours of sacrifi ce in the gym and weight room and these guys have really worked on their craft. Not only are they very talented basketball players and strong leaders for our program, their work ethic and drive definitely permeates through our program."
Top newcomers to the Red Raiders' varsity squad who should see some playing time this season are senior guards Nathan Trawicki, Zachary Baumann and Luke Hahn, senior forward Logan Ludwig, junior guard Jaeden Strasser, junior forward Mike Hahn and sophomore forward Nathan Hanke.
Jacobson outlined goals for his teams every season.
"Every year our goal is to compete for a conference championship and continually get better each opportunity we step on the floor to hopefully play our best basketball when it matters most with a deep playoff run in March," he said. "We are going to be challenged each day in practice and in our tough game schedule this season. Hopefully through those challenges we will continually improve and be ready to play our best basketball in March."
Season-opening win
Marathon easily downed Wausau Newman, 78-35, on Tuesday at home.
Jaden Koeller led the Red Raiders with a game-high 20 points and Mouw added 19 in the victory. Vande Boom contributed 11 points and Strasser had eight. Marathon built a 49-17 halftime lead against Newman to cruise to the win.