Posted on
Bluejays want to add to banner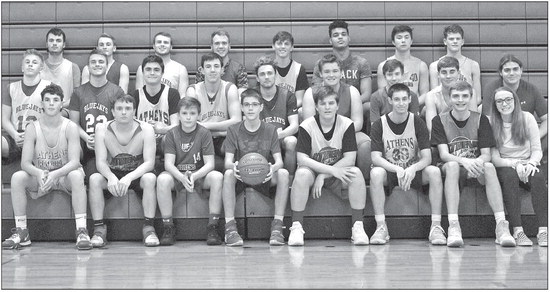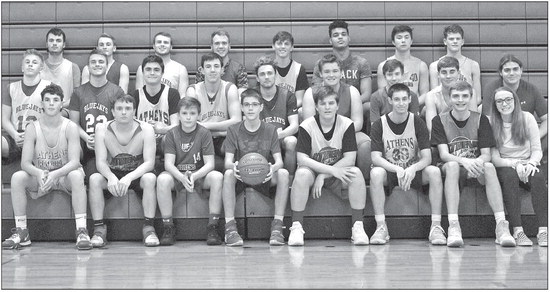 Athens eager to build on first regional title
There's going to be some new numbers on the banners of the Athens Bluejays boys basketball team when they take the floor this year.
In prior years, there was just the one number, hanging alone, but joining the Athens Bluejays' 1950 conference championship will be Athens' first ever WIAA D-5 regional championship, earned back in March with a 50-43 victory over Marawood - North rival Rib Lake.
It's a great sight to see, and a true testament to just how far the boys basketball program has come. But the 'Jays are not ones to rest on their laurels, and they are looking to add even more numbers to the banner by the time the 2019-20 season comes to a close.
If that's to happen, it will require new faces to step into new roles.
Gone are second team all-conference Marawood - North players Seth Coker and Liam Weller, as well as honorable mention Derek Czech, with all three graduating earlier this year in May.
In all, the 'Jays return just two starters from a team that played in its first ever sectional semifinal, a 57-47 loss to the McDonnel Central Macks - a team that qualified for the state tournament at the Kohl Center on the campus of UW-Madison.
It helps that Athens has continuity returning to the sideline in the form of returning fourth year head co-coach Aaron Ellenbecker and third year co-coach Jeramie Penney. The two coaches will be looking to their two senior returners to provide leadership during those times when games get tough.
It will all start with Cameron Ford, a 6'6" center, who scored a thousand points for his career in that victory over Rib Lake in the regional championship. Cobie Ellenbecker will be the other 'Jay tasked with scoring. He proved his abilities last year, having earned honorable mention in the Marawood - North for his play during the 2018-19 campaign.
"Cameron has been a starter since his freshman year," Aaron said. "His size, abilities and experience make him a tough player for other teams to defend."
To round out the starting five, both coaches are high on several players who earned varsity reps but were not starters.
"Besides Cameron, Cobie Ellenbecker is the only other returning starter. We are looking for Cobie to play a bigger role this year," Aaron said. "We are also looking at Javon Penney, Cooper Diedrich, Dayne Diethhelm and Aiden Janke as being big contributors this season."
Diedrich especially will be one to watch, with the athletic sophomore guard coming off a stellar football season this fall. Dietrich flashed his basketball potential in the final game of the year for the 'Jays, dropping 14 points on the Macks.
Other newcomers that should earn time on varsity will be senior forward Eli Bunkleman, senior guard Dan Zoromski, junior guard/forward Dayne Diethelm, junior guard Jake Denzine and freshman forward Aiden Janke.
The coaching staff will also see some a new face on the sideline, with the welcome addition of John Keefe. Keefe, a former star for Medford High and UWStout, will bring even more basketball acumen to the team.
"We are very excited to have John as part of our coaching staff," Aaron said. "His knowledge of the game will be an asset."
Rounding out the coaching staff for the 2019-20 Bluejays will be assistant coach Lucas Weiks.
The 'Jays will be looking to defend their regional title, and with Ford and his 16.6 points per game and 10.2 rebounds returning, Athens will have a good chance to do just that.
But there's unfinished business on the table for the 'Jays, and they want to be the first Athens boys basketball squad in almost 70 years to add another conference title to their name.
The 'Jays went 16-9 overall, and tied for third in the Marawood - North with an 8-1 record, and while Coker and Weller will be missed, there's enough size and quickness there to allow Athens to challenge the likes of Rib Lake, Prentice and Phillips for the Marawood - North title.
Aside from Ford, Janke stands 6'4", and senior center Parker Tischauser is 6'3", giving Athens size underneath to pull down rebounds and score in the paint.
Cobie and Cooper each stand six feet tall and have shown the ability to attack the rim with their speed, and both can connect from outside for threes to help space the floor.
It's another exciting year for the 'Jays, and while there are bumps on the road, this year's 'Jays are ready for big things.