Posted on
Redemption bid falls short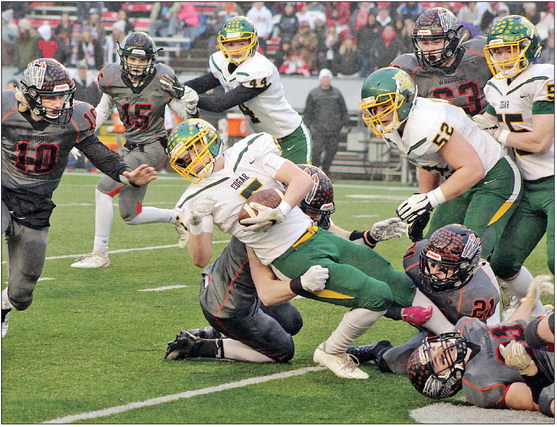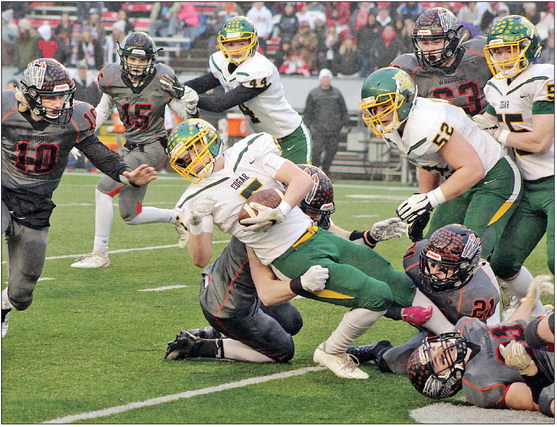 Mistakes cost Wildcats a shot to win state title
For two brief moments the Edgar Wildcats football team experienced the highest of highs, only to see that elation quickly disappear and become one of bitter disappointment.
Trailing Black Hawk/Warren (Ill.) 6-0 late in the fourth quarter of the WIAA Division 7 state championship game on Thursday afternoon, twice Edgar appeared to score, seizing the momentum, and with it the game.
But a 33-yard touchdown pass from Konnor Wolf to Drew Guden was called back on a crucial holding penalty. A few plays later another scoring strike from Wolf, this time to junior Kyle Brewster from 23-yards out, was bobbled and dropped in the corner of the endzone at Camp Randall Stadium on a fourth-andeight on the Warriors' 31-yard-line.
"I thought we had the first one and I was already sending the kicker out, and they said there was a penalty. Then the second one I thought for sure we had, and apparently he dropped it or whatever," Edgar head coach Jerry Sinz said. "I don't know, it looked to me like he had it, but I couldn't see the end of it. I guess he must have dropped it."
Edgar would be unable to score in the waning minutes of the fourth quarter, and lost for just the second time this year, their first coming against the Stratford Tigers in a game that determined the Marawood Conference champion. STATE FOOTBALL CHAMPIONSHIPS
Both losses came by a combined 12 points, but Thursday's contest stung the most, and the pain and disappointment was visible on the faces of every coach and player, as both fought and failed to hold back tears.
"They kept fighting all the time," said Sinz. "So, I was proud of them. I was pretty sure we were going to win this game today. It surprises me that it ended up the way it did."
The Wildcats came into the game riding a wave of momentum after knocking off the Bangor Cardinals in the state semifinals as they punched their ticket to the state title game for a record setting 13th time, a feat they share with Arrowhead.
A stout defense led by a bruising run game was eager to take home an eighth gold ball to Edgar, and awaiting them on the other side of the field was a familiar opponent, the Black Hawk/Warren (Ill.) Warriors.
The Wildcats had lost to the Warriors in the state title game the year before, falling 22-15, and while Black Hawk was in a newly combined co-op with Warren (Ill.), many of the names on the Warriors' uniforms were familiar to Edgar.
"We started right after our loss last year and we wanted to get back here and face Black Hawk," senior Kaleb Hafferman said. "Sadly, we didn't get our outcome that we wanted."
Each team was nearly a carbon copy of the other, and Thursday's game proved to be an absolute defensive slug-fest from the first very snap. Wet and soggy field conditions also played a factor, with each team turning the ball over multiple times.
In the end, it was a pair of big plays from the Warriors that led to the state title, forcing Edgar to leave with a silver ball for the second consecutive season.
When asked if he could see a silver lining, Sinz could only shake his head.
"I'm not seeing the silver right now, other than the fact that the ball is silver," Sinz said. "I'd rather see a gold lining."
The 'Cats certainly had their opportunities, but they could not get their ground game going against the Warriors, as Black Hawk/Warren held Edgar to just 141 yards of total offense. Kaleb Hafferman was Edgar's leading rusher, finishing with 44 yards on 16 carries.
"We can't fault anybody because we all had our chances and we just couldn't get the best of them," Hafferman said after the game. "We had a helluva season, and it was just nice that we played to the last second and just kept our composure."
The Wildcats's defense returned the favor, holding a Warriors' offense that came into the state title game averaging 40 points to just 220 yards and six points, with Edgar giving up just 29-yards of offense in the entire second half.
But nearly one hundred of those yards came on one drive. After both teams failed to generate much in the way of offense in the first half, the Warriors engineered their best drive of the day late in the second quarter, one keyed by two huge plays, and those two plays were the backbreakers for Edgar.
A Mason Stoudt punt pinned the Warriors on their own seven yard line with 3:29 left in the first half. After a Wildcat tackle for loss, it seemed as though Edgar would get the stop and have a short field to work with, and be in prime position to notch the first score of the game.
Black Hawk/Warren's Jaylen Rufenacht had other ideas. On second-and-12, Rufenacht made a quick cut-back across the field and burst down the sideline for a 53-yard scamper before being pushed out of bounds by Guden on Edgar's 30 yard line.
On the next play the Warriors took to the air, as Ethan Williams threw a screen pass to Cayden Milz. It was almost a costly mistake as Brewster just missed making a play. An interception in that moment would have given Brewster, who qualified for the WIAA state track and field meet earlier this year, nothing but green grass between he and the endzone.
But the pass sailed over Brewster's out-stretched hands, and into the waiting arms of Milz for the only score of the game.
"In the end, the two big plays we gave up before half, we didn't play those very well," Sinz said. "We tried to intercept the one throwback screen pass and I thought the kid had it, but the kid threw a great pass and got it just over his fingertips and that's what they got their score on. We gave up two and we didn't get anythat's what it amounts to."
The use of instant replay, which was made available for the first time in history in a state title game, was also a critical factor in deciding Thursday's outcome.
The use of replay resulted in two crucial decisions for Edgar - a call with four minutes in the first half that gave the ball to Edgar on a fumble, and a call that overturned what would have been an Edgar first down late in the fourth quarter.
On the first play, Warriors' quarterback Ethan Williams found Ryan Molitor for a 15-yard strike, who then went to the sideline, but not before Kaleb Haf- fermann stripped the ball.
The instant replay showed that it was indeed a fumble, and Edgar took over, but could not take advantage. The second play was just as damaging as those failed touchdown throws for Edgar.
With 6:07 left in the contest, Edgar appeared to have converted a huge first down on a fourth-and-two, but after looking at the replay, it was determined that Edgar was just short.
While instant replay hurt Edgar's title chances, Sinz was in favor of its use, and felt it will help the sport moving forward.
"I think it's good because obviously big plays can decide a game - just one play obviously is going to decide a game."
Ultimately, it wasn't the instant replays that determined the outcome of the game, but the plays Edgar didn't make, and the Wildcats could only shake their heads in frustration as miscues once again cost them a state title.
For Sinz, as head coach, he knew he had to put the game into perspective for his young players. "A good bunch of guys you know," Sinz said. "Hate to see them lose that way, but I guess there's nothing to be done about it. I always tell them, 'Hey guys, there's a lot more important things than football games.' So, I guess I'll have to tell them that when I get to the locker room."
For players like Brewster, the game was an opportunity to learn, get better and keep Edgar's proud football tradition going. The 'Cats lose their beef up front, but return plenty of skill players that are ready for another shot at a new state record of 14 appearances at Camp Randall - and that much desired gold football.
"I hope I can take away that we're coming back better and hungrier than last year. It didn't go in our way, but at the end of the day, someone's gotta lose. But we're going to come back and hopefully get here again and win," Brewster said with conviction. "We have a tradition here. We're going to come back, we're going to stay hungry and we're going to keep going."