Posted on
Different year but the same result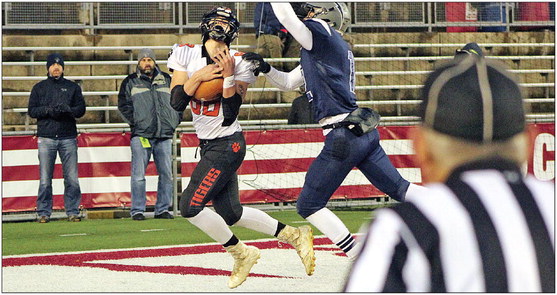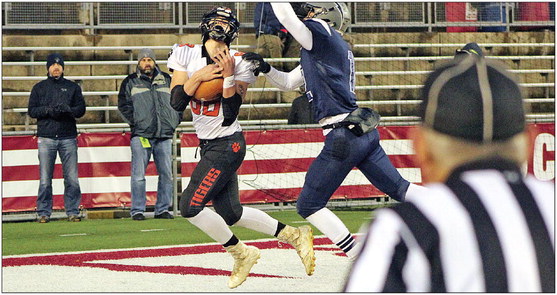 STATE FOOTBALL CHAMPIONSHIPS
Tigers lose lead in back-to-back D-5 state finals
By Casey Krautkramer
The way Stratford's football team lost this year's WIAA Division 5 State Championship game is eerily similar to the Tigers' demise in last season's state finals contest.
Stratford built a 13-0 first-quarter lead against Lake Country Lutheran, located in Hartland near Milwaukee, during last Thursday's state championship game before the Lightning scored 22 unanswered points to beat the Tigers, 22-13.
Last season, Stratford jumped out to a 14-0 first-quarter advantage against Fond du Lac St. Mary's Springs in the state finals contest before the Ledgers rallied to narrowly defeat the Tigers, 20-17.
The difference between Stratford's state title result this season, compared to last year, is the team was favored to beat Lake Country Lutheran whereas it was heavy underdogs against St. Mary's Springs.
Stratford had the state finals trophy in its sights midway through its back-to-back state championship appearances the past two seasons, but in both instances, its opponents mounted comebacks to rip the gold balls away from them. Stratford head coach Jason Tubbs said it's particularly frustrating how his team lost its state finals games.
"It's now two years in a row we were leading at halftime, and they just made plays and our guys fell asleep on a few plays," Tubbs said after Thursday's state finals loss to Lake Country Lutheran. "It didn't help that two of our all-state players got hurt and they had to leave the game early, and we lost our momentum and it's unfortunate that sometimes you lose."
The injury bug devastated Stratford after it built a 13-0 lead against Lake Country Lutheran. Jaykob Mikelson, a senior all-state defensive end, exited STATE FOOTBALL CHAMPIONSHIPS
the game early in the second quarter after suffering a dislocated knee. Mikelson's injury allowed Lake Country Lutheran's offensive linemen to double team Stratford star Ben Barten, who is an all-state defensive lineman and the Small School Defensive Player of the Year.
Stratford's offense was clicking to begin the state finals game, following junior Colten Schillinger's 43-yard kickoff return. Junior running back Beau Gross caught a 30-yard pass reception from senior quarterback Max Schwabe. Gross finished the four-play, 25-yard drive with a two-yard touchdown plunge.
The Tigers scored again the next time they had the ball when senior tight end Justin Radtke hauled in a 17-yard touchdown from Schwabe in the corner of the end zone to cap off a seven-play, 55-yard drive. Schwabe's two-point conversion pass attempt was intercepted, giving the Tigers a 13-0 lead at the end of the first quarter.
Radtke, while playing strong safety, intercepted Lake Country Lutheran sophomore quarterback Luke Haertle's pass over the middle during the Lightning's first offensive drive in the second quarter. Stratford, however, gave the ball right back to Lake Country Lutheran after Schwabe's pass was intercepted by senior linebacker Jack Leverenz.
Stratford's injuries kept piling up when Radtke exited the game later with a fractured collarbone. All-state senior tight end/fullback Vaughn Breit also exited the game after aggravating a leg injury he sustained in the team's 19-7 Level 4 win against Amherst.
Lake Country Lutheran scored its first points in the middle of the second quarter, after receiver Jacob Studer took an end around pitch from Haertle and threw the ball to Andrew Schumacher for a five-yard touchdown to cut into Stratford's lead at 13-7 at halftime.
The Tigers' defense held the Lightning to a meager negative two yards of rushing at halftime, so in the second half Haertl used his athleticism to roll out of the pocket and heave long passes up to his receivers to catch. Lake Country Lutheran's defense also began blitzing to shut down Stratford's rushing attack and sack Schwabe when he dropped back to pass the ball.
Neither team scored points in the third quarter, however, until Lake Country Lutheran tied the game at 13 points apiece on Haertle's 32-yard touchdown pass to Schumacher. Stratford senior linebacker Trevor Dennee blocked the extra point kick.
On its next offensive possession, the Lightening executed the game-winning drive encompassing six plays for 67 yards, culminating in Haertle's shifty running moves en route to a 20-yard touchdown. Lake Country Lutheran now led, 20-13, with four minutes and 25 seconds left in the game.
Stratford's offense attempted a trick play but senior Chandler's Schmidt's halfback option pass was intercepted by Zech Hans. The Tigers forced the Lightening into a punt and had the ball with two minutes and 52 seconds remaining, but Lake Country junior Chase Caliendo sacked Schwabe for a seven-yard loss and then for a nineyard loss in the end zone for a safety to give the Lightening a 22-13 state finals win.
Caliendo recorded four sacks, which broke a record for the most sacks in a WIAA Division 5 state championship game. Schumacher led the Lightening with 13 tackles.
Lake Country Lutheran finished the game with 215 passing yard out of its 280 total offensive yards. Haertle completed 12 of 26 passes for 210 yards, an interception and a touchdown, and he added five rushes for 48 yards and a touchdown. Schumacher led the Lightening with five receptions for 97 yards and a pair of touchdowns, while Hans added four receptions for 105 yards.
Max Schwabe put into perspective how the team lost its state finals game to Lake Country Lutheran.
"We just kind of crumbled," he said. "We told ourselves after we got the second score we were going to keep it going and we just couldn't. It's just so crazy, I mean I don't know how Lake Country Lutheran scored 20 unanswered points against our defense, but we do know what we did wrong and there's nothing we can really do about it now."
Gross paced Stratford's offense with 17 rushes for 69 yards and a touchdown, while adding two receptions for 37 yards. Schwabe completed six of 12 passes for 68 yards, an interception and a touchdown. Stratford's defense didn't record a single sack, and the Lightening held Barten, who'll play football for the Big Ten's Wisconsin Badgers next fall, to only two tackles.
Radtke, the son of Chris and Amy Radtke, said he will forever cherish the great memories he and the other seniors made this season, despite losing in the state finals.
"I am just going to miss every single football practice and Friday night game, where I'd go out and play ball with my brothers; it was a heck of a senior year," he said.