Posted on
Land leases for wind signed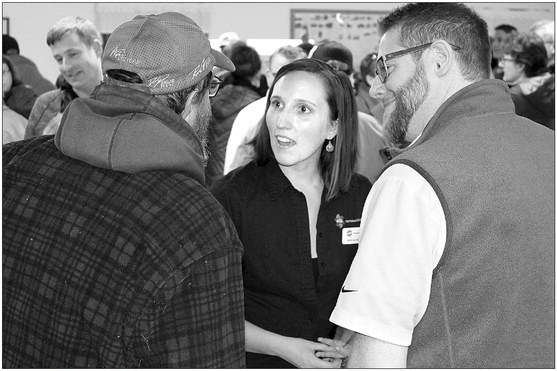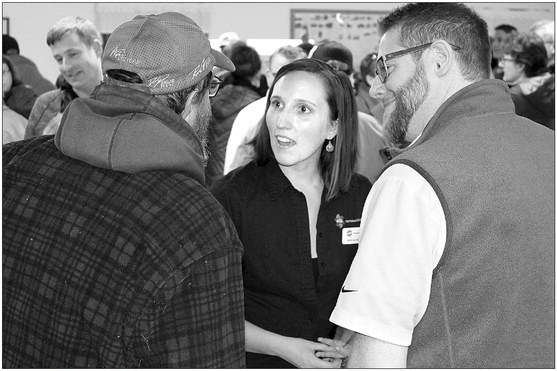 EDP Renewables has 11,000 acres under contract in Brighton, Eau Pleine
Jim Jozwiak, Marshfield, believes in the use of renewable energy to help the environment and didn't need much persuasion to sign a property lease agreement with EDP Renewables of Houston, Texas, which wants to construct a wind farm west of Stratford.
Jozwiak will lease 154 acres of recreational land in the town of Brighton to EDP Renewables for the wind farm project.
He was one of several landowners to attend an EDP Renewables open house last Thursday in the Eau Pleine Town Hall. The wind energy company plans to erect between 17 and 27 wind turbines spread across farm fields in the both Brighton and Eau Pleine townships.
Darcy Lydum, senior development project manager at EDP Renewables, said at last Thursday's open house the company has already signed property leases with 50 families for a 11,000 acres. She said property leases with landowners are for 30 years, including two 10-year options available up to a total of 50 years in the lease agreement.
Lydum said EDP Renewables plans to file permits with the two townships and Marathon County in January of 2020 to construct a wind farm. She said EDP Renewables would hold at least one more open house for residents who own land in the towns of Brighton and Eau Pleine during the permit application process.
She said it's possible the company could begin construction on the wind farm in the fall of 2020, but it's more likely it'll start construction in the spring of 2021 and then finish the project that fall. She said EDP Renewables also plans to purchase land, possibly in the Stratford Business/Industrial Park, to build an operations building to house between seven and 10 full-time employees who would oversee the wind turbines and perform maintenance on them when needed.
Lydum said EDP Renewables simultaneously proposed to build wind farms in townships both in Clark and Marathon counties, but when many Clark County landowners opposed the project, the wind energy company focused on constructing the wind farm in the western Marathon County towns of Brighton and Eau Pleine.
"Part of any successful wind project is the support of the local community," Lydum said. "We do not limit our landowners' ability to use their property for agriculture activities and we have support of landowners in nearly 50 operating projects throughout North America that have signed a similar version of the lease presented to landowners in this community."
Jozwiak said it was a "no-brainer" for him to sign a property lease with a wind energy company, because he'd already been utilizing renewable energy on his town of Brighton recreational property.
"I have a 20 kilowatt solar system that powers the 40x11-foot shop on my land, and I sell the electricity to Clark Electric Cooperative in Greenwood," he said. "We need to be less dependable on fossil fuels, and the wind energy company's access to its wind turbines will be minimally invasive to landowners."