Posted on
Running for the record books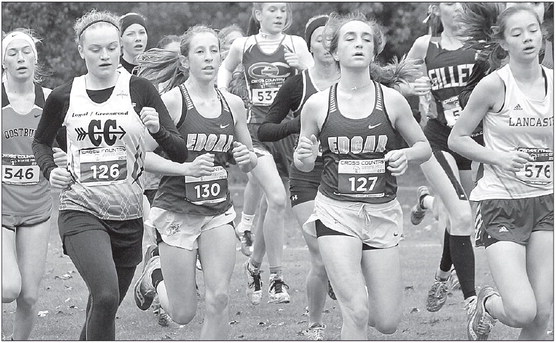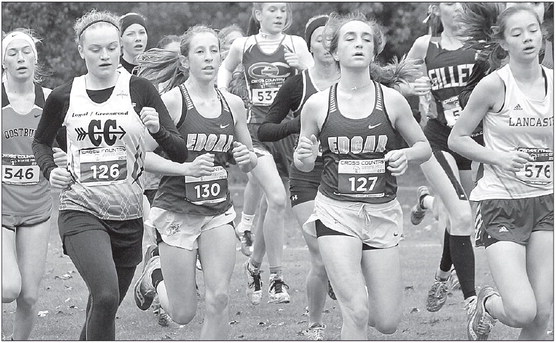 Ellenbecker, Schnelle chase history books
By Ross Pattermann
STATE CROSS COUNTRY TOURNAMENT
For one runner, it was the end of an illustrious career that resulted in four straight top ten finishes, including back to back state titles.
For another runner, it was only the beginning, the start of a career that could blossom into something special.
Marissa Ellenbecker, a senior at Edgar High, and the state's two time defending champion, closed out her sensational prep cross-country career at the Ridges Golf Course in Wisconsin Rapids on Saturday, Nov. 2.
She finishes her career as one of only 12 runners since 1975 to win two individual state championships.
The meet, and the course, hold no surprises for the gifted Ellenbecker. She's mastered and learned all its secrets, knows the danger of going out too fast.
"Don't start out too fast because you're going to die at the end because there's so many hills after the second mile," Ellenbecker said about the course.
Ellenbecker was bidding to become just the third runner in state history to earn three individual state titles. Unfortunately, that goal would not come to fruition as the Marawood Conference's most decorated female runner placed tenth overall in a time of 19:47.6.
But Ellenbecker was far from disappointed - she's been arguably the most consistent runner in the state the last four years, winning four Marawood Conference titles, and her podium finish at Saturday's state meet joins her third place finish her freshman year and her back to back state titles in 2017 and 2018.
"No, I'm not disappointed," Ellenbecker said about her final cross-country race in an Edgar uniform. "I'm just really happy. This has been a rough year, and it ended out pretty good. It's a great accomplishment to be here all four years and to represent my school and the whole crosscountry program." Ellenbecker will now look to use her experiences at the state meet to good use as she prepares for the WIAA track and field season in 2020, as well as next fall, when she will be competing for an as yet undecided college.
"Since we're from a small school we don't have a lot of competition, so coming into this meet gets me with a lot of competition, and prepares me for college."
Ellenbecker was not alone in carrying the banner and colors of Edgar High. This year she was accompanied by one of the most promising runners in the Marawood Conference, freshman Morgan Schnelle.
Schnelle finished placed fifth at the sectional race at Ehrbach Park the week before, and while she was in awe of that achievement, her performance in Wisconsin Rapids has given her even more confidence and fuel for the fire for 2020.
Schnelle raced to a top twenty finish, placing 17th overall with her time of 20:18.7 - an extremely respectable time on what is arguably one of the most difficult courses to compete on in Wisconsin.
"I actually didn't think I was going to make it to state, but I kept pushing myself as the season went on, and learned that if you put your mind to it, you can do it," Schnelle said about her maiden trip to the WIAA D-3 state meet.
Schnelle admits she took a great deal of inspiration from Ellenbecker, who acted as both a role model and her biggest supporter.
"She's definitely one of my biggest role models, and she just helped throughout the way. It made it so much easier to have her with me," Schnelle said about Ellenbecker's leadership. Ellenbecker, along with her coaches and teammates and parents, gave her that extra motivation to navigate the hills and competition that make the Ridges Golf Course such a fearsome race.
"It's so exciting to be here with all my coaches and my parents and everyone who came out to support me and it's just so exciting," Schnelle said, soaking up the atmosphere and the moment. "I'm definitely looking forward to pushing myself this summer to train and to come back next year."
Schnelle will look to apply her experience to next year's state meet - where she has the potential to podium.
And so one chapter closes on one runner, while another's book is yet to be written. No matter what happens, Ellenbecker's legacy is set in stone; it is now Schnelle who is the one holding the chisel, ready to carve her name.