Posted on
Nowacki earns podium finish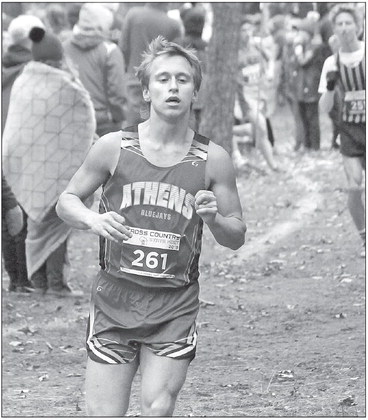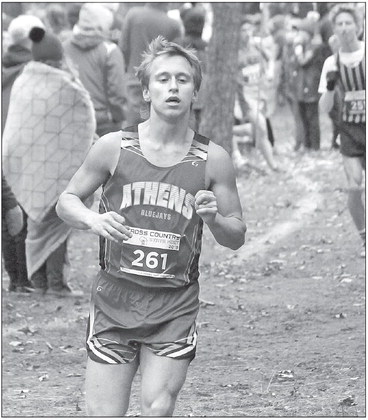 STATE CROSS COUNTRY TOURNAMENT
Athens senior reaches goal of finishing top ten
By Ross Pattermann
Nearly 1,000 runners from across all three divisions competed at the WIAA state meet at The Ridges Golf Course in Wisconsin Rapids on Saturday, Nov. 2.
Each runner carried within themselves the secret hope that they could be a champion, that they would find a place on the podium by the time they finished the grueling 3.1 mile race.
But in the end, only ten runners from each division could earn that distinction, and they would have to do it by pushing through pain, doubt and the full brunt of Mother Nature's fury as winds, temps in the low 30s, and at times a blizzard more befitting a cross-country ski race buffeted and bruised each runner.
Johnathon Nowacki, a senior from Athens High and the lone Bluejay representative, stood firm in the face of all these challenges. He had been here before, competed at the pinnacle of the sport last season, and came in with goals says 'Jays head coach Korey Rottscheit.
"After finishing 38th [last year], he had a mission to medal at state," Rottscheit said. "To do this, he needed at least top 10. His work ethic this season was impeccable. The amount of work that he has dedicated to running and training was top notch. It is the best feeling in the world when you have athletes that have the mental toughness and drive like Johnathon has."
That hard work was rewarded as Nowacki found himself on the podium by day's end, a medal draped over his neck, and a dream fulfilled.
"It means a lot because I trained a lot, put a lot of time into this," Nowacki said after he completed the hilly and torturous course.
It's surreal for Nowacki, who came to the sport during his sophomore season, and some might have called it a pipe dream, but as the times dropped, Nowacki felt within himself that he was capable of taking his place among the best. His time of 16:44.4 confirmed it.
"I started behind a lot of these guys," Nowacki explains. "I didn't start until I was a sophomore, and most of these guys have been running since seventh and eighth grade."
Nowacki has quickly made up for lost time, especially after losing part of his season to injury in October. He faced another setback at the sectional meet last week, fighting against illness.
In spite of the hurdles facing him, Nowacki overcame those obstacles to finish in second place at Ehrbach Park, behind only to his chief rival, Garrett Dolan of Assumption.
On Saturday, Nowacki raced past his rival, overcoming a slow start compared to the other runners. But that slow start was all calculated on Nowacki's part. More than any other runner perhaps, Nowacki understands his strengths and weaknesses, and he played the race perfectly.
"I knew I wanted to sit back a little bit," Nowacki said, explaining his strategy. "I knew if I went out too fast I tend to really slow down a lot compared to most other people, so I wanted to pace myself a little better and stick around the pack, around tenth or eleventh. I think I was back by 13th around the two mile, and then the final stretch I knew I was in eleventh and kinda just gave it all I had."
Nowacki gave one last push, summoned up one last burst of energy at the finish line to clip Nathaniel Osborne of Brookfield Academy at the very end.
The result was something that appeared in doubt at the start of the race, but Nowacki knew if he ran his race, and hoped for the best, something special might just happen.
"It feels really good because I didn't know exactly how today was going to go," Nowacki said. "In October I missed a couple of meets due to injury, then sectionals last week I got really sick and didn't run that well. So I just kinda came in today hoping to run a good race."
With his cross-country season now in the record books, Nowacki will turn his attention to track and field in the spring, and look to earn more podium finishes in the distance events.
Once his prep career is over he hopes to run at the next level. Where that might be, he doesn't know yet, but with his result here, Nowacki knows he has the ability to do even bigger things with his legs and his athletic career.
"I feel like there's a lot of talent in Division Three and to take top ten is a great achievement."
But for now Nowacki will enjoy the moment, and relish the result, which is part of something bigger, and part of an Athens team that has produced stunning results in the last two years.
Last season the 'Jays had two runners compete at Wisconsin Rapids, with Nowacki being joined by his cousin Nick Rogaczewski. Athens was hoping to send a team to the state meet, and while that did not happen, Nowacki's podium finish will join another equally impressive accomplishment - the first Marawood Conference title in school history.
"It was an amazing experience for our runners to win conference, and it was exciting to see their hard work all coming together," Rottscheit said after the race. "I am so proud of the team and their efforts this season. Their heart, passion, dedication and drive over their high school career is unsurmountable."