Posted on
Soup contest winners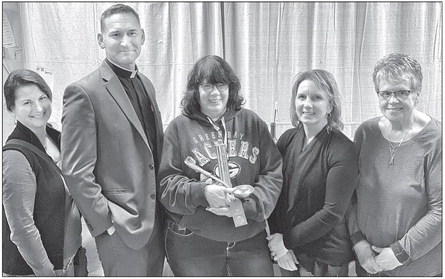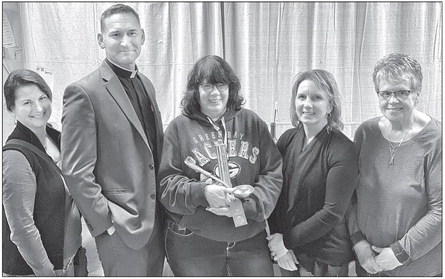 Send Edgar news to: [email protected] phone: 715-223-2342 fax: 715-223-3505 P.O. Box 677 103 West Spruce Street Abbotsford, WI 54405 Bake sale School play
The Edgar Womens Club will hold a bake sale at the Advantage Community Bank on Friday, Nov. 1, 9 a.m. to 1:30 p.m. Proceeds will go to high school scholarships.
The Edgar Theatre Company will present "Supper of Kaos" by Stephen Murray in three performances Saturday, Nov. 2, 3 p.m. and 7 p.m. and Sunday, Nov. 3, 3 p.m. All performances will be in the Edgar Public School auditorium.
Home School Huddle
Families can hear stories and participate in various activities related to the areas of science, technology, engineering, arts, and math during Home School Huddle on Tuesday, Oct. 29, from 1-2 p.m. at Edgar Branch Public Library. Call 715-352-3155 for more info.
Dose of reality
The Edgar Police Department will hold a "Dose of Reality" drug take back event on Saturday, Oct. 26, 8 a.m. to 12 p.m. at the Edgar Village Hall.
The department will take unused prescription medicines, ointments, inhalers, creams, vials and pet medications. The department will not accept liquids or illegal drugs.
Whitetail night
Edgar Public School will host the 33rd annual Whitetail at UW-Stevens Point/Wausau on Veteran's Day, Monday, Nov. 11, 6:30 p.m. to 7:30 p.m.
The speakers will be Gary Wetzel and Kenneth Stumpf. The event will be a fundraiser for the Never Forgotten Honor Flights.
There will be a book signing and t-shirt sale after the event.
EATS
Edgar Area Trail Supporters (EATS) has scheduled a community trail work day for Sunday, Oct. 27, 8 a.m. until noon. All volunteers will meet 8 a.m. at the East Limits Rd. trailhead. People should bring Aaron and Karissa Niemann, Edgar, welcomed a baby girl, Kaysley Shay, on Sept. 30, 2019, at Marshfield Medical Center. The infant weighed eight pound, six ounces and measured 20 inches long. Grandparents are Robert and Jean Griesmer, Edgar, and Melvin and Sharon Niemann, Edgar.
The 24th annual Edgar Holiday Parade will be held Sunday, Nov. 3, 12:30 p.m. on CTH H between Oak Street Park
Night on Monday, Nov. 18, 7 p.m. in the school auditorium.
Featured speaker will be Brent Lerch, owner of Hunts Remembered Taxidermy, Wausau. The event will include a presentation by a DNR warden on hunting laws, a raffl e, door prizes, refreshments, cheese and sausage.
Everyone is invited to bring in deer mounts, unusual antlers, pictures and equipment (but not guns).
Walk In Their Shoes
Two Medal of Honor recipients will be featured speakers at a Walk In Their Shoes event tools needed for removal of buckthorn, an invasive species.
The next EATS meeting will be Wednesday, Nov. 6, 6:30 p.m. in the Edgar Village Hall.
Community project
The Wien Wildcats 4-H is available to rake lawns in the village of Edgar as a community service project. If you are interested in their help, call 715-321-4333 by Thursday, Oct. 24.
Holiday parade Birth and Stark's Floral, Edgar. Santa and Mrs. Claus will visit with children at Stark's Floral following the parade. This year's new parade entry is "Hey Diddle Diddle." Workers are needed for the parade. Donations of bars or cookies will be appreciated. Costumes are still available for parade participants.
For more parade information, call Karen Schmitt at 715-352-2577.
Paranormal speaker
Fall is a time for ghost stories, spooky costumes and macabre movies, and the Edgar Branch Public Library will add a chill to the air by hosting an event with someone who investigates paranormal activity. The library will offer this supernatural event on Wednesday, Oct. 23, from 5:30 p.m. to 7 p.m.
Kathy Kessler, who founded the group Central Wisconsin Paranormal Research in 2004, will talk about some of her paranormal investigations around the area. There will also be time for questions following the presentation.
This event is free and open to the public with no registration required. For more information, call 715-352-3155 or visit https://mcpl.us/events/8516.