Posted on
Gov. Evers calls on legislature to pass gun safety legislation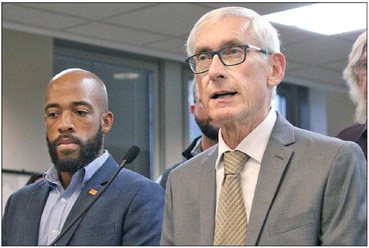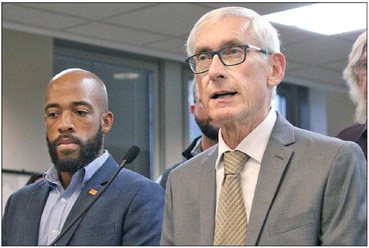 Gov. Tony Evers on Monday called on the Republican- controlled legislature to pass two gun safety bills in a Nov. 6 special session, but GOP leaders said their party does not support the legislation.
In an appearance at Wausau City Hall, Evers, flanked by Lt. Gov. Mandela Barnes, said the two bills enjoy 80 percent public support in a recent Marquette Law School poll.
One of the bills would expand universal background checks for gun sales. The other would empower a judge to have police take guns from dangerous people.
Evers said he proposed the legislation shortly after his taking office but that Republicans failed to take up the bills.
"After calling for these critical pieces of legislation and giving Republicans a chance to listen to the people of the state and do the right thing, and after ample opportunity and time to do so, unfortunately they did not act," said the governor.
Evers said young people were asking the legislators to "be the adults in the room" and pass gun safety legislation.
The governor said he wanted to pass bills that have broad support not just among the public, but also among gun owners.
"These are common sense solutions that we know can save lives because they have done so in states that have adopted them," he said. "It's that simple."
The governor said he was unwilling any longer to wait on the legislature to act. "The consequences of this inaction are too high," he said. "I want to be clear. I don't want any political games. I don't want any procedural shenanigans, no circumventing the democratic process, no last minute amendments, no middle of the night solutions that no one wants. No nonsense. I want Democrats and Republicans in the legislature to send these bills to my desk."
The governor shrugged off concerns that passage of these two bills would invite even further gun regulations.
"This is about these two bills," he said. "Nothing else."
Evers said he supported the Second Amendment while also supporting the two bills. "The Second Amendment is not going away because of this," he said.
He said one of the bills that would put in place Extreme Risk Prosecution Orders to seize guns from dangerous people would protect people, like an Evers family member, from suicide.
"I had a grand nephew who blew his head off because he had ready access to a gun," he said.
Evers said he would call as many special sessions as needed to pass the two bills.
State senate Majority Leader Scott Fitzgerald and assembly Speaker Robin Vos on Monday both told the Milwaukee Journal-Sentinel that Evers's proposal put the Second Amendment in jeopardy.
State Sen. Kathy Bernier (R-Lake Hallie) echoed this view in a press statement.
'The rights granted to every citizen by the Constitution are among our most precious possessions and that includes the Second Amendment," she wrote. "Gun violence is a serious issue, but calling a special session isn't likely to solve the important challenges we are all dealing with these days. You can look no further than the ban on guns in the city of Chicago to see how infringing the rights of citizens does not make us safer."
The Wisconsin Legislative Conference on Tuesday said that Extreme Risk Protection Orders (known as "red flag" laws) have withstood constitutional challenges in three states, including Florida, Indiana and Connecticut.