Posted on
Whoops! Computer error again. For ….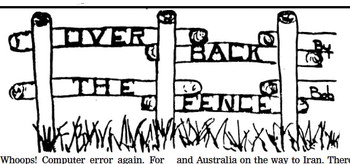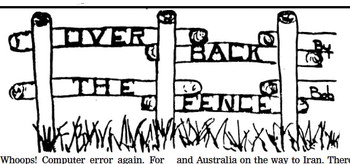 Whoops! Computer error again. For weeks it seems like I always have space left at the end of my column. So why not write a few more lines. Wrong! Way too many lines and had to jump the page. So naturally I'm not going to take the blame — darn computer acted up again. Our no-snow weather continues to be with us. The weatherman did warn today that we will not be seeing any more readings in the fifties until next spring. That's fine. Just keep it in the 30s and 40s and I can live with that. The mild weather is enabling the farmers to get those last loads of liquid manure spread on the fields. I think I met at least six tractors and tankers this morning on 98 on my way to Marshfield. Then it seemed a bit odd, but the Clark County Highway Department was busy this morning patching holes in the blacktop on 98. Seems a bit unusual as most years at this time they are busy plowing snow or sanding ice off the highway.
ÓÓÓÓÓ
Last Monday was December 7th, also known as Pearl Harbor Day. It has been a few years, but for those of us who were here and can still remember, we always know what we were doing when we heard the news, just like we remember 9/11. My brother Ernest was working for a farmer over by Barron and had finally accumulated enough money to buy a car. He thought it would be fun to come home and take us over to visit an aunt and uncle who lived west of us between Centuria and Milltown. So he arrived in his 1946 Plymouth and off we went. Somewhere between home and my aunt and uncle's, he decided he needed gas. So he stopped at this little country store and filled up. When he came out from paying for the gas he told us Pearl Harbor had been bombed by the Japanese. For some reason we just knew World War II had started. Ernest was 22 at the time and by February he was at Camp Robinson, Arkansas, taking his basic training. Following basic training, he didn't go far, just to Pine Bliff, Arkansas, where he became a member of the military police (MP) and would be helping to guard an arsenal where poison gas was made. By August my brother Ben was drafted and took his basic training at Fort Carson, Colorado. He managed a short leave just before Christmas and then spent two months sailing below New Zealand and Australia on the way to Iran. There he would haul lend lease war materials over the mountains and then turn it over to the Russians. Brother Carl would be drafted in April of 1943, but was one of the lucky ones who got to pick their branch of service. He picked the navy and took his basic training at Farragut, Idaho, and later moved to the Bremerton Naval Base in Washington where he was a medic in the naval hospital there. So Pearl Harbor Day will always be a lasting memory in my mind.
ÓÓÓÓÓ
This has been a crazy year with all kinds of plans suddenly changed. I just remembered one of the things that went through my mind earlier in the year. Plans were being made for our 150-year anniversary of Loyal. Remembering back to our centennial celebration, I was wondering how a beard-growing contest was going to work since so many men were already growing beards. I thought of it the other day when I stopped at a place of business and it seemed that just about everyone there had a beard. So the problem was solved and I didn't have to even think about it.
ÓÓÓÓÓ
I caught this item in the Medford Star-News this week. I'm not sure how many of you are familiar with the spring at the Mondeau Dam at the Chequamegon-Nicollet National Forest. People who come there to camp can be seen getting their drinking water from the spring. Now that a lot of improvements are being made to the park, some have been done at the spring. There is more work to be done, like building a shelter. replacing the wooden steps and installing a ramp for the handicapped. It will be fun to go there next spring to investigate all the improvements also being made at the lodge and elsewhere in the park.
ÓÓÓÓÓ
The plan apparently didn't work. The president made three quick appointments to the Supreme Court in hopes that if he needed a decision by the high court he would get a good decision. That didn't work and for the second time the court has denied a request to throw out election results in four states where he lost. At least that was the story tonight on the news. I'll just hold my breath until the Electoral College meets on Monday.